Home/Blog
Current (2015)
2014
2013
2012
2011
2010
2009
2008
2007
BabyBlogs
Majandra
Aliana
Travel Blogs
Europe/Egypt '06
Peru/Bolivia '08
Central Aust '09
Fiji '11
Cycling Maps & Routes
Links


Best viewed with Firefox




Site Built with gedit on Ubuntu


[Friday, 2015-05-29, 17:43]
It's all just STUFF, man!

My parents are in their late 60's and they are still living in the old family home. This is a big house with 4 bedrooms and three living areas - one of which is a massive rumpus room the size of a small apartment. And this isn't counting the carport, shed, garage and Dad's den.

All us kids have moved out and the space we left behind has just accumulated STUFF - and lots of it. I'm loathe to use the h-word, but OMG they have stuff everywhere. We're talking about ornaments, sport balls, mattresses, chairs, spare TV, spare stove and a spare washing machine. They also have a spare fridge that they decided to fill up with food in addition to their main fridge/freezer and put it in the laundry. So now they have a big fridge + big freezer + normal size fridge/freezer all full of food. And it's just the two of them.

Their grand plan is to knock the house down, split the block, build a new house on one half and sell the other half (which will pay for the house build). But before they do this they need to get rid of all the stuff and perhaps a stack of furniture as a new house really deserves new furniture too.

I've been nagging them for two years to clean up but there's litle progress. So I went on a mission - the target was mum's study, which had so many boxes of paperwork dating back over 12 years that the floor was invisible and the computer desk was definitely not usable for the clutter. Dad also uses mum's study as an excuse not to clean up other stuff. I went there with the girls and stayed one Friday night recently so we could get started early Saturday morning.

First we cleaned up 6 boxes of paperwork from the rumpus room, which was overflow since there wasn't any room for more paperwork in the study. Mixed up with those first 6 boxes I found a bag with my first child tooth that had fallen out, a lock of my sister's hair and a few old photos. Next we got rid of the spare TV which had never been used, and then I managed to convince them to get rid of some old white wall units from the dining room which were just collecting clutter. Actually I was surprised they allowed me to get rid of them, but alas they said yes and someone from Gumtree scored a couple of free wall units!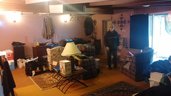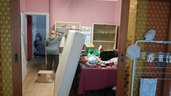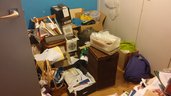 On the Sunday it was Mothers Day...







Mothers Day started well, except for the chocolates I bought which sounded OK but really weren't all that exciting. Then we were going to have the parents round but I made the mistake of suggesting we go to their house. I did have good intentions to show Briony all the cleaning up we had done, but then we ended up going to Cafe Primo for lunch. Being Mothers Day it was packed, and the kids were tired and they both ended up crying. Then Briony ended up crying. Then I ended up angry. And the day turned to poo. Enough said :(

Oh I've also found some photos from Easter time - both of Easter morning, and also from later that weekend when we dug a hole to plant a tree but then discovered the fun of playing in the hole full of mud.







Girls Update


Majandra
Majandra is almost five years old - it's funny looking back at old photos and videos of her, a lot of the stuff from the early years I can hardly remember. Lucky we have lots of digital media!

She's in her final term of Pre-School now, and next term she starts reception. That means school every day, which means I have to get up early every day. My days of 7am "sleep-ins" are almost over.

Majandra's doing well as always. She's been practicing her "L's" and now she says things properly without thinking - it's 'flag' not 'fwag' etc. Now we need her to practice her "R's" and "th's". Her counting is good, her writing is coming along slowly but surely and she's generally well-behaved (except when tired!).

She's also started back on something she used to do ages ago - squeezing things in bed. I'm not sure if I ever wrote about this, but when younger she used to love squeezing the tickets on clothes and blankets. In fact any type of material like that, she'd squeeze between her thumb and finger and send herself to sleep. She stopped doing that for ages but lately she's ben asking for knickers again. And I don't mean knickers to wear, I mean just a pair of knickers she holds at night time and squeezes the ticket!









Aliana
Aliana's two and a half now, and growing up fast. She's still a dainty little thing, and has got quite a good angry face when she wants to. She can count, and she's quite observant at what's going on around her. She seems to have quite a good memory, and is really good at copying Majandra.

Majandra does this 'I like big butts' thing - gets naked and sticks her bum out and shakes it. It's funny watching Aliana do the same and even make the same silly noise. Aliana also copies things that Majandra says - like "yeah yeah yeah" when excited.

There's something that Aliana does which I might have helped encourage but it's still funny. She's still breast feeding, and at bed time after we've done a story she will sometimes yell out "BRIONY ... BOOBIES!!" which we all find quite amusing. Speaking of boobies, there were a couple of nights recently without a feed. Briony must have been a bit empty as Aliana got on the boob, then came off and said "boobies not working".

Aliana is also getting into the dolls and pretend stuff just like Majandra did. She's going to bed with multiple dolls in her cot, and they have to all be arranged in a particular way. So after story and feed we ask her if she is ready to get her bed organised. She will grab a doll and we'll put her in the cot. She might ask for extra soft toys too. Then she arranges them all laying on their back, facing the right direction in the cot. Then she lays next to them and we put her blanket on. The blanket has to cover the toys just right, it's not allowed to cover their faces.

Last week Aliana also started pretend dressing each toy/doll in a sleeping bag. She'd put each one on her lap in the cot, then do all the motions associated with putting a sleeping bag on and doing up the zip. That toy would then lay down and the next one will get its sleeping bag on.

Actually the last few nights has been something new again - we'll do boob first, then multiple stories, then she gets into her cot, puts blankets on and reads in bed. We will leave the room at this point, and when finished the book she'll yell out for another one. It's interesting hearing her read to herself - Spot books, Mr Men books etc. Then eventually she'll have had enough and will go to sleep. All without any crying :)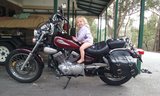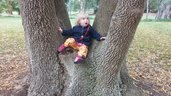 And here's a few photos that are valid evidence that Majandra and Aliana can, when they want to, play together without whinging and screaming.





---
[Friday, 2015-04-24, 17:43]
An update with no photos

The last week or so has seen a big change with Aliana - she's been happier, smiling, laughing, hardly any crying and much more receptive towards me. That's a big difference from a week or two back where everything was "mum do it" - I wasn't allowed to dress her, undress her, change her, do her teeth. I wasn't even allowed to fill her water bottle up. Suffice to say things are good at home and we're all having a good time.

I went to the doctor last week and while there's nothing of immediate concern, it has been suggested that I cut down the saturated fats as my cholesterol is a little bit higher than it should be. The doctor asked for a checkup in year, I said let's do it in 6 months which will give me more encouragement to behave.

I'm on the bus right now and it's just started some heavy rain. We had quite a lot of rain a fortnight ago which scored us around 30,000L of rainwater. The week just been has been nice weather and it looks like a wet weekend coming.

The last 3 nights at home has been spent preparing firewood - something I probably should have done through the summer but never got around to it. There was a heap of wood left for us when we moved into the house, being a small amount of prepared firewood chunks, but there was also just a big pile of tree bits. So we're talking about big sections of trunk that need to be chopped up, branches, and a few random pieces of timber (some with big nails). Last weekend we also ran around part of our block wth the trailer picking up fallen logs and sticks etc. So I got myself a floodlight and have been cutting this also into manageable chunks for the last 3 nights. Ideally I'd like to do some more tonight if the rain stops.

I looked online through the week to see what is the best way to cut wood. I was looking at a table saw which looks like it might work. This week I just used a normal circular saw, this was OK but using it one handed gets tiresome fairly quickly. I think a table saw might be easier. Provided it's safe.

Tomorrow Majandra goes back to Pre-School ... her last term before starting "big school". It's great to see her growing up, but it sure is going to be a change to routine when school starts. I'll have to get up early every day! That means I might have to start going to bed before midnight :)

Almost time to get off the bus ... it's still raining, and it's foggy up here, 500m above sea level in the Adelaide Hills!


---
[Friday, 2015-04-17, 20:43]
Happy Easter ... already??? Oh that was two weeks ago.

Something crazy has happened, and the last 10 weeks have just disappeared. It's now April, the Easter long weekend has been and gone. We stayed home for this one, since going away at Easter time is always chaotic and also we only just recently spent 10 days in Victoria to see family.

For the long weekend I did take the opportunity to set up the tent in the back garden - something I did with Majandra last year and of course now Aliana is old enough so they can both join in. It's always exciting for the girls to come out of the tent and find chocolate eggs waiting for them!

This year on Easter Friday I'd invited Micheal and Helena around with their two children Caitlin and Aidan. I thought it might be a nice idea for them to come round and set up camp with us, let the children play and spend some time chatting. As it turned out that's exactly what happened - they came in the afternoon, the children played, we set up tents, had dinner, then the children & Helena went to bed. Briony, Micheal and I sat by a small fire enjoying the warmth. Briony went to bed shortly after, with Micheal and I staying up for more chatting and red wine. The following morning after breakfast we went for a walk through our "pine forest" to collect pine cones.

I mentioned above the trip to Victoria. We left after work on a Thursday, which worked really well driving at night and staying in Kaniva then finishing the trip the following day. The trip was good, with hardly any grizzling from the girls. First destination was Melbourne to see Oowan and Fiona and their new house. Whilst in Melbourne we visited the Melbourne Star (not allowed to call it a ferris wheel), the Aquarium and a bit of walking around town. After Melbourne we went to see Kerrie and Rob at Clunes. We had a nice time there, and the girls loved seeing the horses, sheep, geese and chickens. We also taught Aliana all about names, with the lesson being about Kerrie's dog's name (which is Amy). The girl enjoyed Kryal Castle too - Briony had heard over the years that it wasn't all that good, but I think for the young kids it's quite good to explore! And it's not every day you can see guys in armour doing jousting, just something a bit different.



















Girls Update

Aliana

Aliana is going through that phase of making bed time drag out as long as possible. At least this means the "kicking and screaming" bed time phase is over. It's likewise for doing teeth - lots of stuffing around, but at least no more screaming.

Aliana is copying everything that Majandra does. In some ways is nice - things like playing together, dancing, singing songs from 'frozen' and even pointing and saying ICE like Elsa from Frozen does. Of course in other ways it can be annoying where Aliana picks up bad habits from Majandra such as the angry face (although she's been doing that for a long time).

Aliana's talking is going well. We know she understands quite a lot that we say, she can respond with simple words and she has just in the last couple of weeks started making proper sentences. She has a cute little voice, although like all children the voice can be loud!

Aliana is also very much entrenched in "mum do it" - and I'm not allowed to change her nappy, dress her or do her teeth. It's even as silly as she won't let me pour a drink. I have been reinforcing the "mum is busy" answer and it's starting to work.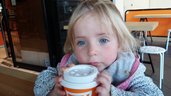 Majandra

Majandra is in her last week of Term 1 at pre-school for 2015. That means only one term to go until she's finished pre-school and she will start 'big school'. It's going to be an interesting change not having her at pre-school any more, she's growing up fast!

Majandra is turning into a really polite and well-behaved girl. She uses her manners properly including please and thankyou, we are very proud of that. As of two weeks ago she's also said goodbye to the high chair - she's now sitting in a big chair for every meal and she's handling it just fine. We're also saying goodbye to the double pram, which means when we go places with both girls Majandra will have to walk (both girls are normally quite good at that anyway).









House Update

We are slowly progressing with the house. There's a long list of jobs and we seem to get through the jobs very slowly. But that's OK, life is good and I suppose there's no critical rush to do anything. In fact sometimes it's best to take a step back and see how the house goes for a summer and winter season. For example the huge rains last night that got us about 30,000L of rainwater ... there's evidence of water pooling at the side of the house. Do I need more drainage, or is this simply because there was so much rain? The lawn is also quite soggy, we'll have to keep our eye on that.

Oh I almost forgot - Briony and I went Sky Diving. This time it was at Langhorne Creek with SA Skydiving and it was the 14,000 foot jump which gives about 1 minute of freefall. We had a fabulous time, the freefall was amazing and we got to fall through the thick cloud cover that was present on the day. We bought the photos of our jump, we weren't going to but it's not something we do often so we decided to get them. Mine are OK, Briony's are hilarious!








And here's some miscellaneous photos, including our weekend breasfast picnic at Mount Lofty Railway Station, my 36th, and a sunny day picking strawberries!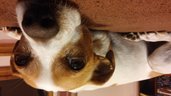 ---
[Tuesday, 2015-01-13, 22:48]
Happy New Year!

It's only one week until the 2015 Tour Down Under ride which this year is about 150Km. I'm sure I'll be fine, but I must admit I'm a bit out of practice. With moving house I havn't been riding to work as much as I'd like and I haven't done much in the way of social riding for a while. A couple weeks back I arranged to go for a ride with Matt, we went out through Stirling, then Piccadilly, Ashton, Cherryville and back via Mount Lofty. We did a little over 40Km, a long way off the 150Km TDU but still a very enjoyable ride. I did the same ride on New Year's Day with Eli, someone I know from high school (18 years ago!) but haven't seen since high school.

I mentioned recently that we'd been doing a few things to the house, namely roof restoration, solar power and solar hot water. The roof restoration went well, done by a company called Local Roof Care. It's not quite as nice as a brand new Colorbond roof however since it's a paint job I fully understand it won't look the same as what comes out of a factory. The roof looks good now, a million times better than what it was and our colour choice (Woodland Grey) goes nicely with our surroundings and even goes well with the Heritage Green gutters and verandah posts.








The Solar Depot 5kW Solar Power is done and we're getting good results. I got a Steplight EW4009 Wireless Energy Meter for inside the house so we can see how much we are generating versus how much we're using. This is actually quite important with the changes in Solar rebates because we really don't get paid a lot for power we export to the grid. These days it's about using your appliances wisely as to ensure the power you consume is the same power generated by the solar. So that means look at what you're generating versus consuming so you don't end up using more than you're producing. Of course any excess still gets a credit, but not much. The meter will tell us if we can use our washing machine + dishwasher at the same time, or whether we aren't producing enough to operate both together for free.

Solar Depot also installed 3 panels of Evacuated Tube Solar Hot Water system for us. It looks awesome, and works really well. We had to drain the system to install the panels and it was refilled and commissioned somewhere around 2pm. By 5pm it was hot enough to have a shower. I now have the electricity switched off to my water heater, it's running on solar only. The water is now so hot that it would actually cause a serious burn. Even on a hot day the water coming out the tap is steaming, and during strong sunlight sometimes we can her the hot water tank boiling in the roof. Our house being 20 years old does not have a tempering valve which means tap hot water is direct from the tank - very close to boiling. This could cause serious burns so I'll have to get a tempering valve installed. For those that don't know, a tempering valve mixes some cold water in with the hot, as to ensure the water coming from the hot tap is hot but not to the point of being dangerous.

Here's some photos of our Solar stuff ...






The latest thing at the house has been tidying up the orchard where we have a several fruit trees including apples and cherryplums. The birds have already been having a feast so we have been trying to get nets up. We have of a bit more of an idea now, but at first it was really challenging.

We're also on a mission in the orchard to get the blackberries under control. There are lots along the fence which I'm OK with, but we all dislike the little ones that pop up all over the ground and make it difficult to walk around without catching a thorn.

When we bought the house, the previous owner Gary offered me a tractor and slasher at a decent price. So I have this as a toy and it's fun to use plus also eats everything in its path really quickly. But it's a monster to get out, and while it cuts nicely it doesn't cut all that low. I wanted to cut really low in the orchard so we can start discouraging blackberry growth - my regular lawnmower did a good job but the area is too big for a push mower. I did a bit of looking around at ride-on mowers but that quickly got up to a proposed spend over $6000. Considering the work that the mower would have to contend with, I thought I might try my luck with a cheapie from Gumtree. I saw a few, but then this old-looking one was there for $1000 including a trailer and a 'dozer blade. On the one day I went to look at a John Deere for $2500, then this Rover Rancher for $1000. I settled on the Rancher mainly based on price but in hindsight there are a lot of other benefits. Firstly it's all metal - the John Deere 'shell' was made of plastic. Secondly it's an auto-drive which means I drive with the heel and toe of my right foot - heel for backwards, tow for forwards. This was great when doing around the trees, whereas the other one I would be constantly shifting the gear stick to achieve the same result.

I mowed half the orchard last weekend using the Rancher. It was good fun, and the machine did a wonderful job nice and low to the ground. Something else too - the girls love the machine. They climb on it, pretend to drive it, and of course go for rides in the trailer.

We have nets over two apple trees and those apples will be ready soon. The plums are about done, we've picked sevreal buckets-full and they are just lovely. Once the fruit has finished we'll have to prune the trees - they have been ignored for a long time and ar a bit scraggly and a bit too big.







In signing off for this entry I'd just like to say that I'm really enjoying living "out here" and I'm realising more every day that it's a wonderful place. We are only 25 minutes from town yet we have a freeway almost to our door, we have a big block with lots of trees and plenty of wildlife every day.

And compared to suburban living, it's all about the things I *can* do. If I want to jump in my pool naked, I can (not that I do, but I could). If I want to make noise such as vacuum the car at 11pm I'm not going to annoy my neighbours. I have enough space to drive both cars onto the lawn and wash them. If I want to have a campfire to keep warm and/or cook food and/or toast marshmallows, then I can (but not during fire danger season).

Here's a couple of random photos to finish off.









Anyway that's all for now - hope we all have a good year ahead for 2015.


---
---



Last modified: Wednesday, 01-Aug-2018 13:25:37 ACST
Site created by Callan Davies / CRUZN 2007-2010
Some content protected. Other content free for your use. Contact the Webmaster

Random Photo:


---
[Articles]
Talking to the Topfield TF5000PVRt using Linux and ftpd-topfield
Setting up DynDNS in Ubuntu/Linux
Restore GRUB boot manager after Windows destroyed it