Home/Blog
Current (2015)
2014
2013
2012
2011
2010
2009
2008
2007
BabyBlogs
Majandra
Aliana
Travel Blogs
Europe/Egypt '06
Peru/Bolivia '08
Central Aust '09
Fiji '11
Cycling Maps & Routes
Links


Best viewed with Firefox




Site Built with gedit on Ubuntu


[Monday, 2007-12-24, 00:19]
Quick blog entry before I pass out...

It's been another week of chaos, but it's great as it's the end of the year, Christmas is upon us, and while the presents are fantastic I think the best thing is to kick back for a week and do sweet nothing!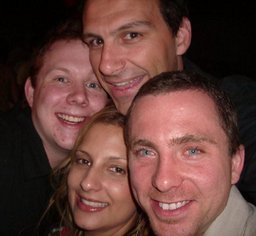 Since I last wrote, we've had the Business Solutions breakup party. Like last year we went to the twilight races at Victoria Park, and like last year we got mighty drunk. We started at about 4-ish, with a few beers and a few more. Then it was onto the wine, along with some food. Who knows where all the time went, but eventually the bar was closed and we had to move to another pavillion where (heaven forbid!) we had to pay for our drinks. It was packed in there, and the result was lots of pushing, shoving and spilling redbull + vodka all over my new $350 hiking shoes. We eventually headed into town to the Vodka Bar where I landed face first into a table after missing a step. That hurt a little, but it was all good. After the Vodka Bar everyone had gone home so it was just myself and Michael Dy off to the Elephant for 2 solid hours of rocking and dancing. We had a nice little group thing going on there, plus a few beers and eventually headed home at about 4am. For some reason I decided to get up and ride to Blackwood with Briony the next morning. Came home, felt ill, went back to sleep.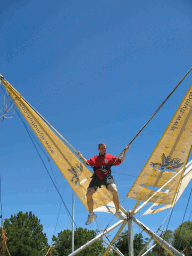 It's also been a week of tears, ever since Briony found out what I'd bought her for Christmas. She'd been at her dad's place, where the present was well hidden. Unfortunately one small (but critical) pieve of the present was left out, leaving it fairly obvious what was going on. So there's been tears, yelling, whinging, and more yelling. But hey, that's alright, it just means that I get to (have to?) go shopping again to get some more gear. And if those shopping adventures find me at Bunnings, perhaps some solar lights will accidently fall into my shopping basket.

Also since we last wrote, has been the Adam Internet Christmas Party. Great day, great location, great weather. Briony and I caught the train to Goodwood, and rode to the party location at Mile End. The management of Adam Internet had kindly put on some entertainment and food, which was well received by all. The Bungee was definitely the attraction of the day. My first shot was just a whole lot of up and down, nothing too exciting. But then after seeing others doing flips etc I went on again, and I got a backflip, then a double backflip, and a forward flip too. The forward flip hurts! I also went on the Cyclotron, those things that look like an atom where you're spinning inside multiple spinning rings. That kinda hurts too ... I guess you need to get the hang of it.

Anyway enough writing for now, it's past midnight and I've been busy with Kerrie's computer for the last 3 hours trying to get all her old data to the new machine. Eyes glazing over ... save and quit.


---
[Sunday, 2007-12-09, 23:03]
Catching up on a week's work

Things have been pretty hectic lately, work's been really busy which is great, and we've had stacks to do at home. Our rainwater tank FINALLY appeared and I got it hooked up today. Just got to wait for some rain now! We sort of make a point of not watering our garden excessively - we believe it's wasteful and irresponsible, and also unnecessary. The only downside I guess, is that the grass is not the usual lush green that we have become used to.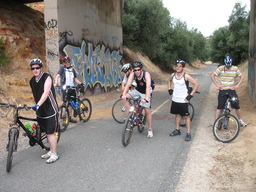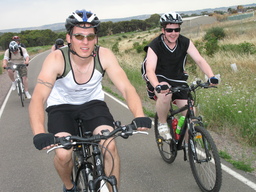 In other news, we did the annual McLaren Vale bike ride, along the Coast to Vines Rail Trail from Hallett Cove (see map on the Bike Routes page). We had 12 riders last year, this time we were a group of 8. We were missing Daniel Orr and his mate, as Daniel has recently not been too well. We were also missing Pedro who put on a great show last time but I think we scared him off, we were also missing Richard and Michelle who really don't have any sort of decent excuse - they've just gone soft!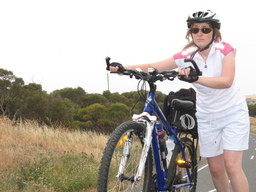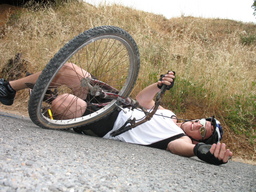 The McLaren Vale ride itself, like last year, was awesome. Lunch was fabulous too, at the Tin Shed Cafe. This year though instead of Rail Trail there, and Expressway (tougher ride) back on full stomachs, we did the opposite. Get everyone tired on the way there with the promise of food, and then take the easier way return. Congratulations go to Todd and Matt who haven't been riding that much before, and also Michael Dy did really well and kept right up the front! Also a big well done to Briony, who's done about 30Km total in the last six months and then did 48Km in one day. Once Briony left at Old Reynella, a few of us carried on back to town. Roughly 80Km all up for the day, nice one.

Today was the MRASA 2007 Toy Run, great turnout as usual, but what's with those Acquired Home Loans cars? I'm all for sponsorship and all that like the Adam Cars (even though Im sure Adam Management gets enough harrassment from a few vocal motorcyclists every year), the Acquired cars were lacking decoration, perhaps they'll get some tinsel next year!

Bed time for now, hope to have a productive few days as Friday is the Business Sales Christmas breakup - needless to say it's going to be a write-off.


---
[Monday, 2007-11-26, 23:59]
Drinks Friday, Re-cycle Saturday, Bi-cycle Sunday

Friday night was Dylan's birthday dinner at the Elephant in Rundle Street. There ended up being 7 of us for dinner, and we all got nicely stuck into the Heineken pints which went down very smoothly indeed. The group was originally going to be bigger, but it ended up being just the right size to have a good time without being too high maintenance (and buying drink rounds for 20 people!).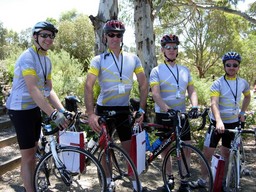 Saturday was time to take all the bottles and cans down to the recycling yard. $14.10 this time, which means another 282 items saved from landfill. Oh, and $14 in my pocket! After the recycling efforts we popped into Bunnings for some gear, and then headed home to tidy up. I was almost done mowing the lawn when Ben turned up for a chat. Was great to see him again, it's been a little while since I saw him last. I had to kick Ben out at 4:30 so I could have a shower, as it was time for Brett's Christmas function at his place. We only stayed for a short while but it was nice (as always) to catch up with people outside the usual working/office environment.

Sunday was a much busier day, with the Bike SA Sea to Vines 2007 ride. All the usual boys grabbed the road bikes and the lycra, and we pursued the 120Km course from Glenelg, up the Crafers Freeway, then to Uraidla, Lobethal, Williamstown and Lyndoch. The ride was very enjoyable and incident-free (well, almost - damn cleats!), however after pedalling hard to catch Gavin after a toilet break, I used up most of my energy reserves and the last 10Km was hard work. I was very glad to see the end at the Jacobs Creek winery, with food, drink, and a courteous ride home from Gavin and Alison. Overall and including stops for toilet / food / drink we took 5 hours 40 mins, so probably 5 hours riding time. Not bad for 120Km through the hills, but of course this was a social ride, not necessarily a race!


---
[Sunday, 2007-11-18, 15:00]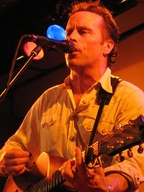 A Bike Ride and a Concert! Did I mention a Sleep-in?

Yesterday I took Michael Dy for a ride in Belair National Park. I'd been down to his place a few weeks ago for the Semaphore run, so it was time to show him the hills. We started out well, and were just pumping the tyres up when the bike fell over and snapped the valve off the tyre. A quick phone call to Briony got us a new tube and we carried on. With plenty of sweat and swearing, we got to Crafers and headed down the bikeway back to down. 30Km all up, in the hills. Awesome, and I reckon the hardest ride that Michael would have done in a while. No more going soft!

That same night Briony, Julie and myself went to see Mark Seymour + James Reyne play at The Gov. This was a great show, they both did a solo set and then after a short break they came back onstage together along with Bass Guitar, Drums, and extra Vocals. I knew most of Mark's stuff but definitely not James Reyne, however the whole show was excellent value. And did I forget the tasty Burrito that we ate before the show?

---
[Sunday, 2007-11-04, 23:40]
A weekend of sorting, tidying and assembling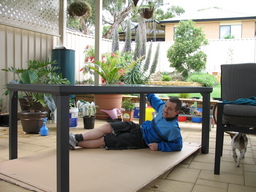 This weekend was a busy one! There was plenty of rain, which put a hole in my plans for a Saturday morning bike ride. Nice excuse for a sleep in I guess, but I really do need the practice for the 100Km Sea To Vines on the 25th. So on Saturday after waking up late we dropped Oowan's road bike into the shop for a service and bought a new helmet for Briony while we were there. We walked back through Blackwood via the Library. Back home was not so relaxing - there was a big mess in the pergola and heaps of work to be done! We'd ordered a new outdoor table setting, so that needed to be assembled and checked over. Of course this also meant that the huge cardboard cartons had to be chopped up and put in the recycling bin. 90 minutes later we were done cleaning up and had found a suitable spot for the table setting.

Saturday night Briony went to see Justin Timberlake, so I headed up to the folks' place for dinner and computer fixup. It was time to update dad's computer to Ubuntu 7.10 with all the latest software, and time to add a new hard drive to mum's crazy machine and therefore a reinstall of Windows was also necessary. I literally just scraped in with getting most stuff done with only superficial extras left over that could be done remotely with no hassle at all.

Sunday we had a sleep in again, and then the ritual eggs for breakfast. Well, Briony had cereal, the actual ritual being that Sophie and I have eggs together. We spent some time on the computer sorting out all sorts of things, and at 1:30 headed to Hungry Jacks for our mystery shopper. After lunch I took Briony all the way to Belair, then round the back to Belair Railway Station and home through Belair National Park. A few nasty hills along the way but Briony did really well and hardly any whinging today! I'll make a bike rider out of her yet!

It seems to now be 00:18, so I'm going to bed ....


---
[Thursday, 2007-11-02, 00:50]
GiftLists gets Second at eChallenge!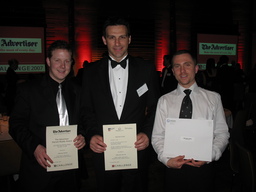 Tonight was the presentation of the 2007 eChallenge winners. The eChallenge program is put on by the University of Adelaide and is aimed to foster new busines ideas and encourage people to actually do something with those ideas. Teams of 4 group together and work on an idea and present this to a panel of judges. Both the product/service is evaluated for market potential, aswell as the case for a business itself. Teams must present a business plan to show how much the business will cost to run, what the potential market is, and any challenges they will need to overcome before they start making a profit.

The GiftLists Online team was comprised of myself plus Mark, Michael and Paulinka. Based on business concept we made it to the semi-finals, where our presentation got us to the finals. Mark and I presented to judges on Thursday, then together with Michael we attended the presentation dinner at the Wine Centre on Thursday night. After a very decent meal, dessert and a 3 minute "Elevator Pitch" that we had to do in front of everyone, the winners were announced. The winners of the night were Pyglet, a groovy team making a new device to appeal to iPod owners. As it turned out, the GiftLists team won two prizes - we got the overall Second Prize, and additionally The Advertiser Market Ready Award. What fantastic news for us! Next step is to take out idea, the feedback and the resources so we can turn the idea into a real business!


---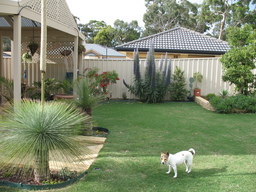 [Wednesday, 2007-10-31, 23:50]
Everything's Alive!

These days there's something new in the garden every day! Spring time is here, and we've had some great weather so far - a fair bit of rain to keep the ground wet, and a few days of very decent sunshine. The result is that our garden has gone crazy! In this picture the Bottle Brush is in flower, the Cobalt Tower also has some massive flower heads. The Lilly Pilly has gotten double the amount of leaves, and of course who can forget the amazing Grass Tree flower.

In other, unrelated stories, our GlftLists online presentation for eChallenge went really well, we're in the top 5 with our final presentation tomorrow! Awesome news! Mark has done most of the work on the business plan, with the rest of us contributing in our own ways. Thumbs up to everyone in the team.


---
[Monday, 2007-10-22, 23:45]
Weekend Report - Scott's Wedding, Darren Hayes and the Longest Bike Ride I have ever done

What a great weekend has just passed, jam packed with fibre and goodness! Saturday morning was the usual ride with the Belair lads, up to Mount Lofty. It was nice to be outin the sunshine again, makes a change from the freezing weather we're used to! Immediately after the ride was come home, do some house work, then head to Scott and Catherine's wedding at Glenelg. It was a nice ceremony in a Catholic church, a few prayers here and there, just nice overall and not too long. Awesome day for it too, the bride and groom really could not have asked for more.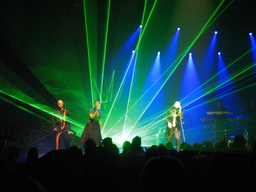 Saturday night was the Darren Hayes concert, and as usual Darren put on an absolutely awesome show. He's such a good singer, and he has a great band, in fact a REAL band with real drums and real guitars, not all fake stuff like you see so often. The concert was at Thebarton Theatre which is a really old but good venue, it wasn't a sellout show but the crowd was decent. One thing that does stand out for the night is the girl in the yellow dress. What a great pair she had :) however once she opened her mouth hysterically yelling DARREN DARREN it was quite clear that she was a little on the insane side!

Sunday I decided to head out for a ride with Michael Dy. I rode to his place bright and early, that was 35Km to get there. Then we rode 15km to Glenelg, enjoyed the scenery and miscellaneous bird watching for 15 mins or so, then rode back towards Michael's. I turned off at West Lakes and headed back to town. Score was Michael : 30Km, Callan : 79Km, So yes, I was pretty stuffed by the end, and I grabbed a Gatorade and donut at the Railway Station. Not sure if the donut was too hot or if I have some throat infection, but my throat really hurt to eat the donut and I could not eat dinner that evening! It still hurts now actually, I'd best eat some form of puree banana tomorrow!


---
[Wednesday, 2007-10-17, 16:00]
National Ride to Work Day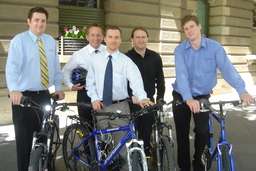 Today was National Ride to Work Day. They've done this in Victoria for a while apparently, however this was the first one to go Australia-wide and I'd say it was a pretty decent success. I've got no stats on how many people rode to work, but suffice to say that out of the 100 staff at Adam Internet, I got 4 other people motivated enough to get on the wheels and ride to work. Myself, Mr T, Myles, Hosea and Michael Owen all rode, which was a pretty decent turnout considering that by our very business we are a company of computer nerds!

We all met up at 7:45, as we figured the city would probably be jammed with bikes and there'd be nowhere to park. There weren't quite as many bikes as I'd expected to see, however by the time we were heading to work at 8:30 there were bikes everywhere so we were thankful for getting a good park in advance! Well done to the lads, and thanks to Bicycle SA for organising the whole thing, including the free breakfast in Victoria Square.


---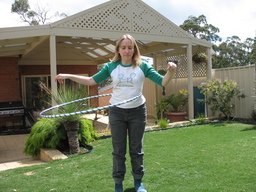 [Saturday, 2007-10-06, 15:30]
Briony Hoop Star!

While we were in Melbourne, we visited Juggle Art in Collingwood. This story starts many weeks ago when I caught up with Megan, who I know from the old SE Net days. I hadn't seen her for years, but out of the blue we decided to catch up for lunch. While we were discussing general chit chat over lunch, Megan told me she's into Hooping, yes, like the Hula Hoop you used to use as a child. After telling Briony about this, we had a look on the web and it's actually a pretty major thing, heaps of people get really serious about it. So off to Juggle Art we went, and $60 later we walked out with a massive hoop, and an instructional DVD. Was a bit of fun getting the hoop home, but once that was all done it certainly is entertaining to try the thing out, it's not easy to keep it up in the air! Also you get really tired after 2-3 mins, no wonder they say it's good exercise! Once Briony gets some practice in, I'll get some vids online!


---
[Wednesday, 2007-10-03, 21:53]
The Melbourne Report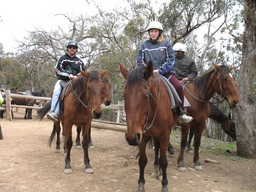 Our final activities in Melbourne included horse riding at Upper Plenty, a walk around town with Dylan and Sarah, and a visit to Auntie Ivy's place in Daylesford.

The horse riding was okay, but my horse was a bit dopey and I was hardly riding it as such - more like he was just following the horse in front of him like he probably does three times a day. Afterwards we took a train to the city and met up with Dylan and Sarah in Federation Square. There was a giant TV screen there playing the grand final Port Adelaide vs Geelong match, and we were there for the half-time bell, Geelong 74 to Adelaide 24. I don't like football, but I'm still disappointed at such a poor show from Port Adelaide. Anyway we walked around with Dylan and Sarah, and went to Renix at St Kilda for some awesome pizza.

For the trip back to Adelaide, I had the laptop and Briony borrowed Kerrie's portable DVD player. So between the electronic amusements, reading, chatting and visiting the Cafe Car for lunch, the trip went well. But just like on the way to Melbourne, the train travelled fairly slowly in Victoria and there were several delays. By the time we were 200Km from Melbourne we were already an hour behind schedule. Not really a big deal though, we had plenty to do on-board. At one stage we had to even walk up two carriages to use the toilet, as someone had blocked the toilet in our carriage with excess toilet paper. Some people just don't have brains!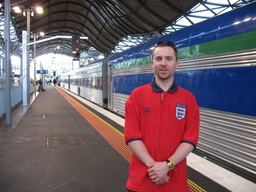 When we arrived to Adelaide we were glad to be back to this lovely clean city however we were more than a little disappointed regarding public transport. While Melbourne is filthy and disgusting, the tram services are great (a tram every 5-10 mins it seems), and there is a train on every major suburban line every 20 mins until 10pm and then every half hour until midnight. Additionally, the Interstate/Regional trains terminate at Southern Cross Station, right next to the Suburban lines.

In Adelaide, however, The Overland and other Interstate trains (we don't have any regional trains) terminate at Keswick station which is about 2.5Km out of the city. While it's not actually that far as for distance, it's quite isolated in that there aren't any decent transport options to get to anywhere, except for a taxi. So we pulled into Adelaide at 6:40pm, and this was a weeknight. By the time we grabbed our bags it was 7:00 and we were definitely too late to run to Goodwood station to catch the 6:55 Belair train. So we walked to Keswick station, and we sat there for an hour until the 8:00 Belair train arrived.

I'm quite a patient person and I honestly didn't have an issue waiting for an hour, there was nothing I could do so I didn't get stressed, however compared to the transport in Melbourne, this is shocking for 7pm on a weeknight. Adelaide needs to have some serious money spent on its hodge-podge transport system and bring it into the 21st Century. The tram line extension is the first good step we've taken in a long time, and I hope this trend continues. Hopefully in the next few years we will standardise our rail gauge and get electric train sets, and then perhaps we can get the Interstate trains to Adelaide station where they belong. At Keswick terminal though there are signs regarding the redevelopment and improvement of facilities ... does this mean there are no plans to have the Interstate trains to Adelaide Station any time in the next decade?

Anyway I'm off to bed - I'm tired after sitting for hours at a railway station last night ...


---
[Friday, 2007-09-28, 19:05]
Lovin the Legacy
Just a quick entry to log my success at getting accelerated graphics on Kerrie's Ubuntu 7.04. I mean, accelerated graphics are pretty easy now with the Ubuntu 'Restricted Drivers Manager' however Kerrie's computer would only display 800x600, same as what Julie's computer was doing the other week. Both machines are running older GeForce2 MX440 video cards which use the nvidia-legacy driver, and it took a bit of searching to find the right solution.

To get a higher resolution on Julie's, I had to add these two lines to xorg.conf, in the "Monitor" section:

HorizSync 30-82
VertRefresh 56-76

On Kerrie's this enabled more resolution options but not the 1440x900 widescreen option. To get this, I found the solution on ubuntuforums.org:

First go to Terminal and run the command - gtf 1440 900 75 - note this is for 1440x900 resolution, 75Hz refresh, so substitute appropriate value for the monitor
Copy the output of this command, which on Kerrie's computer looked like this :
# 1440x900 @ 75.00 Hz (GTF) hsync: 70.50 kHz; pclk: 136.49 MHz
Modeline "1440x900_75.00" 136.49 1440 1536 1688 1936 900 901 904 940

Paste this output into the "monitor" section of xorg.conf, restart the computer, and the new resolutions were available!
---
[Friday, 2007-09-28, 17:06]
Melbourne Madness

On Wednesday, we took The Overland railway from Adelaide to Melbourne. It was actually quite a pleasant trip, although the train didn't travel as fast as I had expected. The train was 6 carriages in size, and had a the Cafe 828 carriage in the middle, the 828 referring to the distance between cities by rail. The cafe car had pretty decent food, and the prices were reasonable. We left Adelaide at 7:40am, and were on time all the way until Melbourne suburbs, where we rolled at perhaps 30Km/h for 30-40 mins. We arrived about half an hour late, got our ticket for suburban railway, and took the train to Kerrie's place.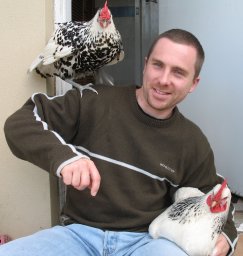 Yesterday we had the chance to sleep in, which was great. We had breakfast and mooched around the house a bit. We left mid-afternoon and took the train to town, followed by Number 96 Tram to St Kilda. We met up with Julie and had dinner at the Esplanade Hotel. Their "Famous Chicken Parma" was decent, but I'm not sure I'd describe it as "famous". After dinner was the Mark Seymour gig, where he was filming for a Live DVD. The show was excellent, I've never really seen Mark Seymour with a full Live Band before. Was a small crowd, however lack of air movement made the environment rather warm - quite different from the miserable cold & rain outside! After the gig, tram back to town and train back to Kerrie's. On the way home, a few of the locals got on the train. One girl was graffitiing the front carriage, and some random guy was standing on the platform between carriages, spitting over the edge. Weird. Do these people think they are COOL?

And today, was the Royal Melbourne Show. To be honest, it was pretty average, although I suppose I'm not really a Royal Show lover anyway. I felt that there were more animal displays than Adelaide, however perhaps less food stalls. Combine that with really bad wind and freezing cold, it was good when we saw the EXIT sign. After the show we drove to Collingwood to the Juggle Art shop which sells circus gear. Briony bought a Hula Hoop, it's enormous!

Anyway now we're back at Kerrie's, and Briony's in the back yard playing with the chooks. I'm currently being summoned, so I guess that means I have to go play with the chooks too ... this should be interesting. More later ...

---
[Sunday, 2007-09-23, 22:59]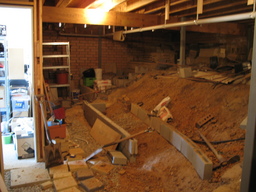 Pull your weeds, lazy neighbour!

This weekend has been a good one. Briony went out on Saturday afternoon, she had drum classes and then meeting up with her friend Sam for coffee in town. I spend the hours under the house, working on my little retaining wall project, it's all a bit random but it's coming along well.

While Briony was out, I took the opportunity to visit the folk at Number Ten. They've been in the house a couple of years now, and their garden is a disgrace. I'm not concerned about the 'landscaping' of the garden, but the waist-high thistles with big seed flowers on the end are really awful to look at, and are going to spread their seed everywhere. So I very politely, but also very directly, asked when they were planning to clean the weeds up. Thankfully, they were polite about it too, and they were out in the garden today and have removed most of the nasties.

I also picked up a couple of new tyres for my bike - got these "GEAX" tyres that I've seen on other bikes, I've opted for much more road-oriented tyres rather than the serious knobby ones, as 90% of my riding is on-road. I'll give them my first shot tomorrow!


---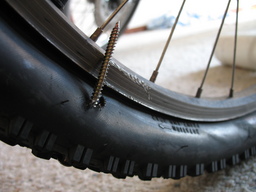 [Friday, 2007-09-21, 09:29]
$16.70, 1 hour and 4, and 4 inches

These three numbers are the most relevant numbers from the last 7 days:

$16.70 - the amount of money I collected from taking my cans and bottles to the recycling yard last Saturday. At 5c per recyclable package, that's 334 containers that I saved from landfill
1 hour and 4 - the amount of time it took me to run the City To Bay Fun Run (12Km) last Saturday. Fastest time out of the Adam Staff, congratulations to me :)
4 inches - the length of the wood screw that went straight through my bicycle tyre this morning. Bit of a hassle, but I suppose better through my tyre than through my foot!
---
[Friday, 2007-09-21, 09:21]
Mounting random NTFS drives, cowboy style

Went to see Dylan again on Tuesday - good company, good beer, good pizza, and good Ubuntu. Turns out that "The Mule" computer is used to connect various random hard drives, that may have any number of partitions. So we had to figure out a way to auto-mounting these without having to mess around. Turns out the quick dirty cowboy fix was to create mount points for /media/hdc1, hdc2, hdc3, hdc4, and do the same thing for hdd1/2/3/4, sda1/2/3/4, sdb1/2/3/4, sdc1/2/3/4. Then we put these mount points into /etc/fstab, which means that on every boot, any IDE/SATA/USB device connected will be mounted. Of course, for all the other devices which don't exist, an error is generated in the system log, but that doesn't really matter as we achieved what needed to be achieved.

Like attaching your car's bumper bar with Cable Ties I guess ....

The only bad thing about the night was that the music player was a Windows Vista machine. Took WAY too much effort to figure out how to use Windows Media Player to play an Audio CD, how annoying. Then when the Media Player Setup Wizard comes on screen, I wanted to get rid of it so I clicked the X to close, and media player crashes completely! Another quality Microsoft product. End of rant.


---
[Saturday, 2007-09-08, 23:29]
Thirty Degrees!

Today was awesome. Went up the parents' place yesterday evening and stayed the night. Today's project was to sort out the garage door and get the hinges working again. Everything went smoothly, until we hooked up the springs up and found that the existing hinges are just a bit crap. Well at least all the two-person stuff is done, the rest is easy going.

After doing that, came home and took Briony and Sophie for a walk down to Minno Creek. Only a few minutes from home and had never been there before. The walking track there is a work in progress but is pretty decent so far. Got home at 4:30 and Julie arrived with her computer at 5pm. The machine is so seriously stuffed, Windows has just had it. Time to convert Julie to Ubuntu.

While Julie's computer has been doing backups I have done some playing with the mount options for my Repotec NAS. I was finding that mounting the shares with smbfs was giving a transfer speed of ~1.5MBytes/sec. Mounting with CIFS was 6.5MBytes/seec but I had this issue where all files and folders I upload to the device are owned by root. The uid= and gid= options were being ignored for some reason. After some reading, I believe there is some glitch with the CIFS server extensions causing this issue. Anyway I added the 'setuids' flag to the boot options, and now everything is written with myself as the owner and I have full access. Just for the record, my fstab line looks like this:
//192.168.7.1/backups /media/backups cifs noauto,user=me,pass=mine,lfs,setuids 0 0


---
[Wednesday, 2007-09-05, 22:04]
More Ubuntu Goodness

This entry follows in my commitment to notate the steps I've taken to do certain stuff in Ubuntu, with the aim that I can refer back to these notes at a later date, to remind myself how to do stuff.

Misc Utils:

Hardware Sensors to show CPU Temperature etc - sudo apt-get install sensors-applet lm-sensors hddtemp - then when done - sudo sensors-detect - say yes to everything then reboot. When done, add the hardware sensors applet to the panel in the usual way and configure as required.
vnStat - keeps track of how much data has passed a certain interface and you can summarise it by day, week, month, etc
nload - shows stats on how much data is passing a certain interface on a realtime display

Also I thought I'd put a list of users that I've converted away from the Dark Side, and also users that are yet to be converted:

Callan - feeling Feisty
Jack - feeling Feisty
Ted - Never actually home, but when he's around, he's feeling Feisty
Kerrie - feeling Feisty, and even purchased her first Linux software package recently!
Leanne and Allan - feeling Feisty
Kevin and Jackie - Feeling Feisty
Dylan - loves the Feisty Feeling, but needs some practice
Briony - feels Feisty occasionally, an ongoing project
Julie - computer currently broken, but when she brings it round, I'll show her what it's like to feel Feisty
Wendy and Dennis - want to feel Feisty, but need a nice bit of spyware to convince them to do it
Mark Evans - knows what Feisty is, likes the sound of it, but seems quite happy in the land of trojans
---
[Wednesday, 2007-09-05, 21:49]
I'll have a Feisty Supreme, please

Last night was very productive. I headed down to Vivid Computers at Grange to see Dylan, as I've been preaching to him for the last six months about how fantastic Ubuntu is. He's finally caved, and we've caught up for a geek night and got Feisty 7.04 installed. Installation went a breeze, got the usual software installed, worked out how make Ubuntu read/write the NTFS drives, and of course whacked some Beryl on there for a bit of Eye Candy. After the computer session, I made good time on the bike back to town, however had half an hour to wait for the train. So I ended up riding to Mitcham, all in all a nice relaxing night.


---
[Wednesday, 2007-09-05, 10:37]
Trams and Water Restrictions

This week has been pretty hot on the political front, as the King William Street Tram Extension is finally done, and the first test trams have already had their maiden trip. Of course this means that the usual pack of whingers are out, complaining about everything. NO TRAMS they cry, when it's already done and ready to go. They should all be shot. Also in this week's political games, is the hot issue of the water restrictions, I wonder what this summer will bring. No problem for us, rainwater tank has already been ordered! And you know, those anti-tram people have come up with this wacky theory that because the tram costs money, and we don't have a desalinisation plant, that somehow the tram causes water shortages. Crack smokers.


---
[Tuesday, 2007-08-30, 23:10]
First Ride for Team Adam

Per the last entry, the weather has been sort of half decent. This means it's time for Team Adam to fire up a short ride after work, on the first Monday of each month. Thus far it's myself and Michael T. I think Vu will be in it too, and Hosea's just bought a bike. Myles is the next challenge, and this evening Pockets mentioned he has a bike. I'm not sure what everyone else thinks, but I reckon that translates to "I'll be there". The next project is Cas, I reckon he'll enjoy it but needs a shove in the right direction.


---
[Thursday, 2007-08-30, 20:04]
On Ya Bike!

Finally, winter is showing signs of coming to an end. Firstly, it's not freezing and wet every day. Secondly, the sun is out most days. Thirdly, the temperature has been absolutely awesome, between 15 and 25. Needless to say, this is what I've been waiting for so I can get back on my bike to work. After a 3 month break, I'm riding basically every day I can, and I love it. No more annoying fools on the train, however I guess I do have to contend with the drivers on the road that somehow think I'm transparent and hence pull out in front of me. Fools.


---
[Tuesday, 2007-08-14, 23:37]
Weekend at Currency Creek

Oh, I almost forgot to report on our weekend away at Currency Creek! Briony won a voucher for the 'indulgence tour' at Currency Creek winery. This provides us with 1 night's accommodation at their villas which are really nice, plus a meal and bottle of wine. I have to say the wine is excellent, and the meal even better! We both had vegetarian which was Red Lentil Dahl, and this was a delight. The dessert was great too. The winery is about 15 mins drive from Goolwa, which is a nice place to spend an hour or so. The winery also has something they call the Black Swamp Walk, which is a path around the winery property, taking in the sights.

The Black Swamp Walk was definitely the most memorable part of the weekend, albeit not for the walk itself! Along the walk there is a railway bridge (or viaduct, more on that in a second). This is not officially part of the walk, but as it's only 50m off the path and only for tourist trains, we decided to take a look - we knew there were no trains that day. Anyway we got up to the top and we had a good look at the scenery and paused to look at a gum tree. Little did Briony know that she was standing on an ant nest! Next thing she's screaming in absolute horror as her worst nightmare comes true, and I had no idea what the problem was. When she finally screamed ANTS!! I had a look and there were several on her sock, up her jeans, and on her shoe, and these were HUGE bull ants. Anyway I proceeded to kill them, and one started biting her foot inside her shoe. So we're standing on a railway bridge, and off comes the shoe. Off comes the sock. Off comes the jeans. Next thing Briony's standing there in her underwear, crying and in the worst state of mind. It's all funny in hindsight, but poor girl was petrified. The only thing that would have been funnier, would be if it were Sunday and the tourist train had come and seen Briony in her knickers!

Oh, and on the Bridge/Viaduct thing - this sparked a debate. What's the difference? I believe that a BRIDGE crosses water, therefore goes over a river or stream. On the other hand a VIADUCT crosses a valley, simply between two hills. Now, Currency Creek Winery calls one of their wines THE VIADUCT in honour of the Railway Viaduct on their property. But the Viaduct clearly goes over a riverbed. The riverbed was dry, however a riverbed is a riverbed. So, Bridge or Viaduct?


---
[Tuesday, 2007-08-14, 23:17]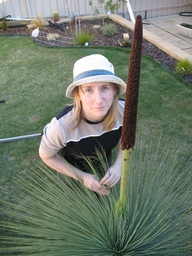 Grass Tree, Repotec

Well first the exciting news, the Repotec NA2310 is finally available in Australia, and mine arrived last Friday. This is a device in which you install a SATA hard drive up to 400GB, and you connect it to your network. It runs Samba internally, making it a good file server for home or small business use. I plugged it in, logged into the interface, changed the IP address to match my network, and then happily browsed its shares and transferred a bunch of data. I've got to say that it looks really cool, but two things concern me. First, the hard drive makes some funny noises while accessing ... could be normal and just that the hard drive is not inside a thick computer tower, but I'll be keeping my eye on that. Second, I can only get 30Mbps transfer rate while uploading to the device. I was expecting more, but perhaps this will work itself out with a firmware update + tweaking on my computer itself. Putting these concerns aside, I was most impressed to find that the device supports a Bittorrent server so I can leech without my computer being on!

Anyway in other news, our grass tree is in flower! This is an Australian Native plant that grows 1m every 100 years, and the flower is a rare occurrence. How exciting!


---
[Wednesday, 2007-08-08, 19:47]
Successful Linux Printing

I guess this is a slightly weird entry, as it doesn't specifically relate to the happenings that have taken place since the last update. Basically this is just a brief entry about my Linux Printing experiences over the last couple of months.

First I should point out that anyone that runs (or is considering running) Linux, while installation of hardware is easy I have had some interesting times with various printers. I put this directly on mass-marketed units that often cost less than an ink refill, pushed out to consumers who are shopping on price and not quality. This results in a bunch of Windows-only, software driven printers that really are just crap - much like our favourite Winmodems out there.

The first thing to do for setting up your printer on Linux, is to check http://www.linuxprinting.org to see if your particular printer works in Linux, how well it works, and which driver is recommended. From here I guess you need to refer to the support forums for your particular Linux distro for advice.

For those printers that are not natively supported, I recommend you try Turboprint which is a commercial product which supports HEAPS of printers and lets you install them easily. Using this product, I got a Canon Pixma IP1300 working, whereas I could not get it working properly using the default Ubuntu drivers.

Good luck with your Linux printing, and don't forget to email your manufacturer and enquire about Linux drivers - the more queries they get, surely the more likely they are to start developing!


---
[Monday, 2007-07-30, 22:16]
Legs and bad movies!

My legs are caning. It would appear that a select group of Adam Internet elite have made it tradition to compete (compete? us? hah!) in the City to Bay Fun Run, which is a 12Km run from Adelaide City to Glenelg Foreshore each September. Each year we all promise each other that we'll keep our fitness up and we will keep running regularly, in order to get a better time next year. Unfortunately none of us actually stick to our promises.

So the Saturday just gone was our first training session. The boss Scott goes to a local gym in town, Lee's Super Gym, and they are kind enough to provide a trainer every Saturday, for 8 weeks before the Fun Run. It seems this was Scott's, and my, first time running since last September. So we've gone for a a whole year of Iced Coffee and Doughnuts, straight into a 6Km run. The lungs are okay, but my legs are pretty much knackered. My thighs hurt in that worn-out sort of nice kind of way, but it hurts to walk down stairs. We'll see what this Saturday's training brings.

Also, the last week has been the week of bad movies! Let week we saw Vacancy. Briony loved it, but I thought it was awful. At the end I proudly claimed 90 minutes of my life wasted! which threw Briony into an instant shitty mood for some reason, oh well. The movie was shit and I stick to my guns. Then tonight we went to see Fantastic 4 sequel (The Silver Surfer) - was entertaining I suppose, but overall pretty average. At least this one was a free ticket!


---
[Sunday, 2007-07-29, 13:56]
A month since the last update? Been busy have we?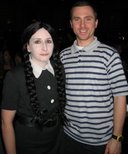 It's been a crazy couple of weeks, been really hectic and spare time has been zero. The end of financial year at work has been really busy which is GREAT for business but no so good the the stress levels. At least we're pumping out the new orders and keeping all our customers happy, so we're doing what we're paid to do!

Apart from work, July 2007 has seen more fish introduced to our tank, we've had Briony's 30th, I've done a computer fixup for Briony's boss, and of course the Adams Family Gala Night which was fantastic.

Briony's 30th Photos
Bush Walk with Kerrie & Rob (Briony's 30th Weekend)
Adams Family Gala Night


---
[Saturday, 2007-06-23, 23:15]
Half way thorough another weekend

I'm here again, at the PC. What a great day, went to town and took Sophie Dog for a walk while Briony was at drum lessons, town was rather nice today as the sun was out for a change! After drum lessons, we went to the shops and then cleaned up the house. Ted (Briony's dad) came round for dinner, I made BBQ Roasted Vegetables, Briony had vegetarian sausages, Ted and I had some steak.

Tomorrow we have some guy coming round to survey us. He runs a company from Sydney, and they make some sort of camera / video / storage device, that apparently is really good and fits in your pocket. They want to survey people about how they use their current cameras etc, and download images to the computer. So they will survey us, and we get paid! I bet the poor guy gets a nice surprise when he learns that we run Ubuntu Linux in this house, not the usual Windows XP/Vista.

So anyway, with this guy coming round, Briony wanted to make sure that she could show him how to use our digital camera, and how to download images from her phone to the computer. I had to give her a quick crash course in Ubuntu, as normally I handle all the cameras etc. I knew that our Canon Powershot A620 would work as I use it on my computer all the time. Much to my absolute delight, her Sony Ericsson W300i also worked no problems. I didn't have to install any software, I just plugged in, and Ubuntu told me there was a new device connected, and offered to let me manage music and/or photos. What a piece of cake!

Anyway, let's see how this interview goes tomorrow ....


---
[Saturday, 2007-06-16, 17:46]
Dying a slow death

I'm sitting here at my computer, playing with my website, and I'm slowly dying due to excessive tiredness. Caused by my own over-exertion of course.

This morning's bike ride was at 7:30 to Mount Lofty like normal. Given that I've been sick and have not sat on the bike for 3 weeks, I did pretty well! I also hung around for the 9am ride as I had to make up for the last 3 weeks. The 9am ride is normally an easy one up the dirt track. But this time the rest of the group decided to do two crazy hills.

My legs feel heavy, I have a headache, and feel generally worn out. Looks like my visit to the Pink Pig tonight for Richard's Birthday party will not be a late one, I fear I may fal asleep before 10pm.


---
[Sunday, 2007-06-10, 23:19]
Setting up a new Blog Site

My latest project relates to blogs, and my contributions to the Internet. There have been so many times that I've searched online, for solutions to my problems. While sometimes the results are worthless, other times I find really valuable information.

So I figured that I should host some sort of diary/blog, and note all the stuff that I do, be it computers or anything else, and share my experiences with others. Who knows, someone might find this site useful.

So a-looking for blog software I went. I had a look on Sourceforge, a huge library of Open Source software. There I found this new content management system called MINB, seems pretty cool so far, nice and simple, has a bunch of cool features, and is very lightweight. I had a few issues getting it installed, mainly to do with the permissions on the server. I soon worked out that the categories directory needed to be set to permissions 777, and also all its subdirectories needed to be the same. Did this, and all seems to work well.


---
More blog entries are available in The Archives - see previous blogs in the left menu
---



Last modified: Wednesday, 01-Aug-2018 13:25:37 ACST
Site created by Callan Davies / CRUZN 2007-2010
Some content protected. Other content free for your use. Contact the Webmaster

Random Photo:


---
[Articles]
Talking to the Topfield TF5000PVRt using Linux and ftpd-topfield
Setting up DynDNS in Ubuntu/Linux
Restore GRUB boot manager after Windows destroyed it