Home/Blog
Current (2015)
2014
2013
2012
2011
2010
2009
2008
2007
BabyBlogs
Majandra
Aliana
Travel Blogs
Europe/Egypt '06
Peru/Bolivia '08
Central Aust '09
Fiji '11
Cycling Maps & Routes
Links


Best viewed with Firefox




Site Built with gedit on Ubuntu


[Sunday, 2014-12-28, 21:37]
On the third day of Christmas ...

It was the night before Christmas, and Callan was on the bus on the way home from work!!

Briony has been grizzling lately because we never seem to get parcel deliveries to our door - even if we're home we never get anyone coming to the house but we always get the "parcel waiting" card in our letterbox. It's strange as we think it would take more time to write up the card than it would to bring the parcel up the driveway. Anyway there's a parcel waiting for us now and the local Post Office phoned me to find out how quickly I could get there to collect it. Since I was on the bus I could not get there in time but two of the post office staff waited back 20 minutes for me. That's awesome service and great Christmas spirit!

Later on Christmas Eve we went to the Carols at Blackwood as we've done for the past few years. We didn't stay long as the girls were tired, probably just long enough to make it worthwhile (and time for BBQ + Coffee + Donuts of course).

Christmas Day was nice - Majandra got up first and Aliana was up before long. Santa had drunk his milk and eaten his biscuits and fruit, and of course there were presents under the tree. The girls opened their presents and proceeded to play happily. My parents arrived late morning and we did more presents with the girls. Christmas Dinner was roast vetgetables and cold turkey with apple sauce, and for dessert was pavlova with mixed berries including blackberries we picked down the back of our block. Am I allowed to call that area an orchard?















All in all, Christmas a fairly low-key and stress-free event this year. Here's cheers to Glenis and Ted (Briony's parents) who are no longer with us, but are still in our thoughts particularly at Christmas time.

In other news recently, Majandra's Pre-School had an open morning where parents could turn up for a couple of hours. This was a good opportunity for me to stay there a bit and see what the children get up to. Briony often stays a bit, whereas when I drop Majandra off it's normally stay for 5 minutes and then head to work. Here's some photos!







Speaking of Majandra's Pre-School, they were involved in this year's Blackwood Pageant. Briony and Majandra got to walk in the Pageant, with Majandra dressed as a kangaroo. I went along with Aliana to the Pageant, but just to watch. Check it out!








As if there wasn't enough Christmas stuff happening, we also went to the Christmas party at the local CFS station. They had Santa arrive on a Fire Engine, there was heaps of food and the kids got to go for a ride on the back of the Fire Engine. Aliana was scooped up by one of the local girls, and taken for a ride right up top of the truck. She loved it. This Christmas show was also a good chance to catch up with our new neighbours, who are actually are also new to the area having moved in only a month ago.








Majandra and Aliana in general are doing well. Aliana has calmed down a bit from the terrible two's or whatever cranky-pants phase she was going through. Sometimes it's still hard to get dressed and nappy changed etc, however overall she's a bit more cooperative than she was a few weeks ago.

Aliana seems to be following Majandra's example when it comes to pretty things. She loves the hair clips and hair ties, although the hair ties seem to be used as bracelets as opposed to their intended purpose. She also is obsessed witk Milk Bubbles (aka babycino). The moment she hears the coffee machine she'll come racing over saying BUBBLES BUBBLES. Sometimes BUBBLES is the first thing she says to me in the morning right after she finishes her breast feed. Yep, she still loves the boob - almost 12 months longer than Majandra did. Once I get the steamed milk ready, next thing is Milo which she calls MAMO and then MAT to sit on the mat and put the Milo in the cup by herself (usually making a mess in the process but it's all learning).

Majandra's doing well, getting really good with her numbers. She'll often point out the speed signs on the road as being "a five and a zero in a red circle" or similar. She has asked what the difference is between the speed signs and the other yellow speed advisory signs on bendy roads etc.

Oh, Majandra also decided to hack off her own fringe in the bathroom, and come out to show us whilst holding all the offcuts in her hand.

Here's some photos to finish up 2014.



















Merry Christmas, and see you again in 2015!


---
[Sunday, 2014-12-14, 22:54]
There's a hole in my pocket

We've been in our new home for just over two months now. We're all really enjoying the house and the location however it's been hard work getting everything unpacked and sorted out. We're getting there slowly. Plus we seem, to be spending money like there's no tomorrow - house network cabling, roof restoration, solar panls, and soon to be air conditioning too.

In recent weeks we've done plenty of stuff, I just haven't found time to write about it.

Over the October long weekend we went camping. This was our trip up to Port Augusta & Quorn for the Pichi Richi Railway's Teddy Bears' Picnic event. We stayed at a nice camp ground called Spear Creek, it's about 20Km on the Adelaide side of Port Augusta. It's a bush setting and as we took an unpowered site we had plenty of room to move. Fire danger season had not yet started, so we were allowed to have a campfire. The park office stocks firewood and fire rings for this purpose, so we had just a small fire and toasted some marshmallows.

















We did the Teddy Bears' Picnic train ride, this was a nice day out. It was a lot harder with the two children though - last time we went we only had Majandra and life was easy. This time both Briony and I had our hands fairly full. Always nice to go on a steam train :)













Something bad has happened though - our dog Lucy damaged her leg at my parents' house while we were camping. She probably started the damage at home - remember we have no fences so we had been locking Lucy inside when we went out and we could see she'd been jumping at the door. Then when we went camping she was at my parents' place, locked in the laundry for an afternoon and she was probably jumping at the door again. I'd say a combination of these two activities has been the eventual cause of the snapped Cruciate Ligament. This is the ligmanent that holds the knee together, and she has had to have surgery to install some bands around the knee. Following surgery she was supposed to remain calm, however she mustn't have been calm enough as she managed to snap these surgical bands and we had to have it done again. That's about $3000 in surgery - just add it to the list of expenses at the moment.

Next thing - Aliana is two years old. We had a little birthday party although it was just the four of us. We were going to invite Nana and Papa but that did't work out as Papa had shingles!











Also she's got the two-year-old attitude thing happening. She's OK overall, but just a few things make life fairly colourful. Just like Majandra a few years back, Aliana doesn't want to get undressed, or dressed, or nappy on, or nappy off. She doesn't want her food but she screams if we take it away. She's just having a little period of independence, it'll be back to normal soon.

She's really insistent on doing things herself. She'll say "turn" meaning it's her turn, this applies to pants on / pants off, making breakfast and more. This even extends to undoing what we just did so she can so do it. If we put her toilet seat on the toilet, she'll say turn then take it off, put it on the floor, then pick it up and put it back on the toilet. This morning I closed the cupboard - she said turn, opened the cupboard then closed it again.

I don't mind the strange attitude or the independence, the worst thing is that bed time takes AGES with all the stuffing around. We'll try to put her nappy on and she'll say "wees" so we let her go to the potty but she'll get distracted on the way. Then back to her room and we try the nappy again, and she says "wees" again. This, combined with the uncooperative clothes change and multiple books means bedtime is sometimes a whole hour and finishes past 8pm. Then it's do dishes, fold some laundry and go to bed!

My sister and family were on holiday from Hobart and a week of that holiday was here in Adelaide so we'd organised for Oowan and Fiona to come over from Melbourne for an early Christmas in the middle of November. We had Koorine and family stay at our place for five nights, plus Oowan and Fiona for two nights. Luckily we have a fairly big home with lots of bedrooms so everone had plenty of room.
















On the Saturday of that weekend was the Christmas Pageant which the girls loved, then we headed back to our place, lit a fire and had baked potatoes for dinner. They were fantastic, done just right in the fire. The following day we did our Christmas in November - lots of snacks, a big lunch, some beer and cider and wine, and lots of good company including Nana Gail and Papa Jack.

While things were busy and a little chaotic with so many people in the house, it was nice to have some extra hands to cook, clean up, and even to help put the girls to bed.

Over the next few weeks I aim to do a couple of things around the house - fix the lawn sprinklers, pull the weeds from the lawn, pull the weeds from the stones, and have a general tidy up in the man cave. There's a lot to do, but only so many hours in a weekend!!

Oh I nearly forgot 31st October Halloween - we took the girls to do trick-or-treat in Blackwood Park. Not only is this where we used to live only 3 months ago, it's also "the place" to go trick-or-treating. There are so many people around from all the surrounding suburbs. And the residents mostly play along with lots and lots of houses being set up in really amazing ways. Like how some houses go crazy with Christmas lights - these houses go nuts at Halloween. There were witches, goblins, scarey people, (fake) people mashed under a garage door, fake blood and spider webs, and even one house with a few chainsaws and trolleys in the front yard full of body bits and blood everywhere. Oh and a guy wearing an apron splashed with blood.

So about the trick-or-treating ... we were impressed with the quality of the scarey houses this year, and we spent about two hours with the girls. They had a ball, and EVERYONE thought Aliana was so cute dressed as a pumpkin. She did look pretty awesome, and we got so many comments. Photos?










And a few miscellaneous photos to finish off ...









---
[Tuesday, 2014-10-14, 08:27]
The cardboard box shuffle

The last few weeks have been a little chaotic with the house move combined with our normal day-to-day running of the family. All things considered the move went quite well. I mentioned in my last post that we'd moved some gear into the man cave (shed) over the previous weeks and this was really helpful to take away some of the time pressure of the overall shift. It just happened the wild daffodils were in flower so we took the girls for a walk to pick some flowers in between trailer loads.








Gary and Julene vacated the house on time and we keenly arrived on Saturday 20th September. We arrived with both cars packed, a full trailer and high spirits. Gary had told us that Julene would clean the house top to bottom, after all she is a professional cleaner and takes great pride in her work and also her home. When we arrived we observed this was absolutlely true - it was practically spotless. The kitchen was clean and ready for us to get going.

We spent a fair bit of time in the garden that morning, sitting on the grass together whilst taking in the sights and sounds of our new home. We had morning tea outside and the girls really enjoyed looking at the fish pond. We spent the day thinking about where things should go, and unpacking all the kitchen stuff. We came back the next day to do some more, and over that weekend we shifted several more trailer loads. The girls enjoyed their first bath in the new house on the Sunday morning and proceeded to dry off by way of sunbaking on the rocks near the pond.



















We had our last meal, last story, last feed and last sleep at Blackwood on Monday, then on Tuesday 22nd the Complete Removals truck turned up and shifted the big stuff. I stayed at home that day with the removalists while Briony was at work and the girls at day care. We spent the next few evenings at Blackwood house, cleaning up ready for the new owners Corey and Catherine to move in. We are proud of what we built, and wanted to leave it as close to perfect as possible.

















As of writing this entry we have been in the new house for 3 weeks exactly. It's been a been fantastic so far apart from Briony's fear of the nasty hopper ants that we see around the place. I'm slowly killing their nests with petrol which takes care of them rather quickly (not setting fire to it of course).

We've seen Gary a fair bit at the new house. He still has some birds in the aviary and also some posessions in the bottom shed that he's still cleaning up. The following weekend we knew we had to clean the fish pond and Gary was nice enough not only to explain but to jump in (literally) and help out. We used the fire pump to suck the water out, that made life a lot easier than doing it all by hand.

I did a 'burn heap' with Gary last week. He had a stack of old wood and rubbish that was cleaned out of the bottom shed. He'd piled it all up and topped it with an old wardrobe and during a day off work I saw him arrive. I went to say hello, and he asked keenly if we should do a burn. So we did - we lit it up, stood guard with the fire pump and it all worked a treat. That got rid of a pile of rubbish and at the same time gave me a lesson on burn heap safety.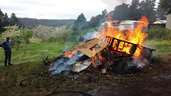 One issue we are having is with Lucy. The property has no fences at all, which is nice because from the house there's not a fence in sight (apart from the pool fence). The problem is we know Lucy will go wandering, potentially onto the road. We have already had Aliana wander down to the road too, so we need to protect the dog and the girls. Lucy's been locked up in the house all day and it's sending her a litle bit nuts. She's been chewing and destroying things almost daily. We need to do some fencing but the boundary lines are a bit overgrown and there's a lot of cleaning up to be done before fencing can be consisdered. I'm going to have to rig up a temporary fence for now, before Lucy goes completely insane.

Girls Update

Aliana is almost two, and it's not hard to tell. She's in that difficult phase where she makes it hard to get undressed, get dressed, take nappy off, put nappy on, eat, don't eat, window open, window closed. Perhaps it's just because children seem to learn how to say NO before they can say YES. Apart from being a little difficult thouigh she'sng quite well. She has lots of new words. She knows house, tree, cat, pig, milk, bird, pool and I'm sure there are more. She really is very cute.

Majandra loves going to pre-school, she is learning well and she recognises most numbers now. We were driving the other day and there's a 25Km/h speed sign on a sharp bend. She piped up and asked what a two and a five mean. So we explained about the speed signs being numbers in a red circle.

Let's finish off with a few photos!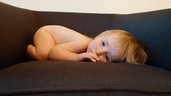 ---
[Tuesday, 2014-09-09, 08:40]
Relocation Station

I know, more talk about moving house. But hey, it's a big deal for us!!

With the contract for sale of our current home signed, we had to talk with the owners of our new home in regards to move-in dates. Usually it's fairly clean-cut with settlement on a particular day and that's the same day when the previous owners must vacate. But since our current home wasn't quite ready for market, we knew from the start that our new home would settle prior to our current home being finalised. For this reason we told the owners of our new home that they could stay there a little longer and we'd pitched "end of September" as a rough guess.

Our current home sold fairly quickly (phew!), and settlement is on 26th September so we need to be out by that date. I'd been in contact with the owners of our new home to inform them of everything in advance and we've requested they vacate over the weekend of 20th/21st September. That's a week earlier than we'd estimated but still a full week after official settlement. It's also a week before our current home settles, so we can move all our stuff and still have time to properly clean before handing to the new owners.

Actually we're on really good terms with Gary and Julene, the current owners of our new home. Sunday before last (31st August) we went to the new home to have dinner and chat with them. This was originally suggsted as a walk through to talk about the property, however it turns out we spent more time eating food and drinking wine, then a little bit of talk about the shed and water tank afterwards.

As I mentioned above we have allowed the current owners to stay in our new home for two weeks following settlement. As a return favour, Gary has cleared the top shed ("man cave") of all his stuff and he gave us a key along with an invitation to start moving stuff into the shed. I took the opportunity to buy a trailer, and over the weekend just gone we managed to shift five trailer loads of stuff to the house - mostly the bulky stuff from the garage and storage.

There's a bit of a story about the weekend and moving our trailer loads of stuff.

Before we moved stuff into the shed, Gary had a few bulky items to move out. Nothing too crazy, but stuff that was too big for one person to move on their own. I popped up to the house to give him a hand, and in order to reverse the trailer a bit closer I started shifting a pile of firewood. Gary warned me to watch for snakes, and also for centipedes as sometimes they hide under the bark and they come out when the wood is moved. I finished moving the pile with no snakes or centipedes in sight, but of course I had to tell this story to the family when I got home.

As it turns out, centipedes are one of Briony's most feared creatures and she immediately became convinced there are centipedes everywhere and they are going to crawl out from under rocks and surely crawl up her arm.

We then had a repeat incident regarding hopper ants, which are large ants with big pinchers and they also can sting with a venom just like a bee. This can cause an allergic reaction in some people and of course Briony's been looking online and she's now convinced there are nests everywhere and the ants are in the lawn just waiting for her to sit on the lawn and then they will sting her.

Add all that to the new house being across the road from Ironbank CFS and the fire siren going off at 8pm every Monday, and Briony has decided she doesn't want to move.

In all seriousness, I'm sure it's just her getting nervous at the upcoming shift. Settlement on our new place is tomorrow, so it's a litle late to turn back now anyway!!


---
[Friday, 2014-08-29, 08:22]
Under Contract

Briony and I are very excited to say that last night our house went to signed contract of sale.

We signed our real estate contract with Stephen Ring on 14th July. Over the next fortnight we had to do some final tidying and decluttering, plus getting some rental furniture which was delivered on 7th August and then professional photos on 8th August. During this time we actually had a family come for a first look, they were impressed but didn't take that next step.

Once we'd finished making our home perfect, it went online on Wednesady 13th August and we'd left it as private inspection only in the initial period. This means we'd only get serious buyers enquiring rather than just anyone coming for an open inspection.

We had a couple come through the house on 18th August for a private inspection with Stephen. We only had two hours notice of this visitor, so it was a quick scurry to get things ready and thankfully we'd been keeping the house super tidy every day since we knew someone might want an inspection at any time (and potentially at short notice). We had an open inspection that Saturday 23rd August. If I recall correctly Stephen said there were 6 couples through, one of which was the couple from the private visit earlier in the week.

Following the open inspection, there was another private inspection requested for Monday evening 25th August. That actually turned into two inspections back to back, with one of the appointments being for the couple that had the private visit the week before. Good news is that both couples were very serious. The two inspections took quite a while, but that's a good thing as it shows committment. While Stephen was doing the inspections we grabbed some take-away and ate it at Windy Point lookout. It was windy and cold so we didn't stay long but it was nice to look at the view and Aliana was excited as there were lots of aeroplanes in the sky.

That was Monday this week - and very shortly after that we had confirmation of a serious offer, the offered price was good and the settlement terms suited us perfectly. That was followed by a building inspection which I understand went well. The buyers signed the contract of sale immediately after the open inspection and we signed it last night.

All things considered Briony and I are thrilled with the process, timing and terms of sale, and throughly impressed by the professionalism and grace of Stephen Ring, and the excellent service from the rest of the Ring Partners team.

Of course we are also very proud of our home and we know the couple that move in are going to love it.


---
[Friday, 2014-08-22, 21:56]
House for Sale

Well, our house is officially on the market! It's been a lot of work to keep the house tidy with the kids around, even just small things like cleaning the glass doors out the back and within 24 hours they are again covered in hand prints. The rule seems to be clean up, and then spend time every night to maintain that cleanliness. Also to take all but a couple of the girls' toys away - since less toys means less mess!

Getting this all done was hard work but fun. I mentioned last entry that we signed with Ring Partners - we find Stephen to be genuine and honest and we get along with his way of doing business and dealing with people.

Once things were signed and house in order we had photos done. This happened Friday two weeks ago, then our home went on the market Wednesday last week. I've said before that it'll be hard to leave home and that's so true now - our home has never looked so wonderful, with its fresh paint job outside and the garden is looking amazing. Basically everything is exactly the way we wanted it to turn out, and now we're leaving!

We've had a couple of people have a look at our home and we have an open inspection this weekend. I told Briony with all the stress of getting ready for an open, we might aswell skip the arguements and go straight to divorce ... LOL. Seriously though, it's a fair bit of work and for those of us with little patience and short tempers (Briony!) it's stressful.

What's really cool is that keeping the house so tidy and making the girls pack up their stuff, might just set a new way of life for us. Get rid of the clutter and keep it that way. I think we're all guilty of collecting too much stuff! I've told Briony we'll have rules at the new house. NOTHING on the kitchen table except meal-related stuff. NO handbags and jackets on the kitchen bench. I may be in fantasy world here, but I'm going to try to make things beautiful.

Enough talking - how about some photos of our house?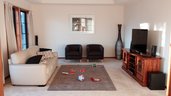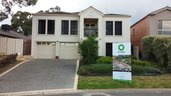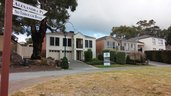 Girls Update

Aliana had a few weeks where she was a pain in the backside - constant grizzling and wouldn't get dressed, wouldn't change nappy etc. She seems to have snapped out of this and she's now much happier and sometimes even points to her nappy then lies down for a change. At the same time, she's having a word explosion if you can call it that. New words lately are Mar Mar (means Majandra), Ya Ya (means Aliana), Mi Mi (means dummy), man man (means gingerbread man) and she can say more, gone, mine, mirror, bus, nose, hair, eww, yuk, wee, and a couple of other things. She frequently attemps to repeat thigs that we say - this morning she tried to say 'earwig' and she got it almost right.

She's also getting better at understanding. Last night I pointed under Majandra's bed where there was something that looked like a jumper (turns out out to be a small blanket). I asked Aliana to go get the jumper for me at which point she proceeded to crawl under the bed, get the item and give it to me. I asked her to go and get Ana (the doll from Frozen) and she did exactly that ... but fell off her highchair while climbing down so we had a few tears.

Majandra's just started pre-school at St John's Grammar, she's into her third week and seems to be going great. We get emails every week from the pre-school teachers so we can see what the children have been doing and what they have been learning that week. They are doing a lot of really cool things and I can see already that Majandra knows her numbers better than before as I can point to a number and she tells me what that number is straight away without any delays.








I took the girls to town Saturday just gone for a babycino. That was a bit spur of the moment on Saturday morning, I looked up the train timetable and there was a train in 25 minutes so I quickly grabbed all the girls stuff, whacked them in the pram and went to the city, If was a quick and simple trip, but still nice to sit down for a coffee and toastie, go to the supermarket, walk up rundle mall and of course the girls love the train.

The girls have been to a couple of birthday parties lately. I have only been to one personally which was at the Glengowrie YMCA, it was a kindergym party and both girls loved it (and were thoroughly worn out afterwards).

Here's some more photos from the last few weeks ...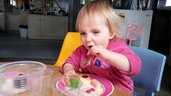 ---
[Tuesday, 2014-07-15, 18:17]
Our house = Warehouse?

As I wrote in the last entry, our top two priorities at the moment are to tidy and de-clutter, and to get all the little maintenance items done ready for house sale.

Over the last few weeks our house has seen a constant flow of cars and people coming and going, making the house appear like a warehouse with all the stuff lying around. It's been good though, to get rid of as whole bunch of old and unnecessary clutter, old furniture, kids toys, ornaments and a few small rainwater tanks. We even got rid of an unneeded high chair that's been sitting around for 4 years.

We had a handyman around to do a few small jobs. He replaced a few cracked floor tiles and he did a good job, but then I actually ended up doing some of his job list myself. It's interesting that all the maintenance stuff I wanted to do, but was never able to find time, suddenly we have time as we have made it a priority.

I've had a really big tidy up under the house, put up some wall boards and given the area a paint. I've almost finished painting the garage too.

Briony has been spending a lot of time tidying and de-cluttering the living areas. She has done a great job and the house has never looked so nice - it's almost a shame that we're moving!

Last night we had Stephen Ring come for a chat. We both like Stephen's presentation and manner and while we did consider Anreps for a while (where we do the open inspection) we decided that a likely buyer for our house would probably expect a traditional agent solution. So last night we signed with Ring Partners and we're feeling quite comfortable (although it's going to be hard to leave 'home').

Majandra and Aliana

Aliana is getting more chatty all the time. There's been a daddy long legs spider above her bedroom door for a while now and recently we moved her bedroom around (ready for house sale) so we have been dressing her on the floor where she can see the spider clearly. The last few days she's been looking at it and saying baba.

She knows what a door is and she says it like doorwa, which extends to pointing at doors in books and aging us to open the fridge.

We also introduced Aliana to Majandra's dolls. There's the purple doll called doll, and the blonde one called Cora. Aliana loves the dolls and wants to hold them, however I think she gets confused between the words door, doll and Cora because when she wants the doll she says doorwa, same as she days for door.

Majandra is great too, she wears a dress every day. She has a pretty one, a mermaid one, a Cinderella one and a couple of other pretty ones. They are technically dress up clothes and since it's cold she wears them ontop of normal clothes. Sometimes she wears her high heel dress up shoes, which she calls glass slippers.

Actually Cinderella is all Majandra talks about, batting her eyelids at me and calling me Prince. She also plays the game where I have to be the old woman that gives her a poison apple then Majandra lays down dead until I ride up on my horse and wake her with a kiss and then we get married. Majandra refuses to accept that she has her Cinderella and Snow White stories mixed up.

Sunday just gone was Majandra's (late) birthday party. We had it at The Fairies on Portrush Road which was great. There were about 15 children turned up and they danced, sang, ate, danced some more and ran around until they were all worn out. They all had fun and even better we didn't have to clean up afterwards.









Aliana didn't attend the party as we thought it would interrupt her sleep and she wouldn't understand anyway. She stayed with my parents just up the road from The Fairies. We picked her up and both girls went to sleep on the way home.

Also it's almost the end of the road for the girls at Valeska's Day Care, as Valeska and her family are moving to Queensland. It's fortunate this coincides with Majandra starting pre-school at St Johns, I suppose it doesn't matter that much with the dates but it's just more convenient that way. There's only a week or two to go, and recently all the families went to a park for a group photo which will be a surprise present for Valeska.
















---
[Monday, 2014-06-30, 17:52]
New neighbours... again?

This time last month our neighbours Ian and Deirdre moved back to New Zealand and we had new people move in. Briony was concerned that the new neighbours may not be as quiet as Ian and Deirdre, however a month later and I can report no problems - we've really not seen or heard from them.

However it looks like it's going to change again but this time it'll be us moving!

We have been keeping our eye on hills properties for some years now. It's been a challenge as many of the houses in these areas are small or old, sometimes both. We did put an offer on a house a couple months back but we were outbid. We then saw another place almost across the road from the first one, it was 5 acres with a lovely grassed area. The house was modern enough and overall we liked it. Problem was it was on an 80Km/h road also with a t-junction right in front. The road gets quite busy at times and there was a lot of traffic noise so we reluctantly gave it a miss.

While looking at the last one I mentioned, we did see another house for sale about 1km round the corner. We initially disregarded it as it was $50,000 more than the other and from the photos online it didn't really grab us, it looked a bit old. I can't remember what the reason was but I ended up calling the agent to get a tour, I think it was just "why not have a look". He said it was open the next weekend.

So the following weekend we went there for an open inspection. The selling agent is Anreps and I'd not heard of this before but their point of difference is they handle the 'agent' stuff but they get the property owner to run the open inspections. It was interesting to arrive at the house, see a man in a suit and have him refer to the property as 'our home'. As it turned out the owner Gary is really nice and was happy for us to take as much time as we needed. Being the original owner too, he was happy to describe every last detail of the home's features and construction. We took a stroll around the house, into the man cave (shed), down to the dam and the litle old Apple orchard.

In a way, this owner involvement went a long way to selling the house to us.

So anyway as we walked around the home it just felt right. Briony felt right too. Even the girls liked it - they walked in, stood in front of the fire and started to dance.

We went for another look the following week, we were there for almost two hours and again Gary was happy to commit his time to us. His wife Julene was also home, she is lovely and spent a lot of time talking with us.

That same day we made an offer, it was accepted the next day and the following evening we signed the contract to purchase residential property.

Here's some photos...










In a lot of ways the fact that we had seriously looked at the other two homes helped give us a practice run at the whole process. This went a long way to making the purchase of our new home a lot less daunting and not really scarey at all.

Over the last fortnight we have been getting stuck into things at home. We have HEAPS to sort, lots to get rid of and everything else to pack. We also have a list of small maintenance items that we never got around to before, just small things like fixing some grout, a splash of paint here and there. The biggest job is to paint the front of the house, this is as job best left to the professionals!

Overall we're not doing too badly - we have sold or given away a lot of the clutter, there is still plenty to go but progress is OK.

Majandra and Aliana

The girls are doing great, which is nice because during June we had a period of sickness. Majandra had a cold, I had a cold and cough, Briony had a cold and Aliana got hand/foot/mouth.






Aliana is really getting into the books and puzzles, and she's starting her first vocabulary. She had a couple of words before really just mum, dad, ball, whereas now she can say more, door, dog, car, bubbles, clock, hot. She also makes the noises from animals - meow, moo and woof.

Majandra is now four! She's a big girl, we did presents and cake at home and next week she will have a fairy party with some friends.








We had been debating to which school we would send Majandra as she is due to start kindergarten in 2015. We were looking at both kindergarten and school options because the kindergarten she attends may influence the choice of school. We first looked at St John's at Belair which is very nice, Briony also liked Hawthorndene. We liked St John's better, however it's private school prices versus Hawthorndene which was still very nice and about one tenth of the price.

We ended up deciding on St Johns for a couple of reasons. First was they have a mid-year intake so Majandra can start in two weeks from now. Second they have onsite care for before and after kindergarten and school. Third was there is a school bus which we will use in years to come. Last but not least is it's in same direction I travel to work so when we get a second car I can drop Majandra (and Aliana in the future) to school with my bike on the back of the car, find a park then ride to work. Alternatively in bad weather, drop them off then get the train.

So that's about it for now, while today is a work day it's the first proper sunny day we have had in weeks. Tonight we have some more tidying up at home, then on the weekend we will transport some stuff to my parents place to reduce clutter at our house ready for open inspection.

A workmate said something very appropriate to me. He said that in your own home, of all the things you want to get done, you only do in preparation for the next person. That's so true, all those little maintenance jobs that I never got around to doing, are now being done ready for sale. Interesting.

Over and out, with a quick photo update from the last little while.























---
[Tuesday, 2014-05-20, 18:07]
We have new neighbours

Over the weekend just gone I stuck a fake owl on the roof to discourage pigeons landing there as their poo is making a mess on the tiles and in the gutter.

We also got new neighbours. Last week we bid farewell to Ian and Dierdre who have been wonderful neighbours for the last 8 years or so. Over the weekend there was a move-yourself truck and presumably people unloading but as we were away from home for a bit we didn't actually see the new neighbours. We still haven't seen them, I'll have to go round and say hello.

Briony's worried about the new neighbours because she really hates noise and we were fortunate that Ian and Dierdre really were very quiet people. We'll have to see what happens!!

Oh, one more thing. I mentioned last entry that I had a colleague from work pop around for some child minding. This was Shirani, a female colleague. The other day while I was at work Briony was talking with Majandra who, during the conversation, referred to Shirani as "that girl of Dad's". LOL.

Briony also thinks I'm off to see "that girl of Dad's" because I randomly went for a walk late the other night. The actual explanation is that it was cool and misty and I thought some photos at Blackwood might be nice!! Check out below and you'll see!!







We recently went for a bike ride to McLaren Vale with the girls in the trailer. This was Briony's first ride in a while, there was a fair bit of grizzling coming from her mouth on the way home! There was also some grizzling coming from the girls, mainly because Majandra was taking up more than her share of space in the trailer and they were fighting and carrying on. At least they were strapped in so I could just ignore them!
















Lastly, we took a drive to Andreas' and Paulina's place to see their new baby Massimo. We'd ben meaning to catch up with them for a while but things kept coming up. I went there with the girls and left Briony at home to rest as she wasn't feeling well. We had a nice time there and it was good to catch up.





---
[Tuesday, 2014-05-13, 17:57]
Majandra can't keep a secret

I have a long history of presents for Briony being ruined (and then destroying the festive day because Briony doesn't understand that sometimes it's appropriate to keep quiet as to avoid offence to others!

Probably the first incident was many years ago I bought Briony a drum set, and her dad and I picked it up from town. Everything was fine, but one day he came to our place and he'd accidently left one of the cymbals in his car. Briony saw it, and Christmas was ruined (plus Ted and I were in trouble).

There have also been incidents where I have 'hidden' presents in unlikely places, but by some sheer coincidence Briony has gone looking in that place where she probably hasn't looked for years, and the presents have been seen.

This year I wasn't in trouble thankfully, but I did learn that Majandra can't be trusted to keep a secret. I didn't necessarily expect she could as she's just shy of 4 years old, but she did promise! What happened is the girls had made some paint footprints at day care and this was sent home to us for Mother's Day. Majandra hid it under her bed at my suggestion along with the card that I'd bought. We'd discussed that Mother's Day is on Sunday and don't tell mum and keep it a secret etc.

The next morning when Majandra got up she went under her bed to get the present out. I managed to convince her not to. Then I left for work, and from what Briony told me all the presents and cards were exposed within minutes of me leaving the house. At least Briony didn't get angry this time!

She did get angry later in the day though. I'd arranged for a colleague from work to come round and look after the girls so Briony and I could go to the movies. All went fine, until Briony worked out that I was taking her to see Bad Neighbours which had lots of crude jokes and swearing and one liners about penises and stuff. Apparently Briony finds this offensive, and she sat through the whole movie with a grouchy face on. Maybe I'll take her to Spider Man next weekend to make up for it!

I haven't said much about Aliana this entry - well she's doing great and she's trying to add more words to her vocabulary. I mentioned in an earlier post that she can say MUM, DAD, HAT and DUCK. Now she's trying to say CLOCK and EYE, and she also says BEE. She's getting better with the books, and is learning to point at the pictures that match the word we say. Also one of the funny things she does is a movement with her hand which is copying us. It's supposed to be pointing to eyes and then pointing at a person in the "I'm watching you" movement, but she just moves her hand towards her head and then away, back and forth. Cute all the same :)

Here's a couple of random photos, as what would a blog entry be without some pictures?






---
[Friday, 2014-05-09, 17:59]
Are we supposed to not go camping?

In my last blog entry I wrote about our previous camping trip being destroyed by illness and ants and ferals. I had hoped the next trip wuld be better, but it seems the Gods were definitely not smiling upon us.

As per normal I'd spent some time making sure we had everything in the trailer, then packing all the food and clothes and towels. Briony had even been to the supermarket specially to get some things plus we had hot cross buns and lamingtons from the latest Kytons Bakery fundraiser ready for a nice Easter trip away. My parents were also supposed to be coming with us.

And we even left home on time for a change!!

On any trip like this, first stop is On The Run to get a coffee for me, hot chocolate for Briony and a snack for the girls. I called my parents (who are always running late) to find out if they'd left yet. Much to my surprise they were already half-way there but stopped on the side of the road as their muffler had fallen off and had to be tied back on with rope. We finished the call and started on our way with a chuckle about mum and dad's car.

I firmly believe that what goes around comes around, so perhaps this was karma just getting us back from laughing about my parents car. We got about 4 minutes down the road to Coromandel Valley and there was a bang followed by smoke coming from the trailer wheel. I could see in the mirror that the wheel was at a funny angle and the tyre was rubbing against the wheel arch. We weren't really in the best spot to pull over but we had to stop before the tyre shredded itself. Upon investigation it was clear that our camping trip was over.

Under the trailer there is a bracket where the suspension carrier is welded to the chassis. This weld on the driver's side had snapped meaning the suspension was flapping around and the wheel was all loose out of alignment. Of course this put extra pressure on the other side, which then also snapped the weld and the wheels were just all over the place. Basically the trailer and the wheels were no longer connected to each other.

We got a tow truck to take the trailer home and it turned out that our neighbour was out front with a few other guys. They helped us get the trailer off the tow truck (remember the tyres were rubbing on the wheel arch so it didn't want to roll by itself). The guys then also gave a hand to try to get the wheels back into position. It was all a little spur of the moment and without proper preparation, so I suppose it's no surprise that Ian our neighbour caught his hand and took a chunk of skin out, requiring stitches and killing their idea of a motorbike ride the next day :(






I'm pleased to say last week we had the trailer towed to Brooks Trailers at Morphett Vale, who fixed the problem quickly and it only cost $150 plus $100 to Southside Towing to get the trailer there. 5 stars to both businesses for top service.

Since the camping trip was over, so we decided to pitch the tent in the back garden. We set this up and the girls had a play. Majandra and I spent the next three nights sleeping in the tent and it was lovely - fresh air, sounds of wind and birds in the morning, just great. Of course I would have preferred to be away, but this was the best we could manage give the circumstances.

The fact that it was Easter also helped take our mind off things, as we could still play easter egg hunts around the house and the back garden. It was good to see Aliana joining in the fun, although we had to be quick and sneaky so Majandra didn't steal Aliana's eggs.










---
[Thursday, 2014-04-17, 08:33]
Been a lot happening

In my last entry I confessed my sins about data backups on my server and I also described my search for a Network storage (NAS) device. I decided on the QNAP TS-470 which is a new model for 2014. It's very similar to the 'everyone's favourite' TS-469L upgraded for 2014 with a new operating system and more CPU power. I now have a 4-bay NAS populated with 4 x 2TB Western Digital 'Red' drives. Thus far I'm quite impressed with its functionality. The interface is nice, it was easy to set up, and file transfers between my iMac and the NAS are a speedy 61MB/sec. I don't mean 61Mbps, I mean 61MB/sec. That's 10x the speed of my old NAS, and it means I can now transfer multiple gigabytes around my network without having go for a coffee break.

Queensland Trip

In less geeky activities, we took a holiday to the north of Queensland last month. It was really nice to get away for 10 nights, and the girls mostly behaved themselves. We had a fairly uneventful and well-behaved flight into Cairns and as we got off the plane Briony said that we need to remember to pick up the pram from the oversize baggage desk (our last holiday to Fiji we forgot the pram). We picked up our hire Camry, drove out the gate and realised we'd forgotten the pram. After picking it up, we drove north for about an hour to the Rendezvous Reef Resort, only a few minutes drive from the centre of Port Douglas where there are shops and restaurants. The resort wasn't quite as flash as those 5 star Fiji Resorts but still a very nice location and the girls had a great time in the pool - over and over again. My only complaint about the Resort was that the air conditioning in our room was next to useless (it made more noise than air), everything else was fine.








From our base at Port Douglas we did a boat trip to Low Island which was intersting as it was quite windy which made for quite a choppy boat ride. We probably would not have given it a second thought if the crew hadn't said anything, but they started the trip with a warning about sea-sickness and handing out ginger tablets. Of course that meant everyon had sea-sickness on their mind. We got to the island safely and without vomiting, Briony went for a bit of a snorkel and I attempted to get he girl into wet suits which just resulted in crying so I gave up. The trip back was also fairly choppy and I got up enough courage to walk to the front of the boat which was going up and over the waves. I was surprised at how much up and down there was. However once up the front I observed it was more violent in the sense of splashing but there was less "rocking" and therefore less sick feeling.













From Port Douglas we did some other day trips, including a drive to Mossman Gorge for a rainforest walk. We spent some time at the playground and of course went to a crocodile park. We ate twice at a mexican restaurant on the main street of Port Douglas where the food was fresh, tasty and the 'hot' meatball dish actually was hot and spicy.










We also of course spent many hours in the pool, and Majandra became friends with a two children of Irish descent.




















When the 5 nights was up, we drove south to Cairns. Rather then the highway route we went up the hills and across the tablelands. The trip up the hills was via a wide but steep and twisty road which was a pleasure to drive. We stopped along the way at a Mango Winery and also an awesome place in Mareeba called Coffee Works where they sell all sorts of things that are bad for you but taste amazing. They do a lot with coffee of course, I chose to buy a bottle of coffee liqueur which is fantastic. After the tablelands drive, the road decends and twists down the hills. I guess you could actually call it mountains, it's pretty high up. Anyway the road down was a great drive, pity we were stuck behind an insane truck half the way. I would have loved to have been in the Subaru which of course sticks to the road like glue, although the hire Camry handled the drive better than I'd expected.





At Cairns we stayed at the Coconut Holiday Resort which is part of the Big 4 group, known nationally for caravan parks. The Coconut Resort is huge, has really nice modern cabins and lovely green grassy sites for those in tents and caravans. It has a great pool, big playground and a really cool water park which is basically a playground with water sprays and fountains everywhere where all the kids (and adult kids!) run around in bathers and get soaked. The whole park is also really clean. And the air conditioner worked really well unlike the previous accomodation.

From our Cairns base we did some trips into Cairns city centre, a drive to Babinda to see the boulders but we saw nothing as it was belting with rain, we spent some days just hanging around (mainly in the pool) and going out to the pool in town and Muddys Playground.















Of course the best bit was the Kuranda Scenic Railway. This is a railway line dating way back and was built to connect the coast with the tablelands. I'm a bit of a sucker for this type of thing, and it's amazing to see how and where the railway is built. It goes from the coast, then smack into the mountains. One thought that went through my mind was, "who in their right mind would build a railway up these mountains?". But alas, reading a book on the history of the line gave some insight that while it was a difficult project, the chosen route was actually one of the more sensible of all options presented.

The train is great, slowly winding its way up the hill through 90 bends and 15 tunnels. It takes about 90 minutes to get to the top. At the top is Kuranda town, which is lovely but as we expected it's very touristy. We went to the butterfly house which the girls loved, then afterwards grabbed a quick snack, wandered around and then it was time to head back - just in time too, as Aliana was tired and starting to grizzle. The trip back to Cairns was via the Skyrail cableway, with two stops/stations along the way where there were some interesting things to see. Certainly the Barron Falls down Mossman Gorge are an impressive sight, and it turns out the viewing platform near the cableway is directly across the gorge from the Barron Falls Railway Station - basically same height, just the other side of the waterfall and gorge.

















All in all we had a great time away. Everyone mostly behaved, nobody got lost, and it was just nice to be away from it all.

In other news, I've moved office! The company I work for is/was Adam Internet, which got bought by iiNet in 2013. I'm part of the business team, which is being merged and rebranded into iiNet Business. So I have a new desk, a new business card, a new office and a new boss. It's nice to have a similar product set but now with national coverage, so I can better help my customers.

We looked at a house recently too - and we almost got it. We saw 433 Ironbank Road come up for sale online, and it's one of the few houses out that way that has 5 bedrooms (4 + study), big land, big shed, and isn't too old and crusty. We put in a decent offer but it appears we were out-bid this time around. Perhaps we'll be luckier on the next one!

Majandra and Aliana

The two girls are doing really well at the moment. The most significant thing is with Aliana. For a while we were a little concerned about her as she seemed to rarely smile, often grizzle and cry, and just generally not interact with us. Then she learned to take her first steps, and it's like an overnight change. She still has her grizzle moments like any young child, but now she's happier, smiling more, interacting more, trying to talk, she eats her food better, plays better, and now even the two girls play with each other. Oh and Aliana had her first babycino at Bean Bar - we go there regularly of course but only recently have I been confident that Aliana would get at least a litle bit in her mouth as opposed to all over herself.

Majandra is still the same - bright and playful and funny, but OMG she's persistent and it's hard to get a moment's peace with her around. She's recently started asking for her light to be left on at night, this happened seemingly for no reason, but now she wants it on every night. It's just a touch lamp she wants on and at least we've negotiated down to having it on the lowest brightness, on the basis that we explained the brighter settings waste too much power.


























With Aliana's attempts at speech, she has four words under control, being HAT, DAD, MUM and DUCK. She says LUUU which we think is LUCY (our dog), as Aliana seems to say this when looking at Lucy's ball. But it could just aswell be her trying to say ball.

Today is the last day at work before the Easter long weekend. Tomorrow we are supposed to be going to Clayton Bay for 3 nights camping. I'm still confident we'll go, but Aliana has been snotty and crying plus also Majandra vomited last night. I'm hoping the two girls are OK so we can still go away. If you look at the first blog entry of 2014 you'll see our most recent camping trip was destroyed by illness and ants and loud ferals, so here's hoping this trip will be problem-free!


---
[Wednesday, 2014-02-19 18:50]
And now she's off!

I wrote in my last entry that Aliana can stumble a few shaky steps. Well, now she can walk and it's about time too!

Briony and I went out to a Fringe show last Saturday and my parents came to look after the girls. When we got home they said "you didn't tell us that Aliana could walk!" to which of we replied that she can't walk. Then they showed us a video of Aliana getting up, walking, picking up a plastic chair and walking whilst carrying the chair!

Now she has the hang of it, she is walking all over the place.

Not much more to report this week, more next time!



---
[Friday, 2014-02-07 17:58]
And she's up!

Breaking news this week is that Aliana can walk! Well maybe that's getting a bit excited. It's probably more accurate to say that Aliana can occasionally get the courage to take 2 wobbly steps by herself. Generally though she prefers to collapse to the ground and crawl the short distance then stand up again.

Both girls are covered in mosquito bites as its recently been quite hot and doors get left open. I think the recent heat wave is a 2nd biggest on record, it was 4 or 5 days in a row over 40C, and one day was 43.9C. It's a lazy 34C today, quite nice actually.

Majandra's behaviour is still leaving a bit to be desire. It's hard to know how to handle the attitude. I don't want her to hate me, but at the same time I don't want to let her get away with it as she'll end up growing up a little brat.

Last week I yelled at her - not even that bad but probably the loudest I've yelled. It made her do a wee on the floor and almost vomit from crying. Suffice to say I felt awful but she was being really silly and just not cooperating with Briony or myself.

But we do still have fun times, like going to the playground, Camilla's pool party for Australia Day, and going to Glenelg for dinner and ice-cream.















I've got something to confess. It's an "I told you so" moment.

I do a little bit of computer work on the side, and I'm always talking about doing backups and helping people do theirs. I run a mail server at home, and it served me well for three and a half years. Until the hard disk failed, that is. I'd been meaning to do a backup for a long time, but that day never happened so when the drive died there was no recovery possible.

It was by chance that I had mine and Briony's mail set up on my computer at work, and the software had cached some of the messages. So I managed to get some back. There were lots of tears though, as Briony had lots of items in her email that were important. Also I lost all mail for Briony's sister and her partner. Talk about embarrassing, and me failing to practice what I preach.

So I've installed a new drive, and this time I intend to back up every now and then to avoid future embarrassment!

Remember, do as I say, not as I do.

I guess one good consequence of the server failure is that it's got me thinking about the life expectancy of hard drives. My current NAS (Network storage device) is almost full, plus it and it's disks are almost 4 years old. So I'm on a mission to replace it before any problems occur. If I lost my photos I'd die.

So I'm doing some research for a new network storage device, hopefully one that will last the best part of a decade although I fully expect to have to replace the disks half way through. I'm looking at the QNAP TS470 which is a 4-bay device new for 2014. It's expensive but very powerful and well featured. Years ago I'd never have considered spending $2000 on storage however with all my photos etc on there, can I really afford to do it on the cheap?

My research has uncovered that NAS devices have come a long way, and now come standard with functions such as media server, sync to mobile, web based file access and more. I'm actually quite excited about the new device, and I have some grand plans for setting it up.


---
[Thursday, 2014-01-21 17:47]
A nice Christmas, terrible camping trip and a miserable start to the New Year

It's nice to be sitting here feeling good. Certainly better than the last week anyway!

We had a nice lead-up to Christmas. We went to see the brewery lights, Kerrie came over for a few days, we had some fun and then of course presents on Christmas morning.















Christmas Day afternoon was spent at my brother Oowan's place, where he and his partner Fiona hosted the Christmas Dinner. It was a fairly relaxed afternoon, we enjoyed some cider, some food, some company and some conversation. Oowan and Fiona were in their last days in the house as they are moving to Melbourne.









The girls had a good time, particularly Majandra who loves Oowan and Fiona to bits. Aliana had a good time too, however she's of course not quite old enough to run around like a crazy thing. They played wit the cat, went in the litle pool and ate lots of food. We called it a day at what ended up being around 7pm, got home and put the girls to bed. We were heading camping the next morning.

The camping trip ended up being quite a saga. We got to Cobdogla without any difficulty and set up camp. But then around 7pm when night was approaching Briony pointed out an ants near under the trailer. They were angry ants of the giant variety which of course provoked Briony's ant phobia, plus of course we didn't really like the possibility of them coming into the tent at night. We ended up going to reception and booking a cabin for the night. $90 down.

After collecting our bags, food and sleeping gear from the tent it was nice to get to bed. We were awoken in the small hours of the morning by Majandra vomiting. She did this several times, and didn't want breakfast in the morning.

We packed up our stuff and went back to the camper trailer. While Briony looked after the girls and then took them for a shower, I packed everything up, moved the trailer about 30m and set everything up again. It was really hot, and when Majandra got back she just lay down on a mattress in her nappy pants and went to sleep. She really wasn't well but we figured she was sleeping it off and would be OK in the morning.



















That night several groups of people from the permanent sites had a party with lots of drinking and laughing. This went on until past 1am, then some of the teenage boys came back to their tent which was next to ours. They stuffed around and made noise until 3am. Naturally we had a pretty terrible sleep that night and we had cranky wife in the morning.

Majandra was no better after waking, and it was an even hotter day. We were just hanging around the hot tent, doing a while bunch of stuff all. Aliana was fidgety, Majandra was crook and we were hot. We decided it probably want going to get and better so we packed up the camper trailer and decided to head for home. On the way we called into the camping shop in Barmera and I bought a folding camp kitchen on special.

As luck would have it, Majandra was perfectly fine by the time we got home.

A couple of days later it was New Years, and we spent the day at Tusmore Park with Oowan & Fiona plus my parents. I wasn't feeling that well, probably had a touch of whatever Majandra had, so I had to take it easy on the food and drink. It was nice to spend a few hours with the family, as this was pretty much the last day before Oowan and Fiona took off for Melbourne.









Majandra

Majandra is going fine but she's going through an attitude phase. Normally she is well behaved, it's really only bed time and getting dressed time that are hard. She messes around at bed time, won't do her teeth and just generally moves at snail's pace. This means late to sleep so she's tired in the morning and complains when it's time to get up.

Onto good things, Majandra is getting really good at riding her bike, she made it all the way from home to Blackwood the other day (1.5Km). She's learning how to use a computer and getting really good with the mouse. I might have to take the computer away soon as she will sit on it for hours if we let her!









Aliana

Aliana is doing well and eating lots. The other day we referred to her as garbage guts which is only sometimes true. Some days she'll eat hardly anything but then when she gets hungry she really can scoff herself.

Aliana will be walking any day now. She is flying around the house with her walker or trolley and she's now learned how to steer. The weekend just gone she took a half step unassisted and we're confident she'll walk just fine once she gets the courage to give it a try.

Also I don't think I've written about Aliana's screaming. She has a really good set of lungs and she knows how to squeal at a deafening high pitch. She's started doing this when she wants something. She'll point at whatever she wants and just scream until age gets it. We think we'd better stop giving her what she wants else the screaming may never stop!
























Here's a few random photos to finish off for this year.













---
---



Last modified: Wednesday, 01-Aug-2018 13:25:37 ACST
Site created by Callan Davies / CRUZN 2007-2010
Some content protected. Other content free for your use. Contact the Webmaster

Random Photo:


---
[Articles]
Talking to the Topfield TF5000PVRt using Linux and ftpd-topfield
Setting up DynDNS in Ubuntu/Linux
Restore GRUB boot manager after Windows destroyed it