Home/Blog
Current (2015)
2014
2013
2012
2011
2010
2009
2008
2007
BabyBlogs
Majandra
Aliana
Travel Blogs
Europe/Egypt '06
Peru/Bolivia '08
Central Aust '09
Fiji '11
Cycling Maps & Routes
Links


Best viewed with Firefox




Site Built with gedit on Ubuntu


[Monday, 2008-12-29, 22:35]
Farewell, Blue Bitch ...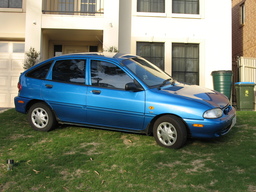 A couple of days late as usual with the blog entry, but I just wish to say a formal farewall to Briony's 1998 Ford Festiva, more commonly known as 'The Blue Bitch'. We'd had that car since new, and it was great and never gave any trouble. As far as small cars with small engines go, it was comfortable, economical, and fairly powerful for a 1.5 litre automatic.

I was *so* impressed with how quickly it sold. I put it on carsales.com.au on Saturday morning, and I got 3 phone calls before 3pm. By 9pm the car was sold.

The buyer was a pretty girl who only lives 10 minutes away from us, and had just got her P's. She's a perfect match for the cute little blue car and I'm sure she will be the envy of all her friends!


---
[Friday, 2008-12-26, 23:47]
December is done!

It's boxing day, late at night, and I thought I'd best get some blogging done.

December has been huge, and it's really weird that at work we've had a bit of a Christmas rush in the Business Solutions department ... a little out of the ordinary for an Internet Provider!

We had our Businesss Solutions breakup too, at the Twilight Races again. This time though, it was at Morphettville racecourse inside a giant hall, and was more like a corporate function than a casual afternoon at the races. Either way we still got absolutely blind, and had a good time.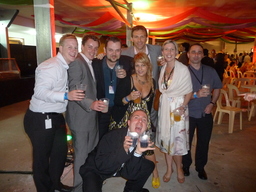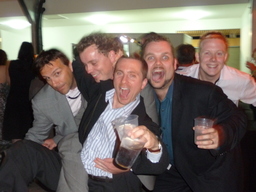 I've done bugger all riding this month, my knees are a little sore and I don't know why. Also I've seemed to get tired quickly ... I don't know what's going on there! I'll have to get out a big during the break and get back into it.

Now the word on everyone lips - Christmas! We had Christmas Day at our place again, had (most of) the family round for the day. I really like having Christmas here, we have plenty of room, plenty to do and we just keep it as a really easy day. What about presents? Well Briony got book overload - I bought her a Jane Green book, an Egypt book, and the entire 4-book "Twilight" set. She got Spyro for the Playstation 3 from Kerrie, plus heaps of chocolate! I got a cool Linux t-shirt from Briony, stacks of chocolate too, plus Resistance 2 for the Playstation 3 from Kerrie, a Mitre 10 voucher from my parents and some money from Ted.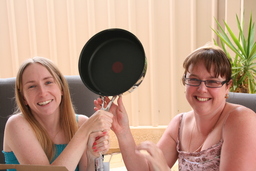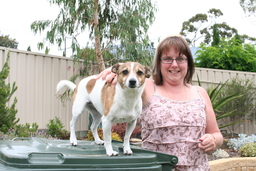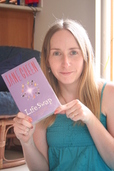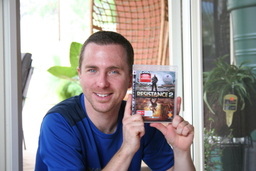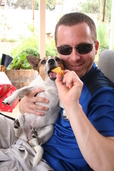 Christmas Dinner was awesome - Kerrie made a salad, mum made some coleslaw, and in true tradition I fired up the BBQ for roast vegetables and vegetarian schnitzels. All the food turned out great, the wine and beer were great too, and we all finished up late in the evening with Christmas Pudding in our full stomachs.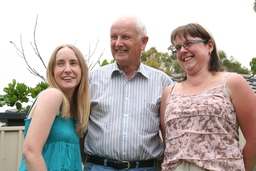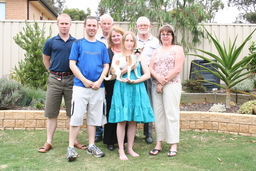 Today was a lazy sleeping-in morning, followed by a drive through the hills to Hahndorf. We stopped at the Pot Belly Pies shop, where we had an absolutely awesome vegetarian pie. About $6 each, and definitely good value! We continued in the car to Murray Bridge, so we could scope out a place or two to take some photos on our wedding day, which is only 8 weeks away!

We drove around for quite a while and didn't really find much, but then we went a big loop and ended up at a reserve basically underneath the railway bridge. There is a lovely park there, plus an old dock with steam boats, old train engines, and the lovely railway bridge in the background. As soon as we drove down that way, Briony just said "this is it" - and I agree.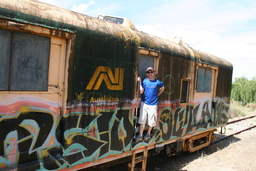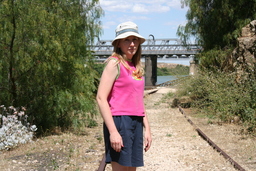 That's enough jabbering for tonight. I've got Kerrie's computer behind me for a cleanup, using my screen, and I'm on the old LG 17" CRT monitor - it's driving me insane and making my eyes hurt :(


---
[Wednesday, 2008-11-26, 22:54]
Big Spending, Big Drinking, Big Riding

The words on my lips at the moment all revolve around Briony's new Playstation 3, and whether it was good value. I bought this for her as an early Christmas present, also the shop had a pretty good deal going on. I guess Briony's been busy, but so far it's sat there doing a whole lot of not much. Especially that stupid sing star game ... we gave it a try for two songs, and decided that unless you've had lots of alcohol it's actually no fun at all.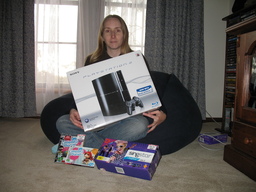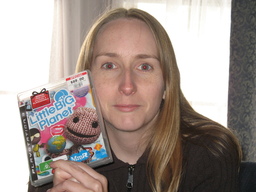 Speaking of alcohol, Briony's turning into a little alcoholic! I'd say that in the last 3 months she has consumed more alcohol than in the last year and a half. The latest effort was at the Oxford Hotel in North Adelaide. We all caught up for dinner as one of Briony's workmates had moved to a new job. Of course a few wines with dinner were nice, but then the girls moved onto the cocktails. A little later in the night, my wallet was empty, Briony's belly was full of booze, and I think there might have been singing in the car on the way home. At least I still had enough money for a fruit and nut slice from the bakery!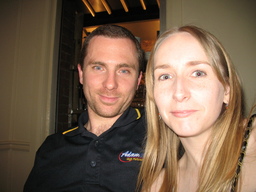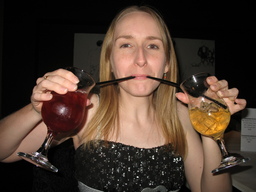 The last item in today's ramblings is just an update on my bike odometer. I thought I'd keep a photographic record of how far I'm riding, as that seems easier than pulling random numbers out of the air. In case the picture doesn't come out well on screen, it says 4474.1Km. That's 1472Km since March. Not bad since I was away for a month, then it was winter. Oh, not to mention being without wheels TWICE due to bicycle theft.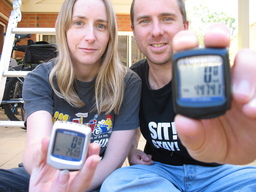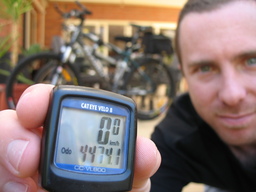 ---
[Thursday, 2008-11-13, 23:04]
Time's Flying ...

What the? Thirteenth of November already? The last quarter of this year is zooming past! This Saturday coming we have my work Christmas Party, then two more parties in the next three weeks. Somewhere in there I need to find time for some Christmas shopping.

Actually we went to Marion shops last weekend, as Briony's been bugging me for a Playstation 3 for some time now. So I finally gave in and agreed to buy her one for Christmas. We found a good deal, and bought one. Of course it's only mid-November, so I've been told this doesn't count as Briony's Christmas present. I think I just got ripped off ...

In other news, I went to Tasmania on the 19th October. It was just for the weekend to see my sister Koorine, her new daughter Alanah plus of course Ben and Jade. The trip was nice, we saw some nice things, just a shame that my upset stomach came back right after I arrived. I think I spent more time in the toilet than actually out and about! Perhaps next year I'll head over again, taking Briony with me this time, and spend a bit longer seeing the sights.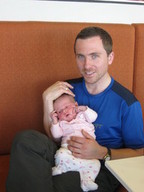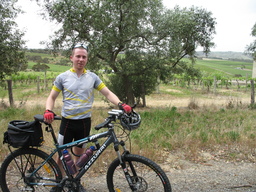 On Saturday 25th October I did a McLaren Vale ride with some of the Mud, Sweat & Gears guys. We did the usual route to McLaren Vale along the Southern Expressway and Coast to Vines Rail Trail, then stopped at a cafe for a coffee and cake. I can't remember the name of the cafe, but I can remember two things ... firstly, it was very windy and at the cafe a giant shade umbrella went flying and landed on our table, smashing all the glasses. Secondly, one of the waitresses was really cute :-)

After coffee and cake, we rode home a different way to normal. Gavin had plotted a map through McLaren Flat - actually turns out to be exactly the same route that I used to do on the motorbike many years ago ... although this is doing it backwards. This route took us from McLaren Flat then through Blewitt Springs, Clarendon, Chandlers Hill and back to Blackwood. There was hardly any traffic so it was a fantastic ride. 60-ish Km all up for the day.

Bed time now, got a busy weekend planned, will put some more news up shortly!


---
[Wednesday, 2008-10-15, 19:38]
I missed Ride to Work Day :-(

Today is/was National Ride to Work Day but I missed it! Briony and I have been stuck at home with a nasty stomach bug since Monday night. We reckon we caught it from Madison's 1st Birthday Party on Sunday ... but really it could be from anywhere. We were fine all Monday, had dinner Monday night, then 8pm Briony started feeling a little weird. By 11pm she was power chucking, and this kept on every 30 minutes until 6am! As for myself, I threw up a couple of times, but nothing like Briony! I could hear her from the other side of the house, it sounded like a small animal having its throat cut. It's also hard to believe that we literally spent the entire Tuesday in bed!

So Ride to Work Day ... I missed it, but oh well, I'll make up for it through the summer!

Feeling much better today but not quite 100%, I did manage to drive myself to shop to drop my bike in for a checkup. The front forks are leaking oil, so I figured best to have that looked at under warranty!

Also a guy from SA Water turned up unannounced today, wanting to install a backflow prevention valve to our water meter, because we have a water tank installed. Not a problem, he got it all done in about half an hour.

Oh, I also got my motorbike back on the way home from the bike shop. $1900 on that one, a very expensive toy! Let's hope that's the last time I have to visit the mechanic for a while!


---
[Friday, 2008-10-03, 08:47]
New Rock Garden

When we moved into our house in 2003 we got our driveway paved fairly promptly, plus we planted a heap of grass. Being the days before water restrictions were invented, we would water liberally and were proud of having the best lawn in the street! But these days with water being scarce, our 'lawn' turned into nothing more than a crunchy brown mess. Also it looked very plain, just a square of lawn.

So we got Phil from Direct Moss Rock Supplies in to do a quote. He's one of the few contractors that actually turned up, spoke good English, was polite, and gave us a price there and then! Within a couple of days we'd approved his quote and he came the next week to do the rocks! He scraped most of our lawn into a big pile leaving just dirt in the garden, and we then let him be the expert regarding how to set the rocks out. We're really happy with the end result, and the price was good.

The following weekends were spent shovelling compost onto the garden beds only to realise we had way too much! So we had to scoop lots of compost away, and as such as now have cartons and containers and boxes of it in the dungeon. Once the soil had settled we got some plants in there and it's looking fantastic.

Here's a few before and after photos of our front garden ...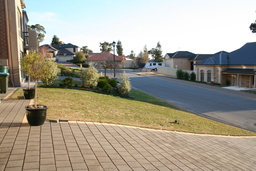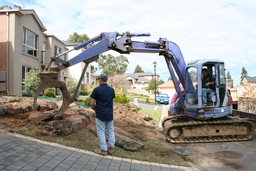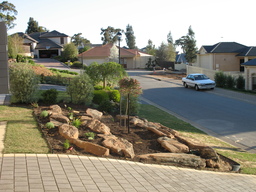 ---
[Sunday, 2008-09-21, 19:19]
Back on two wheels

Some might say that I've had a string of bad luck with my wheels!

Firstly in June, just after our holiday, my bike was stolen from outside work. I had it chained up outside the town hall, just like I've done every summer day for last two years. I came out of work in all my bike gear, and no bike! I felt a little weird catching the train home with all my bike gear on, and no bike. But anyway that's in the past. I needed an excuse for a new bike anyway :-)

The point is that I went and got myself a new Azzurri Magma 2008 mountain bike from Bicycle Express in the city, but of course being winter I didn't get the chance to ride it much. As soon as the weather got a bit better, I rode it to work. On the second day of riding, I came out of work to find my bike still chained to the post but missing its front wheel! Another embarrassing train ride home with the one-wheeled bike. Luckily this time I had insurance via AAMI and they processed my claim without a drama. So I'm happy to say that my bike is back on the road, and while I'm feeling a bit fat and lazy after not riding through winter, I'm enjoying being back in the fresh air.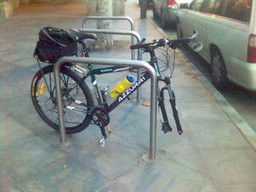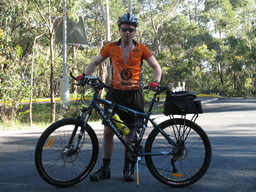 ---
[Sunday, 2008-09-21, 19:19]
I survived the City to Bay Fun Run ... again

Okay, I tell a lie about the time and date of this entry. It's really 3rd October, but I've only just managed to scab the photos from Daniel at work and of course no photos makes for a boring blog!

So about the City-to-Bay Fun Run ... I did this again as part of the Adam Internet team, which as usual started with 20+ people putting their hands up but only 8 people actually running on the day. I did the 12Km run in 1 hour 4 mins last year, so this year I was aiming to at least match that time. I'm pretty happy to have pulled up in 1 hour 3 mins this year. Thanks to Anita and Greg for putting on a BBQ at the end (and supoplying vegetarian sausages!), and Kath for the yummy muffins. And news just in - I beat Michael Owen. Score!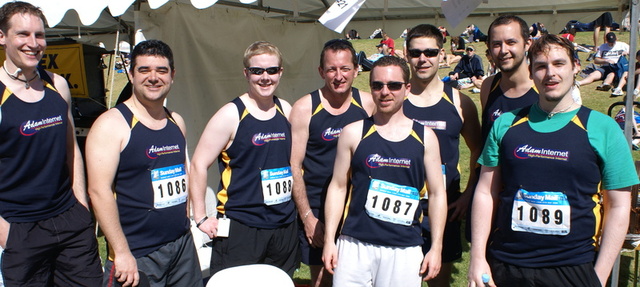 ---
[Friday, 2008-09-19, 17:23]
Moving to a new server

Has it really been a month since my last update? Have I really been that busy?

I guess that means I've neglected to tell the world about my bike's front wheel being stolen, our garden moss rocks being done, the sun finally showing itself after 4 months of winter, our City-Bay Fun Run training, the flower on our grass tree, the other new tree. I'd better post some pictures I guess.

Anyway since I'm currently in the middle of moving this website from one server to another, I'll finish doing that and THEN I'll write about some of the other things that have been happening. Back later ...


---
[Friday, 2008-08-15, 22:37]
Stuck in Melbourne ...
It's Friday evening, and I'm happy to say that I've finally recovered after a totally draining Melbourne experience! Briony and I took the 07:30 flight to Melbourne on Tuesday morning which meant getting up at 5am. No big deal, we arrived, checked into the hotel at 1pm and had a snooze for two hours.

We lined up at 4pm for the 8pm concert, which I'm happy to say was quite good in the usual Jason Mraz tradition. The concert finished at around 11pm and we headed back to the hotel. Plan was to wake up at 03:15 so we could get the 04:00 bus to the airport. In my tired state, I set the alarm for the wrong time, but luckily Briony just happened to wake up and check the time.

So we got the bus, and got our flight. We were both snoozing on the flight when the pilot's voice woke us. Turns out there was really bad fog over Adelaide, and we'd been circling for the last hour waiting for the fog to lift. The pilot claimed 200m visibility on the runway, but they need 1200m to land safely. So after one failed landing attempt, we had no choice but to return to Melbourne. Tiger Airways were great, and offered us a free trip on the next flight to Adelaide which was at 3pm. So we had to sit, bored, in Melbourne airport for 4 hours. So not only were we bored, but also tired. I think we both very nearly stopped breathing. But, we finally got home, very tired, but felt instantly better once back at the house.

Two days later, we've both recovered and it's business as usual :-)


---
[Monday, 2008-06-30, 22:51]
A weekend of un-tradition

I'm sure that everyone (yes, all four of you) reading this blog would know about certain traditions. In particular, the one that says that the groom is not allowed to see the bride before the acual wedding. Well, also you would all know that I stick my finger at tradition :-)

So, we're out cake shopping on Saturday around midday. We're on our way to Cake Stories at Stepney, however not knowing which direction it was, I took a wrong turn. As I'm doing a u-turn we see a sign for the Spurling formal shop, which had big banners about weddings, bridal, dresses, and special prices. So Briony tells me she wants to go in there. At this stage, Chinese Water Torture sounds like a better way to spend the day. But since we're right there, I agree to spend 10 minutes having a look around.

We have a look upstairs in the bridal area, and it's full of girls trying on wedding dresses. The sales woman comes to ask if we have anything in mind and we tell her that we're just looking. She asked if we had a budget in mind. Briony said she didn't want to spend too much, and the woman promptly showed us to the half-price rack, which we thought would really suck. It actually turned out there was one ivory colour dress that fitted Briony sort of okay, plus one white dress that fitted her almost perfectly! After trying it on, looking in the mirror, and inspecting the really beautiful 50% off tag, we decided it was the one ... it's actually really quite nice, fits well, and is a great bargain!

So how's that ... get up in the morning, go for a ride. Come home, take a shower. Get in the car and go cake shopping. Return home without a cake, but with a receipt for a wedding dress on layby! And all that considering the husband-to-be isn't even supposed to see the dress, let alone be the one at the desk swiping his credit card!!

Tradition - you lose!


---
[Thursday, 2008-06-12, 23:35]
A weekend of Birthdays

Last weekend was a birthday-ish weekend - we were invited to Michael's 21st, Scott's 30th, and another Michael's 30th parties.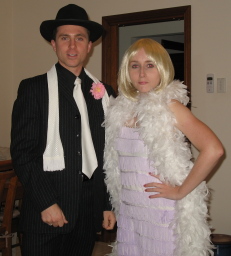 Well obviously we could not be in three places at once, and the second Michael lives 4 hours drive from here. So first we went to Michael's 21st down Port Adelaide way, that was a 70s dressup and there were some awesome outfits there. And those crazy Polish, talk about serving up good food - there was TONS of the stuff, and the dishes just kept coming and coming!

We left Michael's around 10pm and headed to Scott's. This was a good party, plenty of dancing and heaps of drinks to choose from, goot atmosphere, and of course since we got there at 10:30 everyone was already half drunk and having a blast. We also learned that Scott and Catherine will be having a baby soon - congrats!

And what's a blog entry without a photo ... well Scott's was a dressup too, with the theme being that we had to come as Mr and Mrs anything, but we had to be a pair. So Briony and I came as Mr and Mrs 1920's gangster. I actually wanted to keep the suit, it was really comfortable and warm too! Oh, in case you're wondering, our outfits were hired from the Theatre Costume Shop in Adelaide.


---
[Tuesday, 2008-05-27, 00:46]
Because This is Wrong :(

I've long been totally against two things. Firstly, crimes against the environment. Secondly, any kind of cruelty to animals regardless of the excuse. We're about to sign up as supporters of Animals Australia, who have some really sad information in their site.

We Australians might think that we give our animals a fair go. However a quick look at the Animals Australia website will show that we actually round up live animals and export them overseas, mainly to the Middle East. Here they are treated with the utmost disrespect, and treated in ways that most people would rather not know about.

Take a look at the video below. Then, go to the Animals Australia site and sign the petition to stop this cruelty.



More videos from Animals Australia



---
[Friday, 2008-04-04, 22:42]
T-Minus 9 hours, 18 minutes and 27 seconds

That's about how long we have until our aeroplane will be taking off from Adelaide, destination Peru. Tonight we sat on the floor in the lounge with all our clothes and gear around us. We worked out what we needed, and I'm happy to report that it all fits into our bags really well. Unfortunately the 3 x 1.5L water bottles we are taking, while not heavy, do take up a lot of space in the bag.

After packing our clothes bag, we tidied the house up a bit, packed the daypacks for the cameras, and then bed time. It's up at 05:00 tomorrow morning!

Oh, on the train today I also started writing the web pages for our holiday stories. These web pages can be found here.


---
[Sunday, 2008-03-30, 12:58]
Three Thousand Kilometres

Oh, I forgot to mention that it's that time of year where the regular riding season starts coming to a close. I last reset my bike speedometer at the start of the riding season (about September), and I'm happy to report that I reached a total of 3001.7Km riding distance. That's a new personal best, I'll aim for 3500 next season!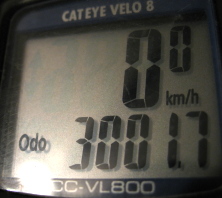 ---
[Sunday, 2008-03-30, 12:42]
King of The Mountain!

Today was the BHBC Bike Club's third anniversary (although I've only been riding with them for one and a half years. Morris is one of the riders from the group, and he decided to put on a good fun morning for us all. He organised the King of the Mountain challenge, which is a race up the 5Km dirt track in Belair National Park. Of course with the club having such an age spread, the eldest member leaves first, with the next rider having a handicap of 20 seconds per year of age difference. So for a 5-year age gap, 100 seconds would be the penalty.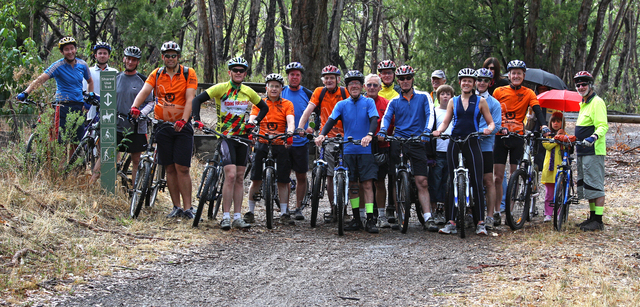 I started towards the back, with Craig, Katrina and Andrew. We're not all officially the same age, however we had to do this to avoid the handicap being too unfair! We had a good ride to the top, catching the older riders about half way up. It was a hard ride as we were trying to go as fast as we could, and I was surprised that I actually kept up with Craig as he's a really good (and fast!) rider up the hills. Craig and I were trying to catch Gavin, but we could not quite make it.

As for the results, well Russell was the hot favourite. He got to the top in 22 mins 30 seconds, which is a pretty decent time. Gavin was next, then Craig 15 seconds later, and myself 3 seconds behind Craig. The rest of the riders trickled in over the next 10 minutes, then we all headed for a coffee. Overall I was happy with a result of 4th, but then again that does not really matter as it wasn't a serious race, more just a bit of fun.


---
[Wednesday, 2008-03-26, 08:30]
Vegetarian Rating Zero

The weekend just gone was the four-day Easter weekend, which was great to have the time off work but not to relax - our weekend was full of chores! We cleaned the house and washed the carpets with the Vax machine, sorted out a heap of stuff (old DVDs, ornaments) we could get rid of, and a heap more. We also did some work on the stormwater but I'll talk more about that next time when I've got a photo.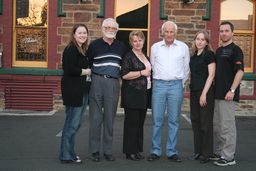 The Easter weekend was probably the last chance we'd get for a family dinner including my sister, Koorine. She's moving to Hobart in four weeks, and we'll be in Peru at that time. So we decided to catch up for dinner and chat with the whole family. It was decided that we would eat at the Earl of Leicester in Parkside - I've eaten there before with 'the lads' and the place is quite well-known for its huge schnitzels. Of course Briony being vegetarian, I had mum ring up and ask if they had vegetarian options on the menu. Apparently they had "many" options from which to choose.

Dinner for most of the family was good, the schnitzels were nice as always and the company was even better. However Briony wasn't too happy with the vegetarian options - she could have either a bowl of wedges, a 'plain' noodle of pasta dish (boring!), or a vegetarian lepinja. She chose the lepinja which ended up being awful - it was a crusty bread roll with avocado, tomato and some type of paste in the bottom, but really not much else. It looked average, and apparently tasted even worse. So after that experience, we've decided that the Earl receives an "absolutely crap" rating as far as any sort of vegetarian option.


---
[Wednesday, 2008-03-19, 19:30]
Flying Red-Eye

I'm a little tired today, looking to catch up on a bit of sleep.

Briony has a few favourite music artists, namely Mark Seymour and Jason Mraz. I also agree that their music is quite nice, and the gigs are entertaining. But the latest Jason Mraz show unfortunately didn't visit Adelaide, the closest location was miserable Melbourne. In itself this would not normally be a problem. However with our Peru trip coming up, I didn't want to ask for any more time off work than absolutely necessary.

So yesterday morning we got up at 5:30, in order to leave home for 6:30, so we could catch the Melbourne flight at 7:30. No problem so far, we got to the airport on time, checked in, no worries. We got to Melbourne and took the Skybus to town. We walked up Bourke Street stopping for a coffee and then a look around the Kathmandu store where we grabbed some good bargains. After sitting in Bourke Street Mall for a half-hour, we headed to Victoria Hall, our accomodation for the day/night. The room was pretty cheap, and the carpets and walls were filthy, however the bed was clean and comfortable. I suppose it's about what you'd expect from a backpacker hostel type of place. We took the opportunity for a couple hours' snooze.

Later in the afternoon we got up and took the tram to St Kilda ready for the Jason Mraz gig. We ate at a vegetarian place that served curries and related Indian dishes, the price was good and the food was top notch. If I can remember the name I'll be sure to write it here, they come highly recommended!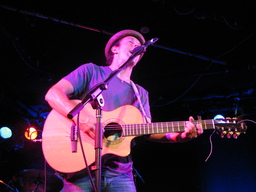 After dinner was the labourious 2-hour wait in line out the front of the Prince of Wales Hotel, in order to make sure we got a spot at the front! I guess the two hours went by fairly quickly, considering we were sitting there doing absolutely nothing. When we got inside the show was good, we ended up leaving about 11:30 or so. Jason Mraz put on a good gig as always, however I felt a little silly as he caught me not signing! To put this in perspective, the type of artist that he is really encourages his audience to sing, and it seems that everyone there (90% females!) were all singing. I seemed to be the only one that didn't know the words. Oh well, I was content just to listen and enjoy the music.

Anyway after Jason Mraz we caught the tram back to town (did I mention that I love the trams!) and headed back to Victora Hall. Unfortunately we only got 3 hours sleep, as we had to get up at 3:50 in order to get the flight back to Adelaide! So in the last 24 hours, I've had three hours sleep. I'm looking forward to coffee :-)


---
[Monday, 2008-03-10, 22:41]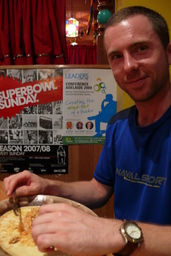 I'm 29...

Today is my 29th Birthday, and it's great that I got a public holiday as a present! I headed out for a ride early in the morning, we rode up through Belair National Park, then Sturt Valley, Ironbank, Cherry Gardens, Clarendon and then back home. Was a nice 50Km-ish, and we made fairly good time.

After a bunch of chores, we headed out to dinner at the usual place - Montezumas - and had a great meal with great company.

Not really a lot more to report, except that the present I got from Briony tastes great - it's a box of Turkish Delight, which has two flavours - lemon and rose. The lemon ones are yellow and taste like lemon. The rose ones are pink and taste like, well, I suppose what you;d expect a rose to taste like. Weird but kind of cool.

Oh, Briony also bought me a giant, industrial strength twist tie - so huge that it's designed to hang a ladder, or a bike, on the wall.


---
[Sunday, 2008-02-24, 20:04]
McLaren Vale - Reloaded!

Today we did the Coast to Vines Rail Trail from Hallett Cove to McLaren Vale. We'd done it only 8 weeks earlier in December, however everyone loved it and wanted to do it again! We had 7 riders this time, and made it to McLaren Vale in reasonable time. Briony kept up way better than last time, and Jim from work came along and not only did he keep up (on my old green bike!) but he was up the front most of the way. Also Dylan's mate Troy came along, who has only recently got into riding and has been doing home to work which is about 10Km.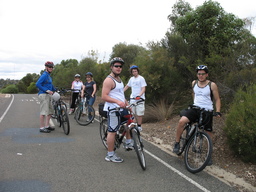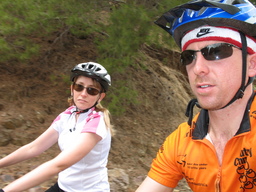 After lunch we headed back the usual way and then down the expressway bike path, then through the wetlands to Marion. We decided to keep following the drainage channel which ends at Morphettville, and then home from there. All up Dylan, Troy and myself all closed avbout 90Km, with Jim being only about 15Km short of that. A good effort by all, and certainly extra kudos to Jim and Troy who would have never considered riding 90Km!!


---
[Sunday, 2008-02-03, 20:04]
Yellow Fever!

I'm feeling fine today, however yesterday was crazy! In preparation for our Peru holiday in April, we've had to have a bunch of injections at the Travel Bug clinic in North Adelaide. Most of these have been okay, however the Yellow Fever one that we had through the week was warned to have "possible side effects" - and sure enough on Saturday the side effects hit. It felt like a sudden illness, I was hot and sweaty, I felt weak and really tired, it was just bizarre. After a good night's sleep, however, the problems had disappeared. I guess best to get side effects from the vaccine, rather than yellow fever for real!


---
[Friday, 2008-01-25, 20:04]
Surviving the 2008 Tour Down Under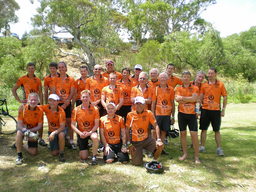 As part of the Tour Down Under, there is an event called the Mutual Community Challenge. Basically this is simply an event where ordinary people can ride a section of the official Tour Down Under course. This year's section was Mannum to Strathalbyn, which was a little over 130Km. I did this ride as part of the Mud Sweat and Gears team, which is the usual boys from Blackwood. The start was at 7:30am, which meant that we had to get up at 4:30am, in order to leave at 5:30.

The event attracted I think 3000 riders starting from Mannum, plus another 2000 or so starting from Woodside for the shorter course. The start was good, and we were keeping a fairly good pace. About 10Km in there is a section called King of the Mountain which is the steepest and longest hill in the whole day. This is where our practice around Blackwood really showed - whereas many other riders were labouring up the hill puffing and straining, we pretty much breezed up there with only minimal effort.

Unfortunately toward the top of the hill my knee started to hurt, something that had been bothering me for a few weeks on the road bike. I took it a little easier and the pain subsided, however there were still 100Km to go. As I got into the ride more my knee gave some more trouble, and my other leg started working harder so my sore leg could go easy. Unfortunately this meant that my left knee soon began to give some trouble, which just got worse as I rode more.

At the 40Km-to-go mark I wasn't happy at all. Both knees were hurting, I had a sore arse from the hard seat, I was hot and tired. But there was no choice but to press on, so I rode into Strathalbyn about 40 minutes behind the others, had some lunch and grabbed a lift back home.

All in all it was a good day, but a bit of a downer with the knee problems that kind of spoiled it for me.

Happy to report that after the ride, I had a wonderful snooze :)


---
[Sunday, 2008-01-20, 23:30]
Briony's Bicycle Skills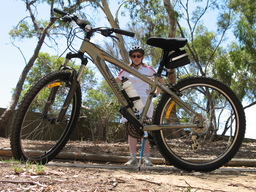 I believe today holds special meaning, as Briony's bike new bike has finally clicked over the 100Km mark. She's had the bike for about 3 weeks now, so 100Km in this time is a fair effort for someone that really doesn't have a habit of riding often!

I'm actually mighty impressed with Briony's progress on two wheels - this time last year I'd be lucky to get her on the bike once every 3 months, and when I did manage to get her on the bike we'd only go to the shops and back - a whole 3Km (boring) round trip. This summer has been a little different. I think she's finally surrendered to my constant nagging at her, but I think she is secretly starting to enjoy the bike. We've been slowly going further and further, including a nice little 14Km circuit on the fire tracks through Eden Hills and Belair.

Last weekend was a family 'Fun Ride' for the Tour Down Under - an organised ride from town to Glenelg. I thought you had to just turn up on the day, but then I realised that it's actually a paid event and everyone had to pre-register. So we gave the organised ride a miss, and we did our own thing down the Linear Park to Glenelg. Ended up doing about 30Km that day, and Briony kept up reasonably well.

Through the week we did 2 rides. First Briony and I went for a ride to the bottom of "Hill 3" in Belair National Park. That was a 10Km ride there, and 10Km home again. Later in the week we met up with Jim from the Helpdesk at work, who seems to have an interest in getting on a bike too. He has a decent bike, it's old but very light, and he seems pretty capable of riding well. We took him on a ride down the Fire Tracks, back up to Blackwood, and then to Hawthorndene to meet Gavin (and collect my Tour Down Under jersey). That was a shorter ride, about 10Km, but there was quite a but of up and down hills so it was fairly challenging.

Anyway that's 12 minutes of blogging today, more tomorrow after our Peru Training in Belair National Park!


---
[Friday, 2008-01-18, 22:10]
What? A month with no Blog?

Some people would say that the excuse "I've been busy" is wearing thin, but I swear it's true!

My last blog entry was on Christmas Eve, and I'm happy to announce that Christmas 2007 was a great success. We had my parents and brother here, Briony's dad was here, and Briony's sister Kerrie came over from Melbourne. Christmas day was great with all the present-giving happiness that you'd expect, the wine and beer was very welcome, and the food turned out really well after a few worries looks about the sloppy roast vegetables. Note for next time - don't bother with the disposable foil roasting trays, just use a real roasting pan!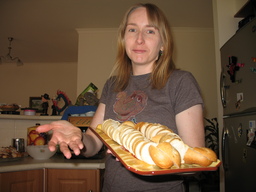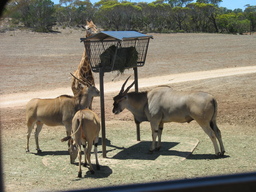 Boxing Day was a long-overdue excursion to Monarto Zoological Park which is about 45 minutes drive from home. It was about 38 degrees that day, so four people squeezed into the Festiva made it quite warm! The zoo was great though, basically we just went on a bus that took us through the HUGE animal habitats. So it's not a zoo in the traditional sense, more just like a bunch of animals in open fields, but with fences and gates to stop them eating each other.

The following day we took Kerrie for a bike ride down into Eden Hills, along the fire tracks and then back up Gloucester Road. This is definitely not a route for beginners, however Kerrie has been doing Step Into Life fitness classes for a few months now, so we figured a decent flogging would not do her any harm. Briony rode my bike, Kerrie rode the $50 Repco bike that we got from Subway, and I rode my 15 year old steel framed Repco beast.The two girls did really well, and when we got to the bottom of Gloucester Road I knew this would be hard - it's not particularly steep (depends on your definition of 'steep' I guess!) but it does go on for a good 2Km up hill. Briony has learned to pace herself and did really well. Kerrie did just fine aswell, I recall she only had to stop for a rest twice on the way up - and one of those times was to look at a beautiful young koala that was right next to us.

What else has happened since then ...?


Oh yeah, New Years Eve. We went for dinner at the Walkerville arms with Ted, John and Maggie. It was great to have dinner with them as usual, however the location was a little disappointing. I mean, food was good and all that, just that the only "bird watching" available was over 60 years of age. Sure, all the oldies had a good time, but we were one of the only 'young' couples there. After dinner we made a quick exit and paid a visit to Andreas and Paulina, and then off to Alex & Belinda's place. We had a few drinks, and then got stuck into SingStar on the XBox 360. Took a bit of convincing to get Briony to sing, but she did well! I sung 'Unchained Melody' like a true profesional, however my iteration of Pet Shop Boys was horrible.

Since the start of the year, I've been spending a lot of time on the bike, practicing for this year's Mutual Community Challenge, a 134Km ride which is part of the Tour Down Under. We've also been spending a heap of time walking around the Blackwood Hills, brushing up on our hiking skills ready for our Peru trip in April!

More news in the next edition - it's 22:26 now, I want to get myself some sleep!


---
More blog entries are available in The Archives - see previous blogs in the left menu
---



Last modified: Wednesday, 01-Aug-2018 13:25:37 ACST
Site created by Callan Davies / CRUZN 2007-2010
Some content protected. Other content free for your use. Contact the Webmaster

Random Photo:


---
[Articles]
Talking to the Topfield TF5000PVRt using Linux and ftpd-topfield
Setting up DynDNS in Ubuntu/Linux
Restore GRUB boot manager after Windows destroyed it