Home/Blog
Current (2015)
2014
2013
2012
2011
2010
2009
2008
2007
BabyBlogs
Majandra
Aliana
Travel Blogs
Europe/Egypt '06
Peru/Bolivia '08
Central Aust '09
Fiji '11
Cycling Maps & Routes
Links


Best viewed with Firefox




Site Built with gedit on Ubuntu


[Central Australia 2009]
[Alice Springs, Northern Territory]

After a quick two-hour flight from Adelaide, we landed at Alice Springs airport without any hassles. We met up with the Airport Shuttle Bus outside. They didn't have any record of us, but once we showed the printout of our online booking they let us straight on the bus and dropped us at the Desert Rose Inn.

We took a walk around central Alice Springs, just down and around Todd Mall. We went to the Tea Shrine on Todd Street for lunch - food was good, and they have hundreds of different varieties of tea you can order. After lunch we took a walk to Anzac Hill which is only a few minutes walk from our Hotel. There's some ANZAC memorials up there, plus a nice view all around Alice Springs.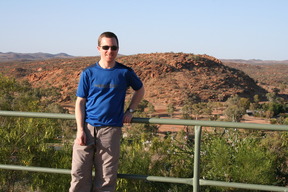 We settled down for a decent night's sleep (even though the people in the room down the hall were a bit noisy), and in the morning we took a taxi to take us to the Britz office to collect the Camper Van we'd call home for the next 10 days. The van was so cool, it had a fridge, microwave, stove, heaps of storage space and all the pots and cutlery we needed.

Once we had transport, we were off to the Alice Springs Desert Park which is about 10 minutes drive from town. We had some really great lunch there ($40 - damn!), and then took around 2 hours to walk around the park with an audio guide to explain what we were looking at. The walk in general was really nice, and the audio guide was quite informative with its explanations of all the different landscapes we were seeing. After the walk around the park we went to the cafe again for a Quangdong Spider ... tasty!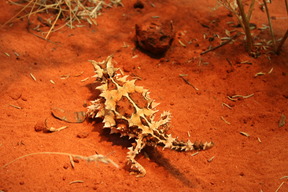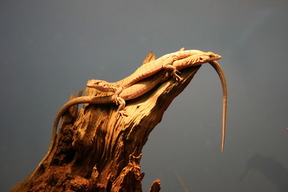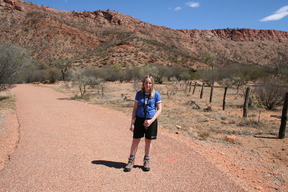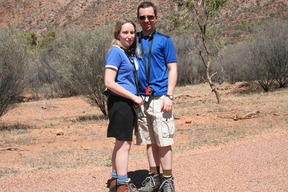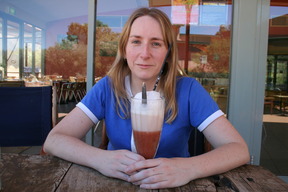 We had a little time to kill in the afternoon, so we headed to the Old Ghan Museum which has some interesting railway memorablia, particularly from the building and history of the original Ghan railway line. I had a good time in there (trains are cool), but Briony didn't seem to care for all the railway stuff.

We had some dinner at a pizza bar in Todd Street just near Todd Mall. I'd ordered the gourmet vegetarian with the sundried tomato and eggplant etc, but all we got was a really oily cheese pizza with hardly any topping!

After dinner we went to the Winter Sun Caravan Park where we set up the van and got ready for bed. Briony was all excited about getting the top bunk, but once she realised how much of a tight fit it was, she shoved me up there instead!


Next : West MacDonnell Ranges, Northern Territory
or, back to Central Australia 2009 Index




---



Last modified: Wednesday, 01-Aug-2018 13:25:38 ACST
Site created by Callan Davies / CRUZN 2007-2010
Some content protected. Other content free for your use. Contact the Webmaster

Random Photo:


---
[Articles]
Talking to the Topfield TF5000PVRt using Linux and ftpd-topfield
Setting up DynDNS in Ubuntu/Linux
Restore GRUB boot manager after Windows destroyed it