Home/Blog
Current (2015)
2014
2013
2012
2011
2010
2009
2008
2007
BabyBlogs
Majandra
Aliana
Travel Blogs
Europe/Egypt '06
Peru/Bolivia '08
Central Aust '09
Fiji '11
Cycling Maps & Routes
Links


Best viewed with Firefox




Site Built with gedit on Ubuntu


[Central Australia 2009]
[East MacDonnell Ranges & Alice Springs, Northern Territory]

The scenery on the drive back to Alice Springs was really different as there had been a fair bit of rain overnight. Everything was darker in colour and there were big pools of water everywhere.

We headed straight for the Winter Sun Caravan Park, had dinner and went to bed after a movie. We had one more day to go before home time, yet Briony still refused to sleep up top in the van!

The next morning we headed out early to see the East MacDonnell Ranges. The (sealed roads) tourist drive along here is a lot shorter than the West MacDonnell Ranges, with the first tourist stop being only 10Km from the highway. We saw Emily and Jessie Gaps, which as their name suggests are gaps in the mountain range but they are significant because they have Aboriginal paintings.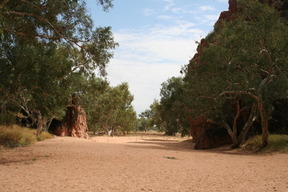 Next on the path was Corroborree Rock which contains a rock outcrop of great significance to the Eastern Arrernte people, being a site where initiation ceremonies took place.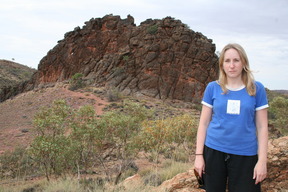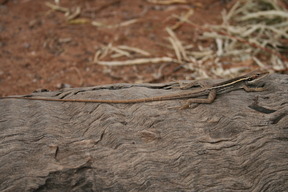 Last on the stops was Trephina Gorge, which has several walks anywhere from a few minutes to a few hours. We chose the Panorama Walk - one sign said 2 hours return, the next sign said 90 minutes return. It actually took only 45 minutes for us to walk the loop. Maybe we walked too fast ... but we still got to see the nice sites and grab plenty of photos.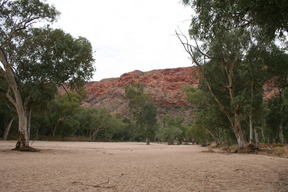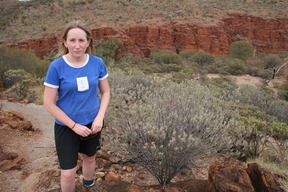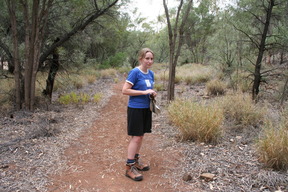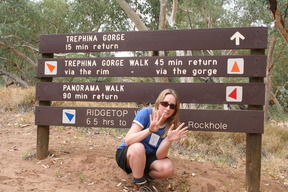 We drove to the end of the sealed road which is Ross River Resort, as we needed to get some fuel. Fuel was $2.35 per litre ... I was expecting it to be expensive but not THAT expensive! Oh well, we only needed a bit, so no big drama.

We drove back to Alice Springs and finished off our afternoon by taking the Camper Van back to Britz, and packing our bags ready for the trip home.

Kerrie (Briony's sister) had been in Alice Springs a few days earlier and she'd told us we had to see the Bo Jangles pub, and had to eat at Red Ochre. We went to the pub for a drink, it really is quite unique - it's got old items all over the walls and ceiling, everything from old wheels and boots, to road signs and animal traps.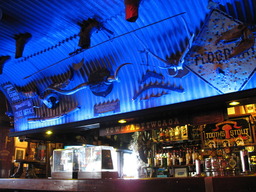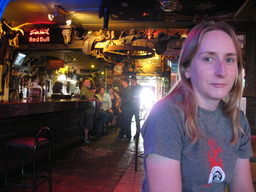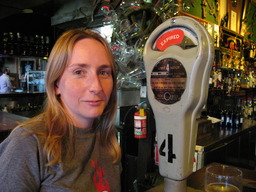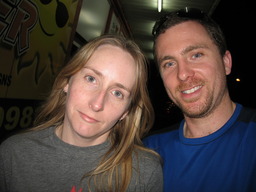 We had dinner at Red Ochre as recommended. I had pumpkin ravioli and Briony had some sort of Gnocci. Mine was actually pretty good, Briony's was just okay. But the problem was the size of the meals - they were absolutely huge! Or perhaps it just seemed that way, as Briony forced me to eat my own plus half of hers (okay, I exxagerate). Of course Briony still left room for dessert!

We rolled our fat bellies back to the hotel. We were so fat it was hard to get to sleep.

And, thus ends our holiday in Alice Springs ... the next morning we got up, packed, went to the airport and flew home. Back to work and chores now!


This is the end of our trip!
...back to Central Australia 2009 Index




---



Last modified: Wednesday, 01-Aug-2018 13:25:38 ACST
Site created by Callan Davies / CRUZN 2007-2010
Some content protected. Other content free for your use. Contact the Webmaster

Random Photo:


---
[Articles]
Talking to the Topfield TF5000PVRt using Linux and ftpd-topfield
Setting up DynDNS in Ubuntu/Linux
Restore GRUB boot manager after Windows destroyed it