Home/Blog
Current (2015)
2014
2013
2012
2011
2010
2009
2008
2007
BabyBlogs
Majandra
Aliana
Travel Blogs
Europe/Egypt '06
Peru/Bolivia '08
Central Aust '09
Fiji '11
Cycling Maps & Routes
Links


Best viewed with Firefox




Site Built with gedit on Ubuntu


[Florence, Italy]

We left Venice on the Eurostar train, and after a pleasant 3-hour journey we arrived to Florence at about 21:30. Next station, lost in Florence. Getting lost here was a simple mistake, but a mistake that cost us an hour of lugging our heavy backpacks around dark Florence streets!

Basically what happened was one mistake on the holiday documentation. On our documents for every other city we had put our train timetable plus the name, address and map of our hotel on the front page. However on the Florence document we had a map of something else on the front page. So we ended up following the wrong map, plus some written directions, and it was all making no sense. After 20 mins we decided we were going the wrong way. So we backtracked to the Railway Station, then headed in the other direction. We again decided we were going the wrong way, so we went back to the Railway Station again. After looking at our map, realising our mistake and having a laugh we eventualy went the right way to Hotel Crocini.

Oh, one thing I forgot to mention - while I created the 'city documents' for most places, Florence was the one place for which Briony crated the 'city document' - hence why the map was in a stupid place, and we got lost. Of course, it's all still somehow my fault ...

Hotel Crocini was the next adventure ... it was a really old building, and when we pressed the bell this dodgy looking fat guy came to open up. I reckon he was asleep at his desk, and I suspect he was drunk. Anyway he took our details and showed us to our room. The room was the weirdest hotel room ever - it looked more like a bedroom you'd expect to find at your grandmother's house. It had old, thick curtains, old beds with tartan blankets, and old wooden furniture. The room was actually quite comfortable and quiet, but it just looked really dodgy.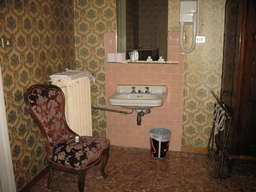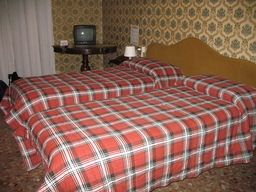 Then there's the 'bathroom' at Hotel Crocini - it looks dodgy, it works dodgy, it is dodgy. Basically the bathroom was obviously just a toilet at some point in time. But then someone has had the smart idea to put a shower in there. So what they've done is just shove a shower head on the wall, behind the door. There is no room for a cubicle, so the shower is literally just a nozzle on the wall. The result is that water goes all over the floor, the walls and the toilet seat. Water also flows all over the back of the bathroom door. As the door is made from wood, it's naturally starting to go rotten at the bottom. I guess the shower is alright, it worked okay and it was hot, just make sure you find a dry spot to put your towel and clothes! Oh, and we now know why there's no toilet paper in there, they give you some in your room and you're suposed to take it back with you as it would obviously be ruined the first time someone has a shower!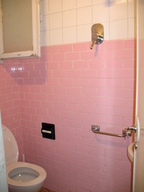 Anyway onto some Florence sights and tours...

The next morning after a decent breakfast at the hotel, we had planned to visit Piazelle Michelangelo which is a lookout with big statue overlooking the city of Florence. Next to the Railway Station is a street where you can get a bus to almost anywhere. We waited for about 15 minutes at the bus stop, then took the bus up the hill. We got off the bus, had a quick look around and photo, but unfortunately we were running late so we had to get quickly back to the bus stop so we could get back to town.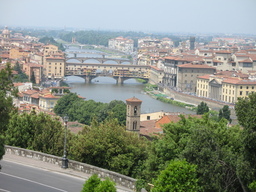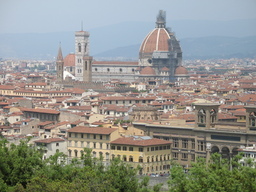 Once back in town we walked to the offices of our day tour company, Walking Tours of Florence, in Via Sassetti. We met up with the group and went to two tours. The first tour was Masterpieces of the Uffizi Gallery. The Uffizi Gallery contains thousands of art pieces dating back hundreds of years, and we had a wonderful Australian tour guide who explained the art to us. She explained about the drawing techniques used to create the art, and showed us how these techniques changed over the years as people began to discover how to use perspective and 3D effects. The art we saw began at the oldest pieces, and moved forward through time and we could see the pieces becoming more complicated but also changing in style. 10 points to our tour guide, she was excellent.

Unfortunately, no photos were allowed during this tour.

The tour in the afternoon was The Original David Tour. Again we saw lots more art and statues, and concluded the tour at a gallery that featured the original Michelangelo's David. All the statues and art does become a bit overwhelming as there is just so much to see, however one can still appreciate the beauty in pieces such as David, especially since it was carved from a single stone!

Unfortunately, no photos were allowed during this tour.

After our tours, we walked around Florence a bit, and then went in search of food. We didn't feel like anything too fancy so we ended up going to McDonalds near the Railway Station. There was a pizza place joined to McDonalds, obviously run by the same people, same idea as McDonalds but just pizza instead. Briony got a slice of Eggplant pizza from here, and from what she tells me by McDonalds burger tasted better, as the pizza was not all that crash hot.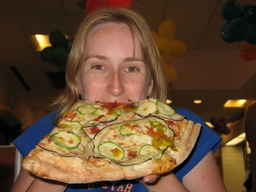 The following morning we headed back to the offices of Walking Tours of Florence, for their Original Florence Walk. For this tour we had our lovely Australian guide again, and she took us on a tour of the historic areas and buildings. We started with the oldest buildings, and our guide explained their architecture and building techniques, aswell as a bunch of information about the Medici family, one of Florence's oldest and most influencial families.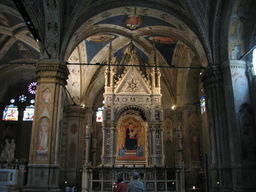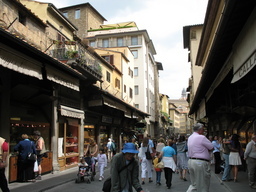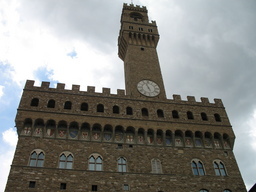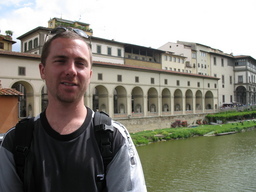 As we looked at these buildings we saw unique markings such as the family crests and logos. As we saw more buildings we saw these same logos all around the place. We also saw a church where one of the Medici family were in their coffin.

We walked over the river on Ponte Vecchio (Vecchio Bridge), and saw the elevated pathway that priviledged families would take to get around town without getting stuck in crowds. We saw Fontana de Nettuno, and many statues such as David replica, statue of Hercules and Caccus. Just near this area we saw the Duomo (Cathedral), Battistero (Baptistry) and Capanile (Bell Tower), along with our guides explananation of some history of the buildings.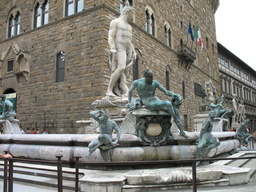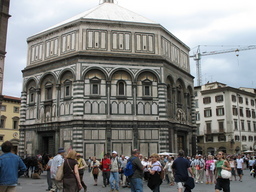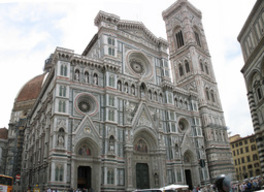 At about 2pm it was time to head back to the hotel, grab our bags and get on the train to Pisa...

Next : Pisa, Italy
or, back to Euroblog Index




---



Last modified: Wednesday, 01-Aug-2018 13:25:38 ACST
Site created by Callan Davies / CRUZN 2007-2010
Some content protected. Other content free for your use. Contact the Webmaster

Random Photo:


---
[Articles]
Talking to the Topfield TF5000PVRt using Linux and ftpd-topfield
Setting up DynDNS in Ubuntu/Linux
Restore GRUB boot manager after Windows destroyed it