Home/Blog
Current (2015)
2014
2013
2012
2011
2010
2009
2008
2007
BabyBlogs
Majandra
Aliana
Travel Blogs
Europe/Egypt '06
Peru/Bolivia '08
Central Aust '09
Fiji '11
Cycling Maps & Routes
Links


Best viewed with Firefox




Site Built with gedit on Ubuntu


[Krakow, Poland]

Our sleeper train from Prague was okay, but being our first time on a sleeper train it was a little strange. A few times I found myself half way between sleep and awake, and somehow the sounds of the train were part of my dream. I had dreams of the train driving down the middle of a crowded street and having to stop at traffic lights! Obviously this was not the case, but it was a weird feeling along with the paranoia that we would stay asleep and miss our stop.

Anyhow we arrived in Krakow railway station very early, about 5:30am. As one would expect, the station was deserted apart from a few old ladies setting up stalls to sell bread, pretzels, chocolate, etc. I grabbed a couple of chocolate breads, they were extremely cheap and the old lady almost did not have enough coins to give me change.

We put our backpacks in a locker at the railway station, and went to find the bus to Auschwitz. One of the first things we noticed was that all the signs were written in a language that looked similar to that in Prague (the signs were in Polish, obviously), however here there were rarely any signs in English (whereas in Praue almost every sign has an English version too). We had read on the Internet something about a tourist bus that went to Auschwitz museum, but we could find no such bus stop as described. There was, however, a new-ish looking bus station out the back of the railway station. We went inside, found someone that spoke some English, and asked them about the bus, They sold us a ticket, we jumped on the fairly modern and comfortable bus and we got going. I guess where someone on the Internet said BUS STOP they really meant BUS STATION.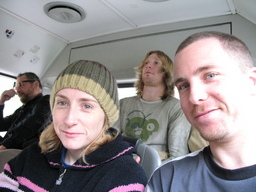 After about an hour's drive we got to the town of Osweicim, and I remember seeing very few houses but instead lots and lots of apartment blocks, fairly run down, I think the English refer to them as Commie Blocks. There were hardly any people around either, but I guess it was about 7am so it's not surprising!

The Osweicim museum is within the town itself, and the bus dropped us right at the door. We went inside, no problem, and paid for our ticket. The museum where we stopped was really just a building with a private cinema and a cafe, a place for tourists to wait for the shuttle bus. After watching an intro movie (in English) which went for about half an hour, the bus came and took us to the actual Auschwitz, the former concentration camp from Hitler. All through the museums we had a tour guide that spoke excellent English.

The first visit was to Auschwitz II which is known as Birkenau. This was quite an amazing place, it is so huge and it's horrble to imagine all these people as prisoners there. We saw all the old buildings where people used to sleep and have their toilet all in the same room. We also saw the famous railway where prisoners would arrive, and we saw ruins of the old gas chambers where so many people were killed. The gas chamber buildings were destroyed when the prisoners were freed.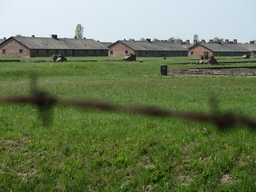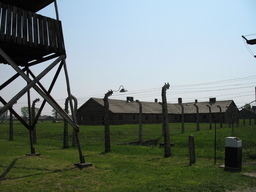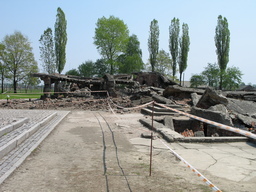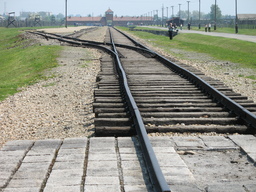 After Birkenau we went to Auschwitz which looked more like a military barracks. There were large 2-storey buildings, which were used as prison cells. Many of these were now a museum area, and behind glass windows there were displays of items that were taken from the prisoners before they were killed. There were thousands of spectacles, brushes, shoes, hats, cooking utensils, and piles of human hair.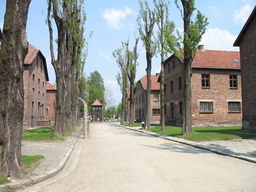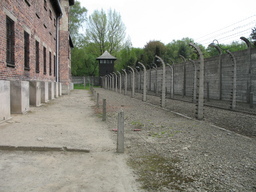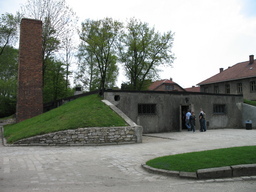 Once the tour had finished the shuttle bus took us back to the museum base in Osweicim. We walked around the corner and waited for the bus back to Krakow. This time the bus was a bit older, but still comfortable. After about an hour we were back in town.

We walked out the front of the railway station, and the whole scene was fairly dark, grey and miserable-looking. But after a few minutes walk we came to the old town and this was so much nicer. Really old buildings were beautiful, and there was a chance to feed some pigeons.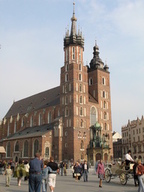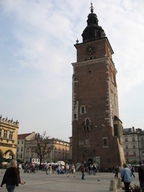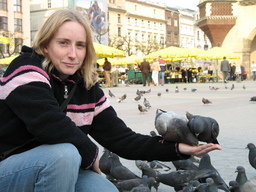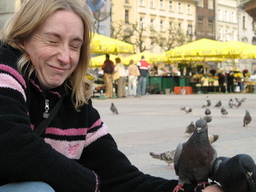 In Rynek Glówny (Main Market Square) we saw Kosciól Mariacki (St Marys Church) and also the City Hall Tower. We walked around the old town towards Wawel Castle. On the way we passed the Church of St Peter and St Paul, and also the Curch of St Andrew. We went for a walk around Wawel Castle which was free, but I guess there would be a cost if you want to go inside.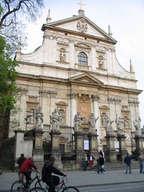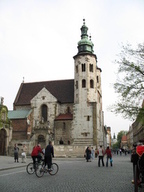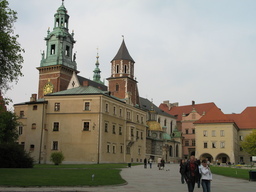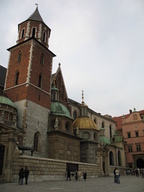 On the way back from the castle we stopped at a vegetarian restaurant for dumplings and pudding, a first class meal and really cheap too.

After dinner we grabbed our bags, and waited until it was time for the train. The waiting room at the railway station was very old and the chairs were not all that comfortable, but we sat there and read our books, and then eventually grabbed our sleeper train, this time to Bratislava.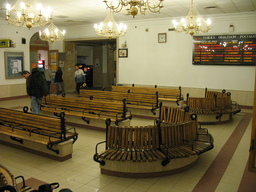 Next : Bratislava, Slovakia
or, back to Euroblog Index




---



Last modified: Wednesday, 01-Aug-2018 13:25:38 ACST
Site created by Callan Davies / CRUZN 2007-2010
Some content protected. Other content free for your use. Contact the Webmaster

Random Photo:


---
[Articles]
Talking to the Topfield TF5000PVRt using Linux and ftpd-topfield
Setting up DynDNS in Ubuntu/Linux
Restore GRUB boot manager after Windows destroyed it