Home/Blog
Current (2015)
2014
2013
2012
2011
2010
2009
2008
2007
BabyBlogs
Majandra
Aliana
Travel Blogs
Europe/Egypt '06
Peru/Bolivia '08
Central Aust '09
Fiji '11
Cycling Maps & Routes
Links


Best viewed with Firefox




Site Built with gedit on Ubuntu


[Luxor, Egypt]

DAY ONE

Our trip from Aswan to Luxor was really somewhat of a day trip in itself, as we stopped at numerous small towns along the way. First stop was Kom Ombo, were we saw the Temple of Sobek & Haroeris (Kom Ombo Temple). Inside a room here there is a glass case with two mummified crocodiles, in good condition considering they are probably 2000 years old. Of course, the temple complex itself is also pretty cool.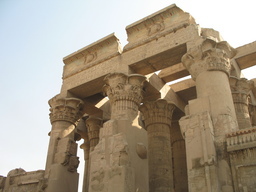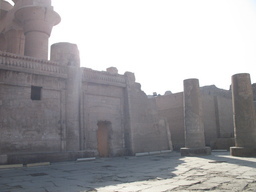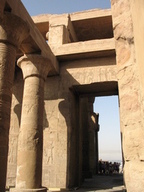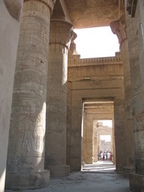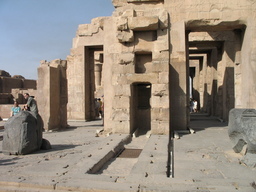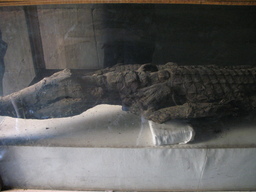 Next stop was the town of Edfu, to see the Temple of Horus (Edfu Temple). This temple is in good condition and many of the heiroglyphs are very clear - Hany spent some time explaing the meanings to us. On the way out, we noticed the guard tower ontop of a high wall, the guard being nicely furnished with a rather large gun.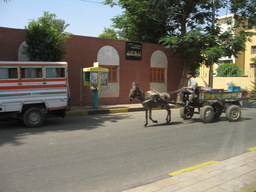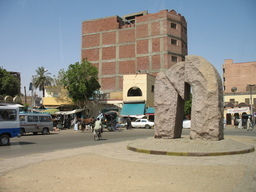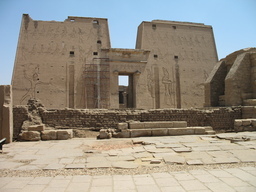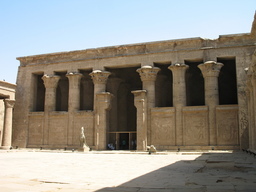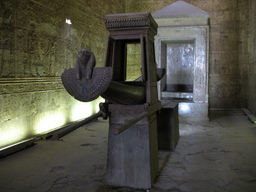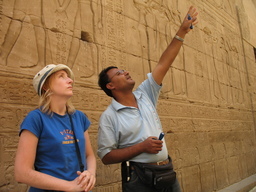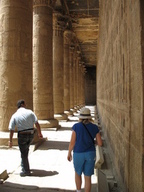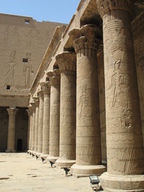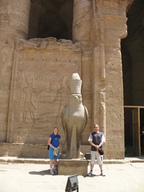 After following the road for quite some time, passing simple towns, fields and even following a car with some animals on the back, eventually we arrived at Luxor and were dropped off at Senmut B&B on the West Bank. Both Briony and I are so glad we chose to stay on the West Bank of the river as it's so quiet there, basically a tiny town when compared to the smelly and noisy cars on the other side of the river.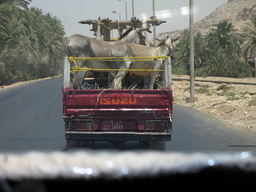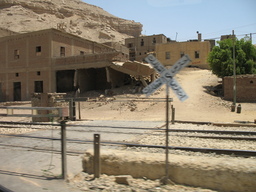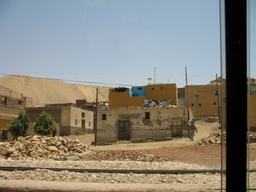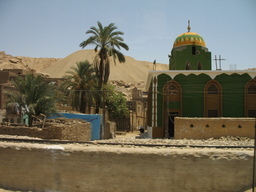 We headed out for an hour's walk to see our surroundings, the highlights being a bunch of boats and feluccas, some camels and a skin and bones donkey. One thing that we also noticed was that there are no public bins anywhere - you have to take care of your own rubbish. So, most people just throw the rubbish onto the street. And in order to clean the street, back home we're used to street sweepers and garbage trucks. In Luxor, on the West Bank, they get a broom and sweep the dirt and rubbish off the street and straight into the Nile. Not my idea of environmentally friendly but I guess that's just the way it is.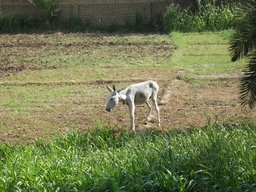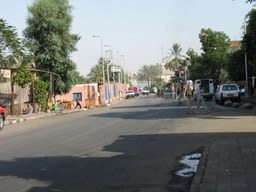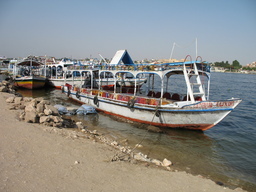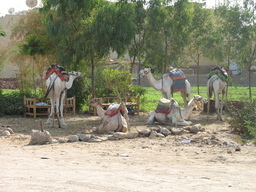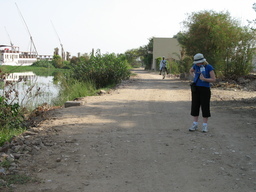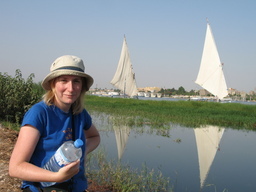 We chose to have our dinner back at Senmut B&B - they have a lovely rooftop garden area, and by dinner time it's cooled down enough to be comfortable, peaceful, and just a beautiful place to have a meal. The food is also excellent, with a decent menu and good prices. Dinner toniht was Moussaka (Eggplant), Rice and Vegetables with bread and a drink. We stayed on the rooftop for a while just relaxing, and as night fell there was a lovely view across the Nile River - all the tourist boats were brightly lit, plus there were floodlights on Luxor Temple. The whole thing really was nice.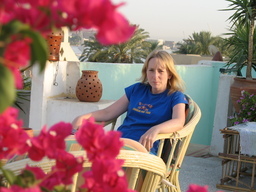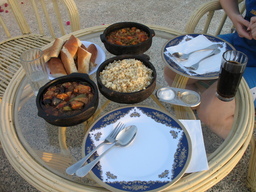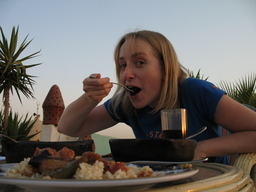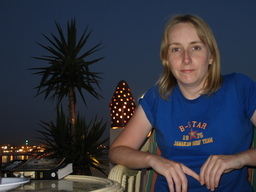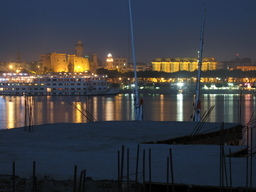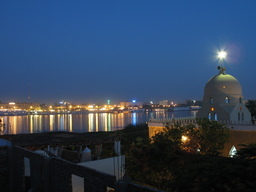 After dinner we headed out for another walk to find an Internet cafe and a supermarket to buy some food and water. We did find an Internet cafe, however it was a tiny shop with heaps of computers shoved in there, all sharing one dialup connection! It seems that on the West Bank there is no broadband! And to make matters worse, when we looked around the shop all we could see was a bunch of young Egyptian boys using chat programs, some of them with webcams, and it seems they were chatting to females, mainly English females. Perhaps the English girls are an easy catch for the Egyptians? Anyway we didn't care about that, but we did care that all the video chatting was making everything so slow that we really could not even check our mail.

Across the road was a supermarket, and we bought some stuff from Mohammed the owner. He was a nice guy, and we talked to him a bit. We also asked him how we could phone home. He sold us a phonecard, and then called his friend to show us how to use the phone. The friend even refused to accept a tip from us, that was really polite.


---

DAY TWO

The next morning was up early, take a motorboat across the river and meet Hany for our tour. We had heard that people in Egypt can be a bit shifty and try to charge you extra, but still the attitude of the motor boat operator was a little unexpected. There was no big deal, but before we got on his boat we asked the price - 10 Egyptian Pounds, which sounded okay. We made sure it was 10 pounds total, but then when we got to the other side he said it was 10 pounds each, making some dodgy excuse about his boat using special fuel or something. Eventually we just paid him the money as it's only a few dollars but still it's annoying - I guess they can get away with it as most tourists are there for only one or two nights.

Anyway once we settled our fare with the boatman, we met Hany and walked to Luxor Temple which was just across the road. This is one of the most famous temples, and has two giant statues and an obelisk (used to be two obelisks!) out the front, plus the well-known Avenue of Sphinxes which leads towards the Temple of Karnak, a few kilometres away. The avenue of sphinxes was at one stage a complete item, however these days only a few hundred metres remain.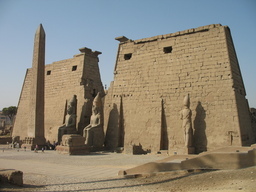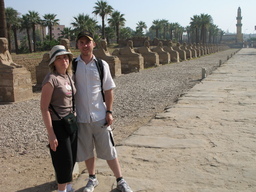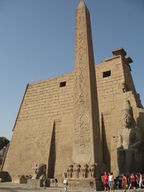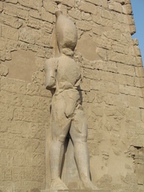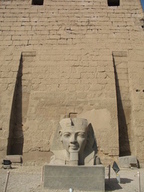 As we walked through the temple, Hany explained what the different areas were used for, including the Great Court of Ramses III, Triple-Barque Shrine, Colonnade of Amenhotep and more. This temple is absolutely huge and the sunshine that morning was perfect. Along the way we even picked up another tourist + family that overeard Hany's expertise and wanted to join our tour. This was okay, except they talked between themselves a bit which was annoying. He gave Hany some extra money at the end, so we were okay with that.

Hany also showed us an old Mosque which was basically on the second storey of a building inside the Temple. It turns out that with the shifting sands of the desert, this was actually ground level at one point in time, until some excavations were done revealing the Temple underneath.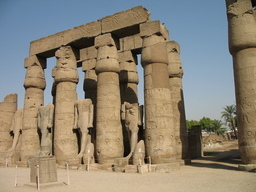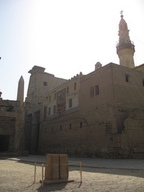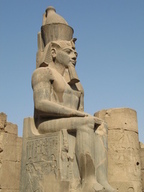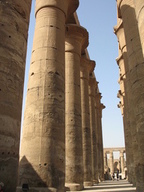 After Luxor Temple we headed to Karnak Temple, only a short distance away. Out the front is the Avenue of Ram-Headed Sphinxes, which used to stretch all the way to Luxor Temple. We stopped under a tree as Hany had bought us a drink, and while we enjoyed the drink he showed us a map of the area.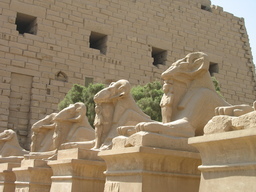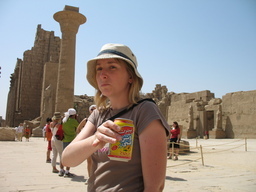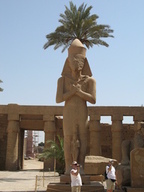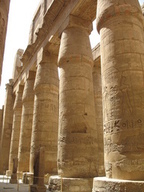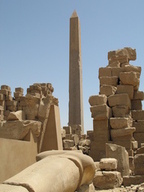 Inside the temple we saw many features once again, including Hypostyle Hall, Obelisk of Hatshepsut and also a heap of mud piled up against the front walls which was presumably used as platform while they were building the massive walls. We saw the Central Court, the Great Fesival Hall of Tuthmosis III, and the other Obelisk of Hatshepsut which had fallen over - I remember Hany saying something about it being vandalised by one of Hatshepsut's enemies.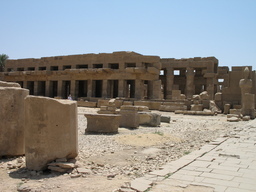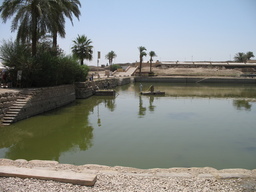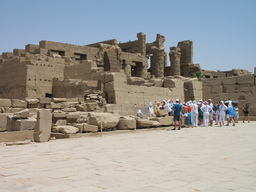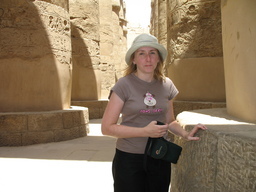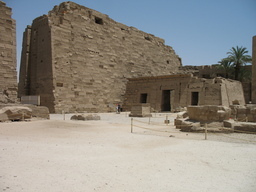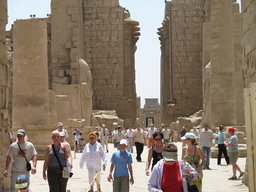 Once our tour had finished, we left the Temple and Hany left us in town as our tour was finished for the day. We walked around Luxor a bit, it was very hot, and we'd heard people talking about a market. A taxi driver offered to take us to this market, we jumped in his taxi and he took us somewhere weird. I think our understanding of 'market' is a bunch of shops and stalls, selling different things. When the Egyptian taxi drivers etc talk about a 'market' it seems they actually mean 'my friend's shop' where you have a pushy sales person trying to offload their overpriced products. We didn't want any of that, so we paid our fare, got out and continued walking.

That evening there was a party on the West Bank, and the owner of Senmut B&B invited us along. There were an older English couple that had been staying there for some time and they were leaving so this was the farewell party. We went there, talked to the people, had some drinks (just coke!) and enjoyed some music from a small group of 3 musicians. We gave the musicians some tips as the music was good, and after an hour or so we went back to Senmut to get some sleep.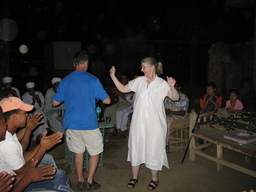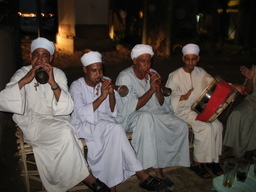 ---

DAY THREE

After a good night's sleep we rose early again to avoid the harsh sun. First stop was the Valley of The Kings which was not too far from Senmut B&B. We saw a couple of tombs, the highlight of course being the tomb of Tut Ankh Amon. This tomb was beautifully decorated and certainly quite large. Of course, there were also plenty of tourists around even given the early hour. We also saw an excavation site where they were presumably extracting a new tomb or some artifacts. After we had finished looking around it was time to hop on the little tourist train thing, basically a few small carriages pulled by a tractor, back to the car park.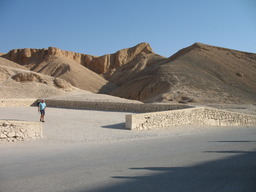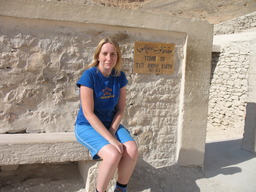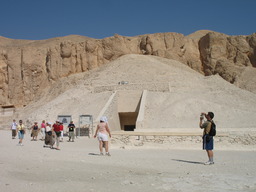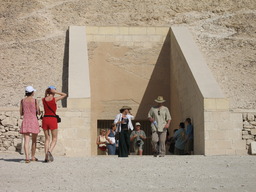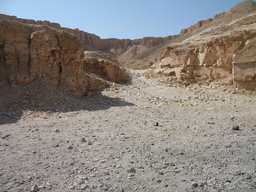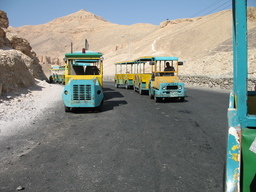 From there we travelled a short distance to Queen Hatshepsut Temple, one of the sights that almost anyone would recognise as this temple is quite unique - it's built into the cliff. Again Hany told us of the history and explained some of the writings within the temple, but by this time the sun was very bright and extremely hot so we soon made tracks back to the car.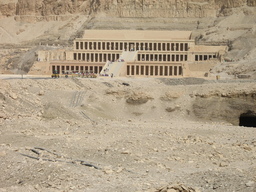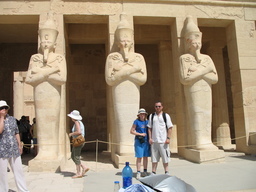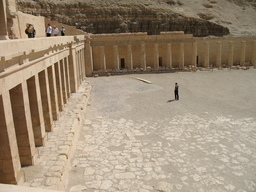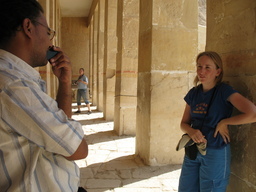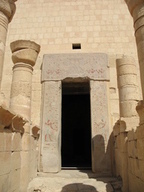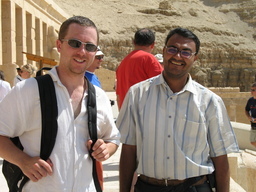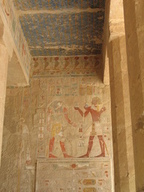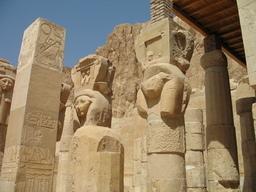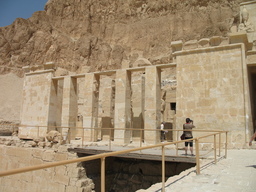 After Queen Hatshepsut Temple we took a short journey to Valley of the Queens, which I guess in some ways is similar to the Valley of the Kings. This was just a very short stop, and then we continued to our final stop on our tour for the day which was the Colossi of Memnon. The Colossi are two huge and seated statues almost in the middle of nowhere. There a car park with two massive stone statues and a path to walk closer to them, however they are so huge that we didn't need to get up close to appreciate the detail.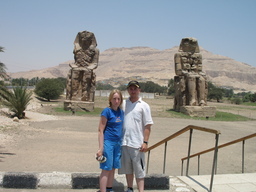 The Colossi are only a few minutes drive from the main Luxor West Bank area, so Hany and our driver dropped us off at Senmut B&B. From there, we went to find our friend "The Captain" who was a boatman and had taken us across the river a few times. He seemed nice enough, and we accepted his offer for a trip to Banana Island. It took probably 20 minutes to get there, and we soon docked and got off the small boat. Banana Island is a nice area to walk around, with banana trees everywhere as its name suggests. We also saw a pile of branches on the ground with the biggest spider web we had ever seen. No spiders though. After a little while of walking around we headed back to the boat and began our return trip.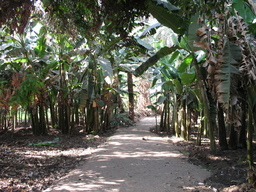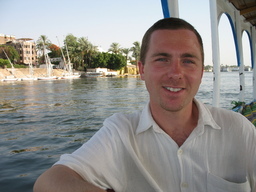 We got the Captain to drop us back on the East Bank, so we could have a walk around. We took some time walking along the dock, then up and around Luxor Temple and of course around some of the streets in the general area. We noticed some signs instructing drivers not to beep their horns, but these signs seemed to be being ignored.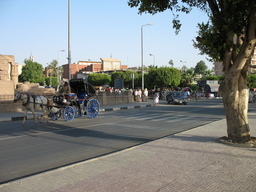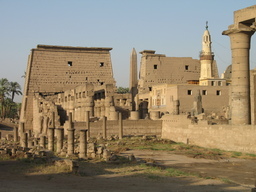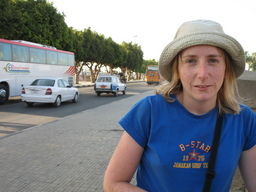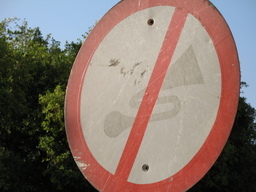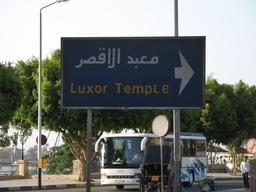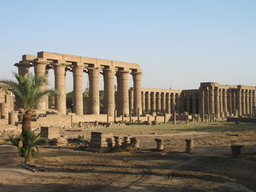 We were approached by a young boy on a Caleche - a horse and cart. He asked us if we want to go for a ride, and it was a seemingly typical sales cry about how cheap he is, how fast his horse is, and something about a Monday Market. His English was good and he eventually convinced us that there was in fact a Monday market, and he would take us there. His sales pitch was helped given that every Caleche driver was yelling about a Monday Market.

Unfortuntely the Monday Market ended up being the same trick as the taxi driver earlier - he took us to a shop which was very western-looking, obviously for tourists, and downstairs they sold papyrus and upstairs was all sorts of statues, books, drums, just stuff. All the lights were out when we arrived and they turned the lights on for us obviously as a display. In fact when we went upstairs there were a bunch of people laying down out the back and as soon as we got there they suddenly got up and looked busy. We had a look around and they actually had some really nice stuff there. We got the usual sales pitch about the discount he was going to give to us, and we did end up buying a statue for about $100 Australian - probably way too much but hey the statue is really nice and back home you'd probably pay $100 for something like that anyway!

After another meal on Senmut roof garden we headed out to Karnak Temple for the evening laser show. There were plenty of tourists there and we knew this would be the type of thing whre you're likely to get trampled for the best spot. Basically we all gathered out the front, and then the show started. It consisted of moving just inside the temple, and then the immediate area had a few floodlights which lit up a window, or a column, or some other feature. There was some recorded commentary over loudspeakers, and then we moved 100m and repeated the process. After half an hour of this we went out by the sacred lake to the seating podium. I was expecting a coloured laser show, but really all that happened is there was some more audio commentary plus in the distance of the temple there were floodlights shining on different things. Overall I thought this show was a waste of time as i didn't really see anything particularly interesting. However I should point out that I was feeling quite tired with heavy eyes, so perhaps that was part of the problem. We didnt bother taking any photos either, as they really would not have turned out well.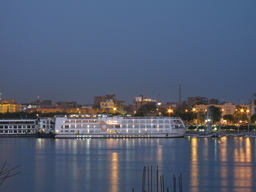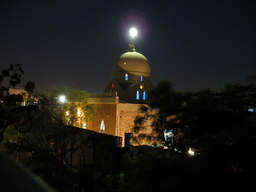 ---

DAY FOUR

After rising bright and early we met with a pickup van to take us to the meeting place for Hod Hod Solomon Hot Air Balloons. We had arranged this trip with George, one of the residents at Senmut. We arrived at the meeting place in time to see them inflating the balloons with massive fans, and we were surprised at how large the balloons really were - and how many people would fit in one balloon! Our balloon had a big basket with 5 sections and I think 6 people in each section.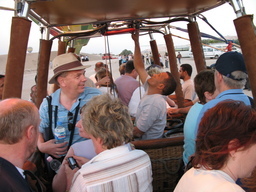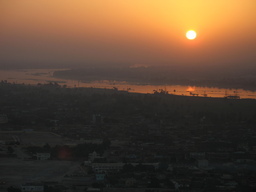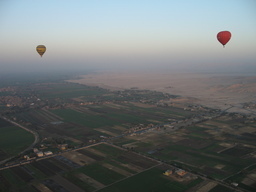 The first thing you notice about the balloon ride is that it's absolutely silent apart from the sound of the furnace which is only in short bursts. You then notice that it's perfectly smooth. Then your head starts to burn from the furnace as it's really quite close to you! Basically during our balloon trip we just literally floated around, simply admiring the scenery. It was beautiful watching the sun rise over the river, and the view gave a really great perspective of the landscape of Luxor and the surrounding hills. Also it was possible to see the line around the river where green fields gave way to yellow sands of the desert.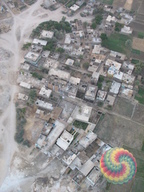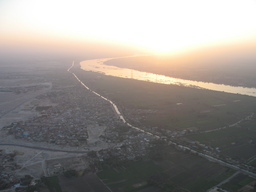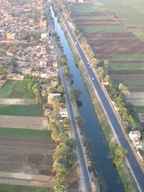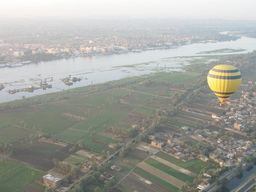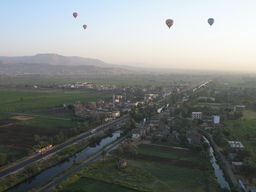 We had a top view of Queen Hatshepsut Temple and surrounding areas, and as we got closer to the river we had a good view of the homes over the West Bank. We could see that many homes did not have roofs, we later found out that many families choose to continually expand ther homes by adding extra storeys. But when a second storey is added, they also build the walls for the third storey. They don't build a roof for the third storey though, until it's needed, and apparently there is some tax concession regarding unfinished homes - so it's in the person's interests to ensure their home is never 'finished' properly.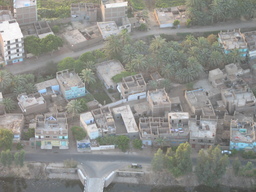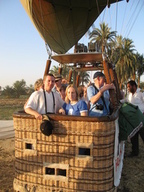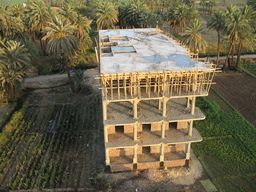 Coming in to land on the balloon was interesting and obviously our captain had plenty of skill and years of experience. As the balloon comes down he had to ensure it landed on thr ground gently. But at the same time the balloon was still travelling forwards, so as the basket stayed on the ground and the balloon kept going, he had to blast some more hot air to lift the basket again, and then repeat the whole process. After 5-6 times, the momentum had almost worn off and we finally stopped.

Once we got out of the balloon we all gathered round as there was a small ceremony to issue us tourists with balloon certificates and a t-shirt. While the captain handed out the gear, his work team were singing and playing the tabla (Egyptian drum). After all the certificates and shirts were handed out, the captain and his team all danced with the girls from the balloon tour. I reckon the whole ceremony was just an excuse for the lads to dance with some girls but it was all harmless fun.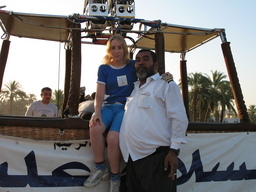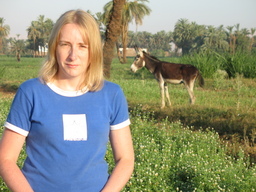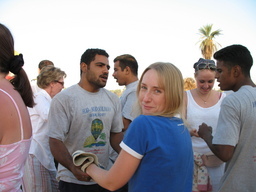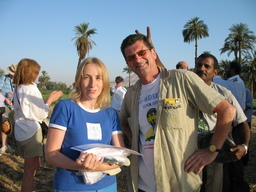 After the tour we got the balloon guys to drop us back at Colossi of Memnon, just down the road, so we could meet Hany for our day tour. In the car park were some stray dogs and they looked so thin and sad. I had some chocolate biscuits in my bag so I gave one of the dogs a little bit of food. I'm sure the dog was so grateful to have some tasty biscuit! Also in the car park were some stray humans, in the form of hawkers waiting to sell their stuff to the tour groups. They had all sort of things from clothes to wood carvings. We really weren't keen, but one guy had some stone figures, and he was eager to sell to us. I made an offer and he refused and we played that haggling game a bit. He eventually sold up but then he was very cheeky and decided to look in my bag for my wallet, and wanted me to open it. I was going to open it and show him there was no more money, but I opened the wrong side and there were some notes in there. He hassled me until I gave him another 20 pounds or something and then he left us alone. Shortly after, Hany arrived with the car.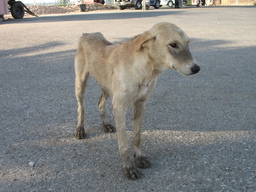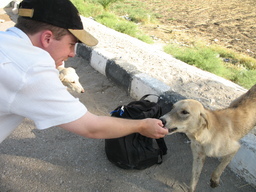 First stop was the Valley of The Nobles, where we saw some old tombs. On the way out we were escorted by a few young girls from the village that wanted to sell us some little dolls. We eventually escaped!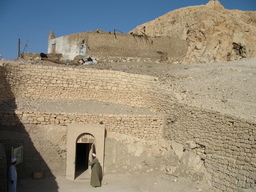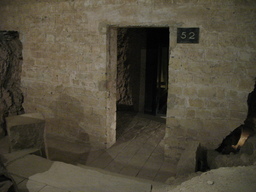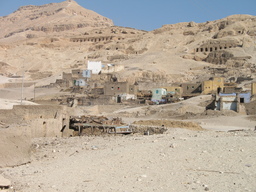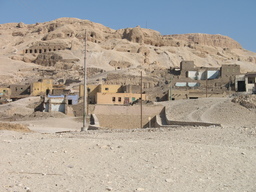 Following that was a short drive to Deir al-Medina Village & Tombs, where we had an annoying guard/guide person follow us down into the tombs and talk to us. He was next to useless as all he could do it point at the drawings and tell us what a few symbols meant - the phrase "scarabi, scarabi, horus, horus" comes to mind. Of course we already knew what a scarab was, and we knew Horus too. On the way out he let Briony go through a door but then stopped me and asked for Baksheesh. I literally had no money on me so I told him a few times. At the top I saw Hany giving the guy some money so all was okay.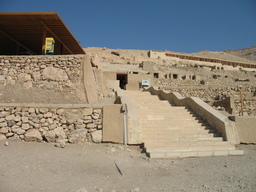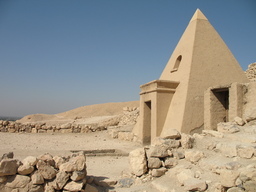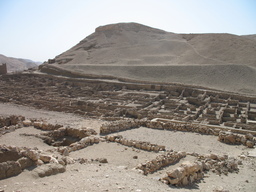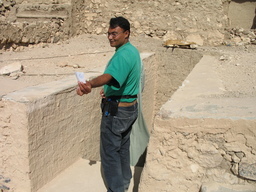 From there Hany took us to a local stoneworking shop where they gave us a 30-second demo with 4 different boys, showing us how each boy in turn grinds the raw stone into smaller chunks, then into shape, then smooths it out, then polishes it. Cool stuff, but we knew the sales pitch was next, and sure enough we were shown inside to see all their gear. We didn't buy anything from here.

After the stoneworking demo we visited the temple of Medinat Habu. Hany showed us around in great detail as this temple had some really well-preserved writings and also pictures with bright colours. Outside the temple were the remains of some quarters complete with bathroom area. It was still reasonably early in the day and after a good 45 minutes at the temple we were about to leave when we saw masses of tourists in their big groups, coming our way, I guess the really busy tourist group period would last a few hours, during which time it'd be hard to see anything.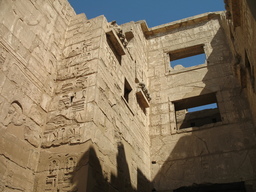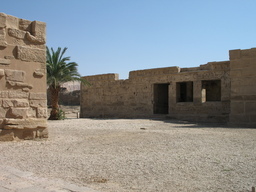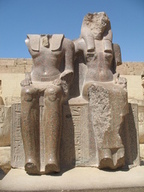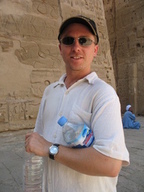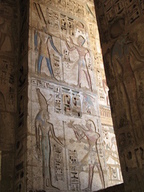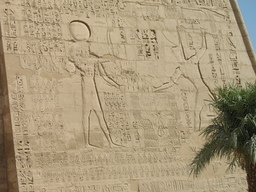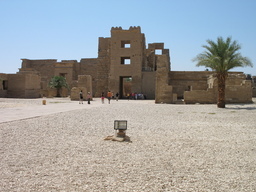 After Medinat Habu, Hany dropped us back in town and we had the rest of the day as free time. We walked around the streets of Luxor, and through some market alleys. This was more like what I had expected from a market, just like here, a street lined with shops of all different types. We only walked through here to have a look, we didn't actually intend on buying anything.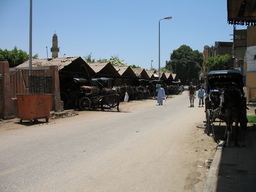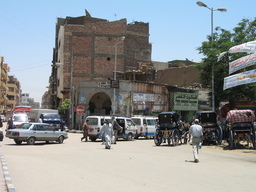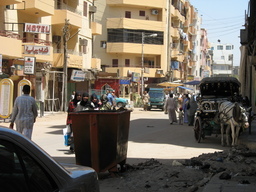 At one stage we got approached by a young Caleche driver, wanting to take us to the Monday Market, or whatever day it was today. We knew it was all a load of rubbish but we played along. I was really only interested in getting some footage with my camera that i had dangling next to me. The video I took was sideways, but it was not so hard to rotate for a bit of fun back home.

We stopped for some food at McDonalds, and of course we just had thickshake and chips, as Briony was convinced that the salad would be infected somehow and would make us sick if we had a burger.

After McDonalds we walked around some more, and then headed back to the West Bank via motorboat. It was time to stock up on supplies so we visited our friend Mohammed at the supermarket, really just a small deli with stocks of everyday items. We'd bought a bunch of stuff from him already, for example lots of chocolate biscuits and a few bottles of water every day. He sat us down and we had a drink with him and just talked, certainly a nice guy and he looked after us well.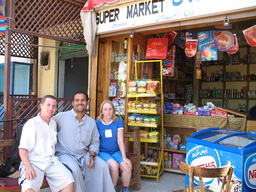 Back at Senmut we were feeling guilty for going on the balloon with George, as the Senmut owner had asked us about a balloon ride the day earlier and we had made some really weak excuse. We originally declined as it was quite expensive and he kept going on about it - obviously there was some decent commission for him. So, after getting a special deal from George we felt like we owed one to the Senmut guy. We asked him about a camel ride, which he arranged promptly. The camel ride itself was actually nothing special, as it was just two young guys leading the camels about 1Km along the river, offering us to have a beer inside a house (a commission thing again I am sure), and then walking back. it was relaxing though, and only cost a few dollars. The funniest part was when the boys offered to take a photo of us on the camels. Even with our modern digital camera that has an LCD on it, their photo-taking skills were shocking. Two out of three photos they took had us with missing heads!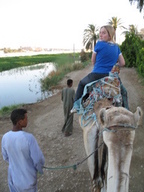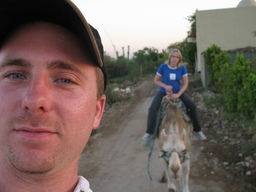 We ordered our dinner of lentil soup from Senmut, however it wasn't much to our liking so we disposed of it in the garden bed. I'm sure they would have found out! We secretly suspected they were feeding us poison, for not taking their balloon! Of course that's not true, but it was good for a laugh.

We had arranged to meet the Captain that evening, as we'd had many boat trips with him and we got along well. He wanted to have some Egyptian tea with us, and share a traditional Shisha. So we went to meet him at the corner shop - he was already there with the owner of the tourist shop and also the local policeman. We sat with the guys for about an hour and enjoyed the company, the tea and the rather strong shisha. The Capitan also measured me up for one of the traditional outfits - basically just a long-sleeved dress, but for a man. Apparently these clothes are quite cool, I'll wear mine in summer and see! I think I also got too wrapped up in the Shisha and Tea that I forgot to take photos!

---

DAY FIVE

This was to be our last day in Luxor, which was a shame as the West Bank is a lovely place to stay. We took some early morning photos, and then headed over to meet Hany on the West Bank. We had all our luggage with us, which we left in a locker at the Railway Station ready for our trip back to Cairo that evening.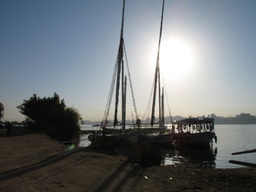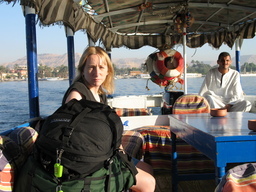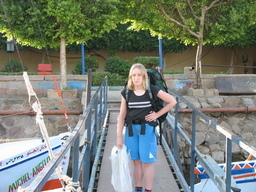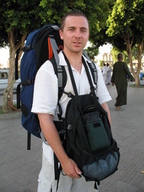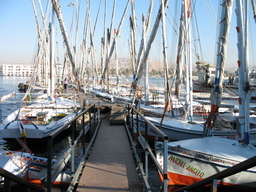 We then headed off to see the Abydos Temples which once again had some well-preserved writings for us to view. There was also a really dark hall of columns with light holes in the roof which made for some interesting photos.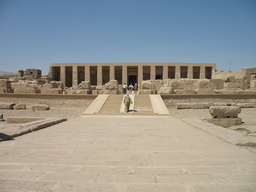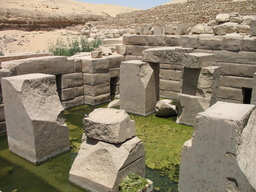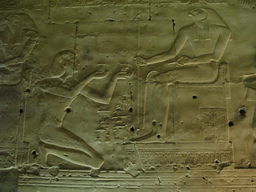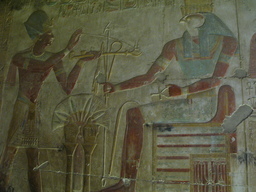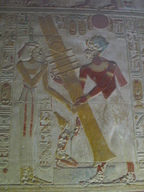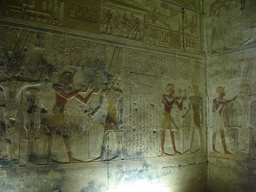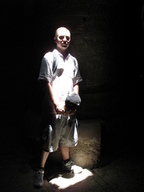 Second stop for the day was the Temple of Hathor at Dendara. This complex had been furnished with a modern, paved path leading from the carpark to the Temple entrance. We went inside for a look around, and as usual we were shown some of the standout features and writings.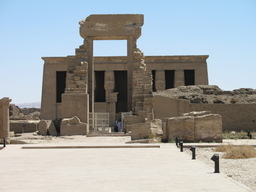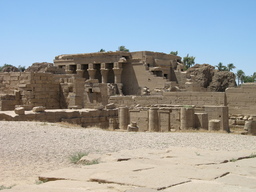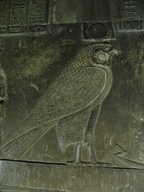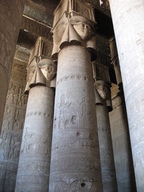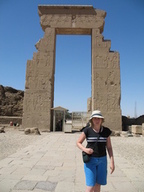 Back in the car and a few re-hydrating drinks later, we headed back to Luxor and said goodbye to Hany and our driver. Mondi made an appearance too, it was a surpise to see him there, and he gave us both a Tut Egypt Tours shirt with our names written in Egyptian symbols. We had thought it a bit suspicious two days earlier when Hany had asked us how to spell our names! Sneaky!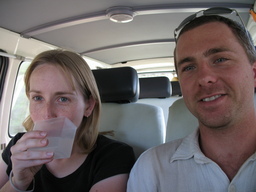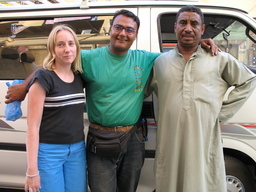 Since we still had a few hours to kill until the train, we walked around some more, really just seeing more of the streets we had already seen. We headed back over the West Bank to see if George was around with our balloon shirts, unfortunately he was nowhere to be found so we just left a letter for him. We went to say goodbye to our supermarket Mohammed and then headed toward the river to find the Captain.

We grabbed a ride across the river on Captain's motorboat, and we took a few photos. He even let me sit in the drivers seat to pose for a picture.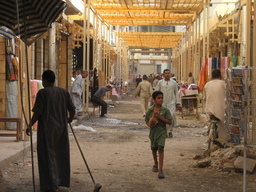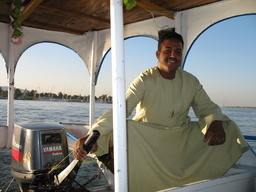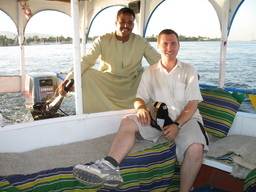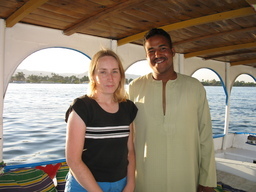 After some more wandering we went to the Railway Station to wait for our train. The station was pretty busy, and we just hung around on the platform seats for about an hour. I wish I'd taken some photos here, as it really was chaos with people everywhere. Some people had bags and suitcases, others had piles of boxes like they were moving house! Also the toilets, wow. I went in there expecting something sensible. What I found was not a toilet but just a small drain much like a shower. There was a tap on the wall with a bucket. Obviously you were supposed to use the drain, then wash the floor with a bucket of water. I did what I had to, and headed back towards the platform. On the way out I saw a cleaner, there was so much water on the floor that he was using a squegee instead of a mop!

Back on the platform, our train arrived late and we jumped aboard. We had a decent dinner, and grabbed some sleep ready for a day in Cairo.

Next : Cairo, Egypt
or, back to Euroblog Index




---



Last modified: Wednesday, 01-Aug-2018 13:25:38 ACST
Site created by Callan Davies / CRUZN 2007-2010
Some content protected. Other content free for your use. Contact the Webmaster

Random Photo:


---
[Articles]
Talking to the Topfield TF5000PVRt using Linux and ftpd-topfield
Setting up DynDNS in Ubuntu/Linux
Restore GRUB boot manager after Windows destroyed it