Home/Blog
Current (2015)
2014
2013
2012
2011
2010
2009
2008
2007
BabyBlogs
Majandra
Aliana
Travel Blogs
Europe/Egypt '06
Peru/Bolivia '08
Central Aust '09
Fiji '11
Cycling Maps & Routes
Links


Best viewed with Firefox




Site Built with gedit on Ubuntu


[Rome, Italy]

From Pisa, we took the train to Rome. We arrived fairly late in the evening, and it was completely dark outside. We were supposed to arrive about 11:30pm but I think we grabbed an earlier train and got in about 9:30.

After leaving the Railway Station, our first impressions of Rome were not good. While the Railway Station itself is decent, as soon as you step outside the station you are left standing narrow, dark and busy street. This street has rubbish all over the road, gutters and footpath, also there are cars parked on the side of the road with people hanging around them and loud music. It all looks a but rough and dangerous so we were quite keen to get out of there.

Having left the Railway Station area we walked to our hotel, and we passed at least one homeless person in a sleeping bag on the foot path! Being asleep he caused us no problem, but it was an unexpected thing to see.

We found our hotel quite easily and went upstairs. The facilities were really nice and the room was very quiet. We had a shower and headed straight to bed as we had a big day coming up!

The next morning we got up early and left to go see the sights! After walking past some dirty streets with cars covered in graffiti, our first stop was Colosseo (the Colosseum), which was about 25 minutes walk from the hotel. Colosseo is absolutely huge, however one of the first things we noticed is that it's covered in black dirt - presumably caused by the exhaust of all the cars passing right next to it.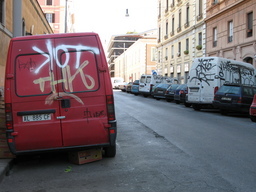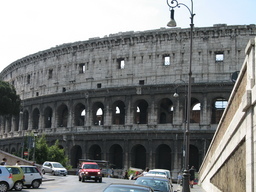 We walked around Colosseo to the main entrance so we could buy a ticket and it was then that we saw the line-up! There were so many people it was just crazy! We knew we were going to be waiting in line for an hour before we got anywhere.

In the waiting area we were approched by many people offering us tours. They were dressed just in casual clothes and had a chain around their neck with a card on it. We'd read on the Web about people offering shonky tours so we weren't keen on accepting their offers. But after waiting for 15 minutes we asked some more questions and the tour lady sounded half legitimate and it was only 11 Euros each to get the tour (plus our entry fee to Colosseo). She had promised us faster entry so we thought it was worth a try.

The whole tour guide thing seemed a little disorganised and chaotic in true Italian fashion, as the tour lady kept talking to other tour people, I guess she was waiting until we had enough numbers. Eventually we headed to the entrance and got inside straight away. 11 Euros well spent for sure!

Once inside the guide gave us a 20-minute tour. While some of the things she said were interesting, for the most part it was more entertaining than educational! Our guide had long blonde hair and she wore those horrible large sunglasses that covered half her face. She had a strong Italian accent and talked in a booming voice that's sort of hard to describe. Perhaps she was trying to talk like an ancient warrior would have talked but who knows!

Once the tour had concluded she gave us all some yellow slips with details about their other, more expensive tours. Obviously this easy Colosseo tour was just a sample so you'd go on their other tours! But this is okay as the price was very resonable and we were still allowed to stay inside Colosseo to look around by ourself for as long as we wanted.

We walked around inside Colosseo for about 20 minutes and took lots of photos, it's amazing just how huge the place is and to imagine how many people could be in there.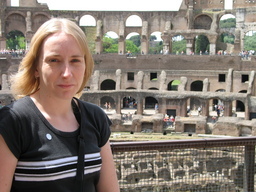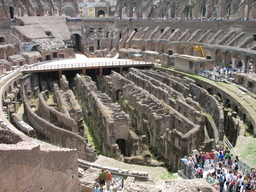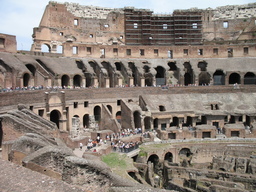 After Colosseo we joined a tour for Palatino (Palatine Hill), a historic area with ruins of an aqueduct, chariot racing course with grandstand and also residences for I think it was the emperor or similar. This tour was run by the same tour company as the one at Colosseo, and I think it was a free tour for people that had paid for the Colosseo tour. The guide on this tour was a really nice New Zealand man, he spoke very clearly and gave lots of really good information. 10 points for his tour guide skills.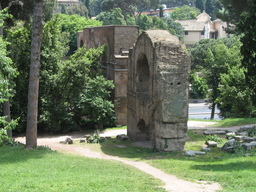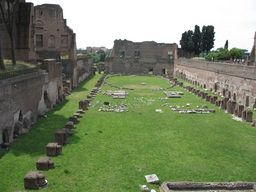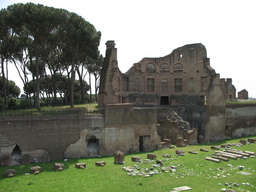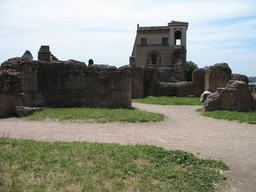 Palatino also offered some really good viewing locations for the old Roman buildings from a fairly high location. I'll let the photos speak for themselves ...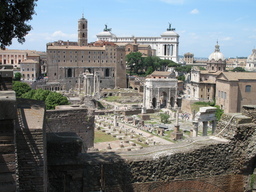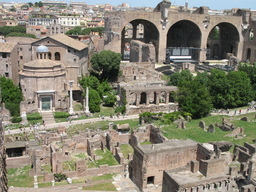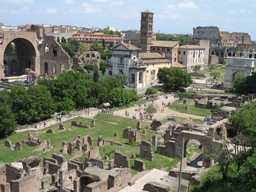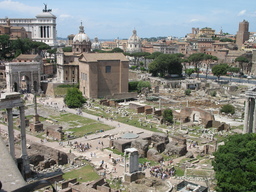 From there we headed around to some other sights that are the typical things to do in Rome. We knew these would be very busy and perhaps a bit cheesy, but it had to be done. We saw the Spanish Steps, Fontana di Trevi and just walked around the streets. After a few hours of walking around we headed back to the hotel for dinner.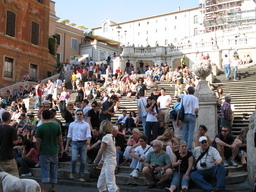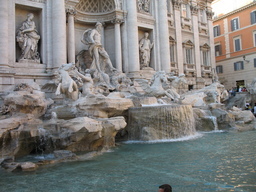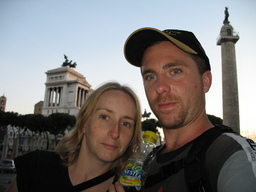 The following morning was up bright and early for a tour of Vatican City, again with the same tour company as before. We met up with the same lady from Colosseo, paid our money and she introduced us to an older man that would be our guide. He turned out to be really great, and had lots of knowledge to share. Of course after meeting our guide, we then had to wait in a really huge line for about 2 hours before we could enter. There were also so many people behind us in the queue. Due to the number of people our guide issued us with headphone sets so he could talk to us through a microphone and explain all the things we would see.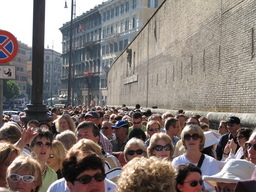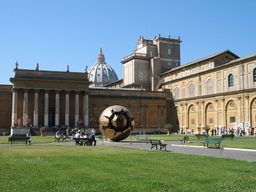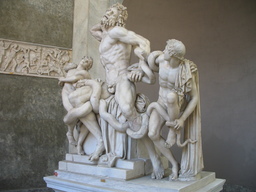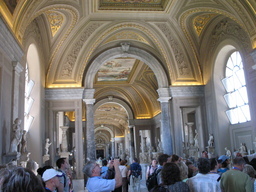 The tour through Vatican City took about 3.5 hours, during which time we saw the lovely gardens, many statues and paintings, Galleria Della Carte Geografica (the Hall of Maps), and many other lovely things including of course the Sistine Chapel. At the end of tour was Basilica San Pietro (Cathedral of St Peter) which of course is on the boundary of Piazza San Pietro (St Peters Square). Also on Piazza San Pietro is the Papal Residence and of course we got some photos of the Swiss Guard in their unique uniforms.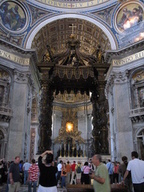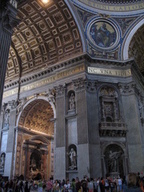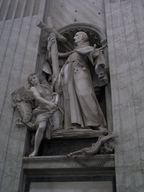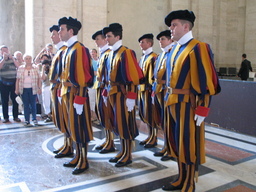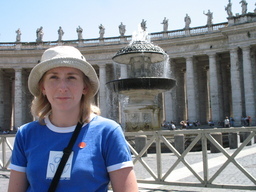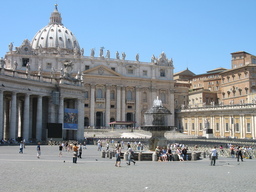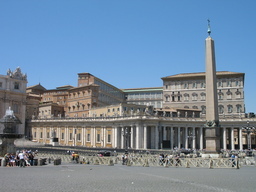 After a short rest and a snack, we walked around to see Castel Sant Angelo. At this point in time I had finished reading a book where this was the location for the big fight at the end. Briony was still reading the book so I could not spoil this for her, but this is why we went there. We walked across Ponte Sant Angelo (St Angelo Bridge) and we saw some more Africans (Nigerian?) selling their fake Rolex and Gucci gear. We walked a bit along the river before stopping for a break. While we were sitting down we saw a man in a three wheeled scooter park on the side of the road. Next to him were some billboards, advertising for a political party. He checked around him and then took a broom and some glue. He put glue all over the posters and then put his different posters on top! When we looked at the billboard we could see there were many posters ontop of other posters and it was just a horrible mess.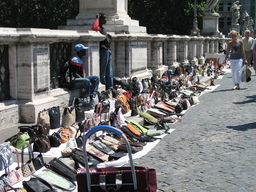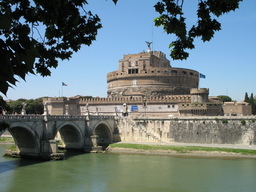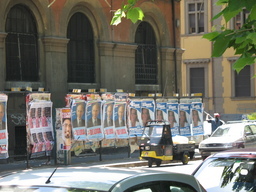 We walked back through Piazza Navona where we saw the Bernini Fountain. On the way we passed some more ruins that were quite low in the ground and had a glass fence around the edge, and all inside were cats living there. Then it was time to visit the Pantheon which of course is beatiful and in very good condition. After the Pantheon we walked around some more to see the Mouth of Truth, Circo Massimo, Arco di Costantino and some more of the Roman Forums.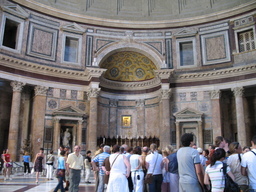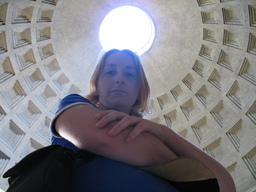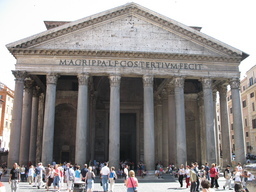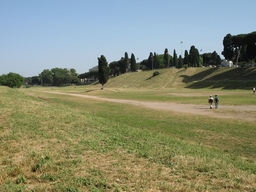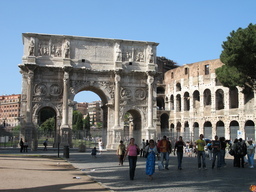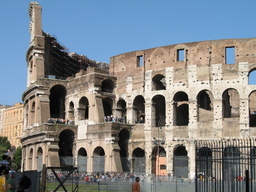 Behind Arco di Costantino is the area of the Roman Forums, which is a really huge area of ruined buildings, some of which are in quite a decent condition. We walked around this area for about 40 minutes, just taking in the different sights.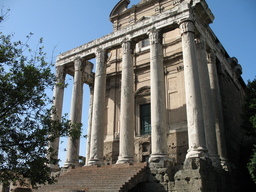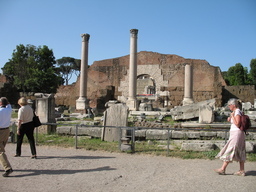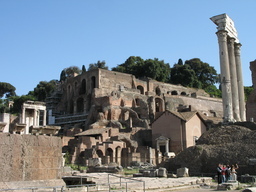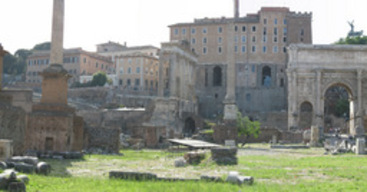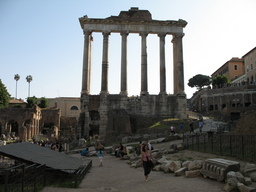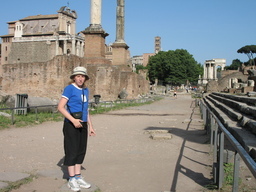 On the way out of there we passed Colosseo and we heard loud music from a band. This was the University of California Marching Band, here as part of their tour. We listened to the music and watched them for a while, and then headed back to the hotel.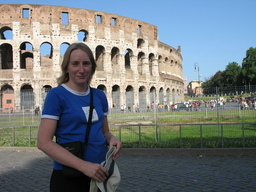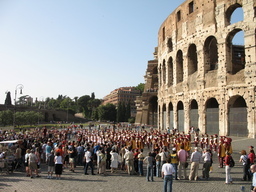 We decided to take the metro back towards the hotel, which turned out to be a mistake. For about the first time on our whole trip I left my wallet in my pocket instead of in my backpack. The metro was very crowded and sure enough by the time we got off the train my wallet had gone missing. This caused a whole lot of stressing and yelling which sort of ruined the night. We went to the police station only to find that they closed at 6pm and we had to come back in the morning to lodge a report. We headed back to the hotel and decided to use the time to sort everything out. I had to ring the bank and cancel my credit cards - but for some reaason they can't find you by name, they have to find yo by credit card number and I certainly didn't know all my card details by heart! Also we needed to get some money but my card had been stolen so we had to use Briony's. Of course in the usual Briony fashion she had no idea what her PIN code was. So we had to ring home, get our fmaily to search our filing cabinet and find the PIN. It all turned out okay in the end, we just lost about 200 Euro.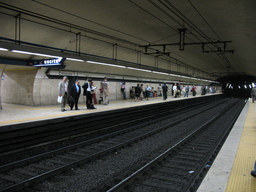 The following morning we headed to the railway station and took the "Michaelangelo Express" which is the train to the airport. This was a fairly convenient service but took ages - the airport is quite a distance from town and the train was not all that fast. In fact the train sounded, and felt, really heavy. But it was still better than paying for a taxi! Once at the airport we found a police station and made our report about the stolen wallet. We then proceeded to take our flight away from Rome and into the deserts of Egypt.

The Rome airport was another adventure in itself. The place, as you can imagine, is quite large. Once we got past the ticket desk, and quarantine, and customs, and more lines, and passport checks and more lines, we eventually got to the terminal area. However it seems that Rome has outgrown its airport, which means that our 'gate' just led outside, to a bus, which took us to a sub-terminal. Within this sub-terminal were more gates, where we found the actual aeroplane.

Next : Cairo, Egypt
or, back to Euroblog Index




---



Last modified: Wednesday, 01-Aug-2018 13:25:38 ACST
Site created by Callan Davies / CRUZN 2007-2010
Some content protected. Other content free for your use. Contact the Webmaster

Random Photo:


---
[Articles]
Talking to the Topfield TF5000PVRt using Linux and ftpd-topfield
Setting up DynDNS in Ubuntu/Linux
Restore GRUB boot manager after Windows destroyed it