Home/Blog
Current (2015)
2014
2013
2012
2011
2010
2009
2008
2007
BabyBlogs
Majandra
Aliana
Travel Blogs
Europe/Egypt '06
Peru/Bolivia '08
Central Aust '09
Fiji '11
Cycling Maps & Routes
Links


Best viewed with Firefox




Site Built with gedit on Ubuntu


[Inca Trail / Machu Picchu]

Our Inca Trail trek and visit to Machu Picchu was organised by Peru Treks. We chose them as the price was reasonable, their website had stacks of information and we had read a number of good reviews about their service. The cost of the trek, including all entry fees and transport, was US$475 per person.

Our trekking group was really good we got along well and everyone talked with each other. The group members can be identified as:

The Australians = Us!
The Canadians = Corey and Jodi
Team Holland = Anne and Franciscus
The Americans = Anne, Monica and Janet
The Irish = Phil 1, Phil 2 and another Irish guy who's name I can't remember

Inca Trail - Day One

We knew this would be an early start as Peru Treks had told us to expect pickup from our hotel between 05:20 and 06:00. We had all our bags packed (our big backpacks were in the luggage store at Hotel Ninos) and were ready but we still got a surprise when the two guides turned up at 05:25! We were taken to the bus at the end of the street, and then the next half hour was spent collecting other tourists from their hotels. Once the bus was full, Bobby introduced himself as the main guide, and Cesar as the assitant guide.

An hour and a half later we arrived at Ollyantaytambo where we stopped at a small restaurant for breakfast. I had scrambled eggs + bread, Briony had a banana pancake, and we both had some coca tea. We were slightly amused by three young guys (early 20's) sitting at their table lookig tired, one of them with his head in his hands, passed out. We thought these guys weren't going to make it. While we were eating we made light conversation with the other members of our group, so it was a little annoying when a local band turned up and started playing their traditional music - the music was okay but it killed all conversation.

After breakfast we took the bus for another half hour to Km 82 where we did a final check, did up our boots, bought a walking pole each and got ready for some walking! We went through the passport checkpoint smoothly, with the one exception being that Team Holland had their CamelBack water bladder explode.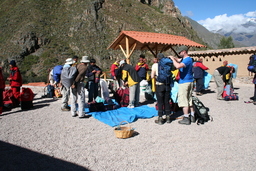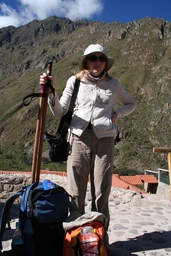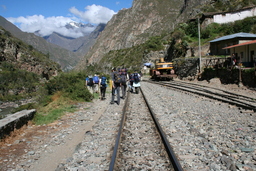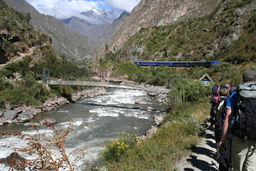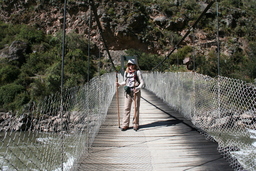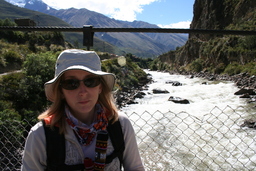 After crossing the river bridge we started our trek which was almost perfectly flat for about 40 minutes, stopping at a few points along the way so that Bobby could explain an old ruin, or a particular type of plant etc.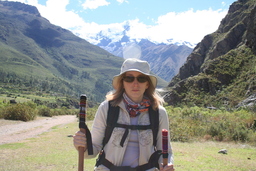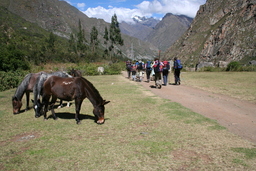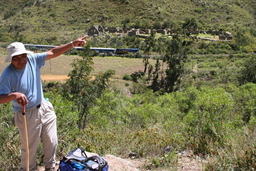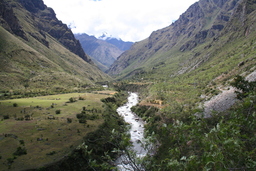 After some very gentle hills and stopped at a small rest spot for 15 minutes - there we toilets here and also ladies selling snacks and drinks, we bought 2 Snickers for S/. 5 each. A little more walking and we arrived at Huillca Raccay where Bobby gave us a 20 minute talk about the site.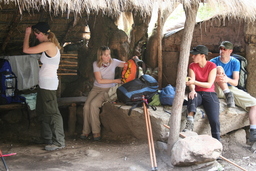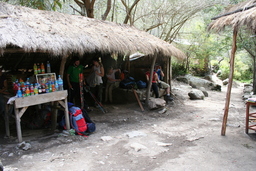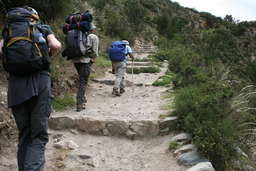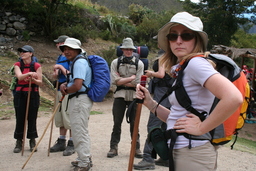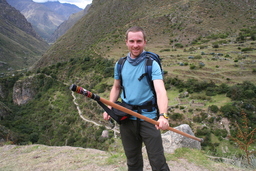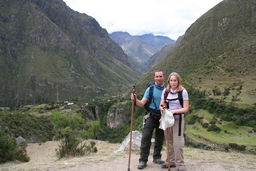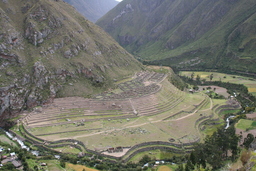 At about 13:00 we arrived at the lunch campsite and the porters all cheered for us which made everyone smile but was a little cheesy (Briony reckons it was embarrasing as they were clapping for a gof effort but we had hardly broken a sweat!). There was a huge tent set up with chairs and a long table inside, where lunch was served - we had an avocado entree with garlic bread, then corn soup and a big plate with vegetables and omelet, all followed by coca tea. Lunch was great but was a LOT of food - certainly the food and lunch tent facilities were more than we'd expected.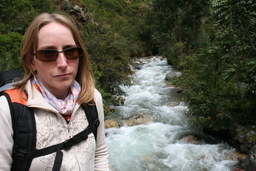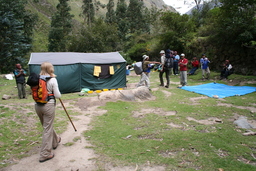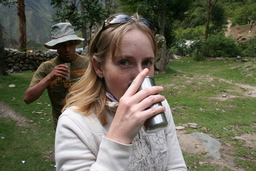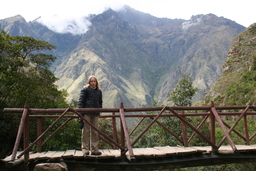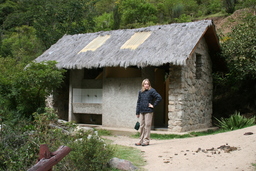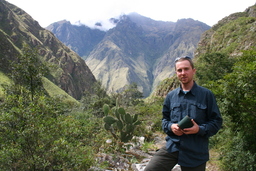 At 14:00 we started walking again, nothing difficult yet but a few more ups and downs. At 14:00 we stopped at a porter rest - just a small house where porters stop to drink Chicha Hora, a lightly alcoholic drink made from corn that helps to give them energy to carry those massive backpacks. There wasn't any water or snacks here but we had plenty so that was no drama. Janet from "The Americans" was having a bit of trouble keeping up, most likely due to having too much stuff in her backpack and also not having been in Cusco for long she was still getting used to the altitude.

We arrived to our campsite around 15:30, the whole group was walking together which was nice. It was cool but not cold at the campsite (except Briony who had a cold, and was freezing even in her big jacket).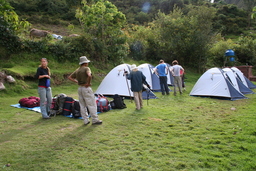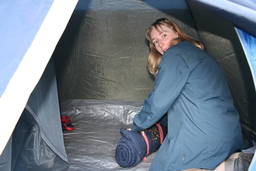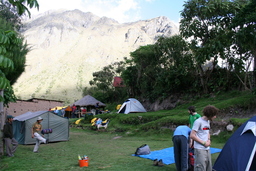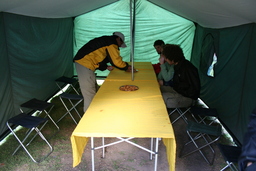 We had optional tea time at 16:00 where we ate popcorn, drank coca tea and made conversation with other members of the group. we stayed in the dining tent until about 17:30 at which time we did our own thing before returning to the tent at 18:30 for dinner. Again we had a huge meal - soup, bread, mashed potato, vegetables, a sweet banana dish for dessert followed by coca tea. After dinner Bobby explained the plans for day two, and we headed off to bed at 20:00.


---

Inca Trail - Day Two

Briony woke me at 04:00 to take her to the toilet and it became obvious that her hint of a cold had turned into a proper cold and she was a mess of sniffing, nose-blowing, coughing and complaining. Once toilet duties were done we went back to bed until the official wake-up time of 05:30 where Cesar offered everyone coca tea in their tent.

After drinking the tea and packing bags everyone made their way to the toilet before people from the other campsites woke up - Bobby had told us to do this as the toilets can apparently get quite a line-up later in the morning. Briony came out of the toilet with a disgusted look on her face and then Jodi (The Canadians) came out looking like she was about to throw up. Jodi expressed her disgust at the "spray shit" that another female had left there. At this time I was grateful that the good Lord blessed males with a fire hose :-)

Once Briony and Jodi had composed themselves we went for breakfast in the tent - we ate a pancake with caramel sauce, coca tea and a cup of porridge which tasted good but was unusually thin.

We started walking at 07:00 and found just a gentle walk for 20 minutes util we reched the trail checkpoint. After the checkpoint the trail had a lot of steep steps, often running close to some fast-flowing streams. We stopped for a quick break at 08:00 and put a blister pad on Briony's foot as it was rubbing against her shoe (even through her two pair of socks!). We had a cheese and tomato roll at the break site, bought some chocolate and gatorade from the ladies there (cost was S/. 15 - a little inflated from Cusco City but we expected that).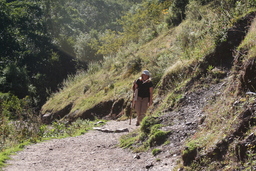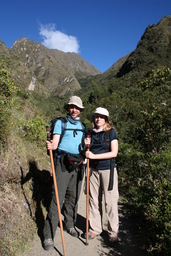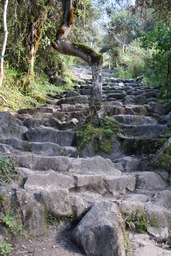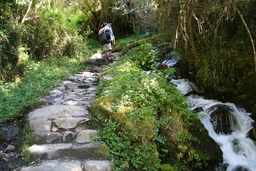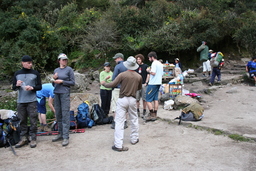 After this rest stop was a long, steep incline to Dead Woman's Pass at 4200m altitude. Most people report this as being the hardest part of the Inca Trail. The path seemed to go on forever and there were frequently trekkers and porters taking rest stops. Before long the 8am rest stop was just a tiny dot in the distance as we got higher and further away. The mountains were also deceiving - just where it looked like we were approaching the highest point we turned a corner and saw that the path actually kept going a lot further!!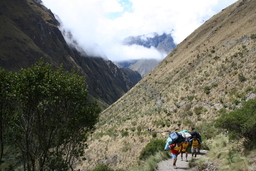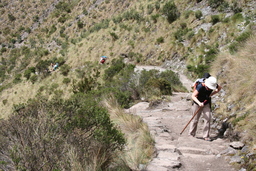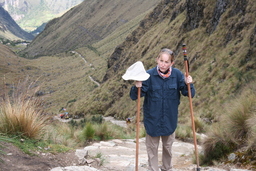 The last few hundred metres were the hardest as our legs were tired and there is less oxygen in the air. We found ourselves counting 40 steps then having to stop for a 30-second rest before the next 40 steps. The Canadians and Team Holland were already at the top and they cheered for us as we arrived. We stayed at the top until The Americans and The Irish arrived, at which time we ate our chocolate bars and discussed that a Milky Way in Peru isn't the same as at home. We said that the Peruvian Milky Way is an Australian Mars Bar, and when we described the Australian Milky way we were told this is called a Three Musketeers. What a stupid name!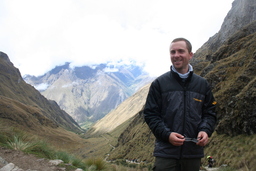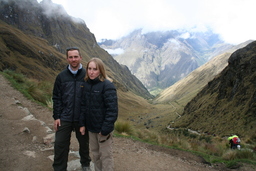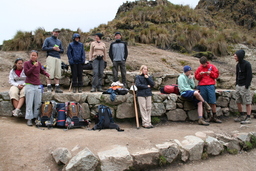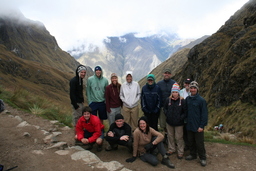 From Dead Woman's Pass we could peer over the pass and see where we had to walk down. It was interesting that the weather was clear on our side of the pass but on the other side was fog, cloud and a freezing wind! After getting a group photo we started walking down the 2000-odd Inca Steps. The steps are quite big and going down was slow and tough on the knees. After an hour or so both Briony and I had had enough of the steps and were looking forward to our campsite. It turned out that The Canadians do a lot of mountain trekking and they have this whole "hopping down the steps" thing happening so they were a fair way ahead along with The Irish, whom the Canadians had shown how to hop. But even faster than the hopping foreigners were the trek porters who were carrying 25Kg in their packs and literally RUNNING own the stairs. And they were wearing sandals!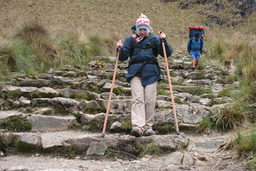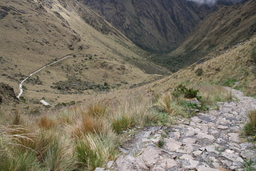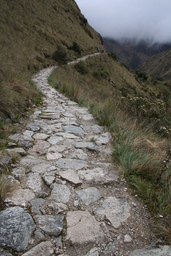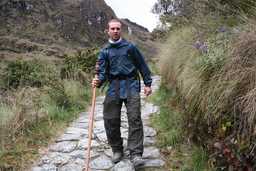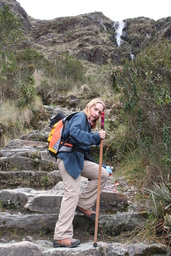 Since we had started so early we arrived to our campsite at about 13:30 at which time lunch was served. We ate an entree, soup, rice, soya meat and a strange deep fried slice of onion followed by coca tea. Bobby then explained that we were camping at 3500m altitude and it can be hard to sleep so an afternoon nap was recommended. Briony and I both slept, then at 16:00 I went for tea time in the dining tent and Briony stayed asleep in the tent. I should also comment that inside our dining tent the breeze was carrying the smell of the toilet block. I suppose not a lot to be done about that.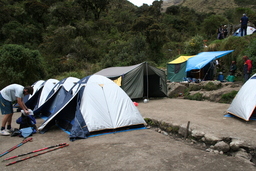 At 18:30 I had dinner with the rest of the group but Briony was still fast asleep - she didn't even wake up when I went to the tent go get my jacket. For dinner we ate soup, rice, vegetables, chicha morada for dessert and a Pisco drink called "tea macho" or something. Once dinner was done I took some night photos and we all went to bed.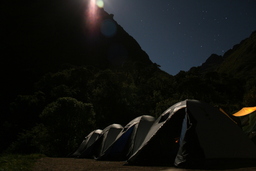 ---
Inca Trail - Day Three

We were woken at 05:00 by Cesar again offering coca tea in our tents. After paking our bags and using the toilet we had breakfast in the dining tent - we ate a mushroom sandwich, some sweet potato, toast with jam and of course coca tea.

We left the camp at 06:00 and it was only 10-15 minutes of uphill waling until the first Inca ruin of the day, called Runkurukay.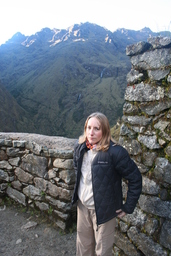 After Runkurukay we walked to the ruin of Sayaqmarka and the second pass. The walk was uphill but it wasn't all that difficult. We were in a differnt type of environment which was fairly damp and had lot of different plants growing. We also spotted a hummingbird!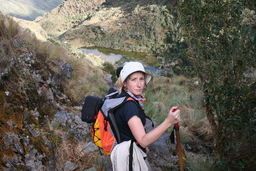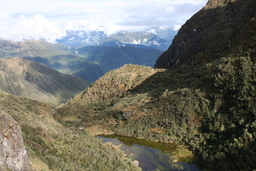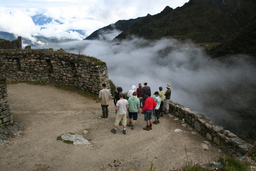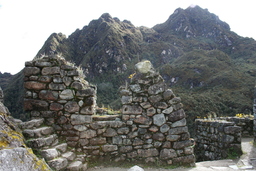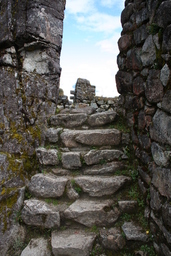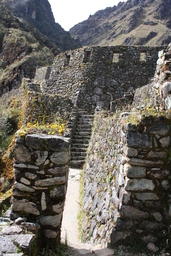 After some more uphill walking (not too difficult) we reached the third pass which was smothered in fog and cloud. Briony used the toilet which was apparently just a hole in thr ground with bees flying around. The porters had set up our dining table and chairs on some flat ground but without the tent. It was lovely to sit in the open air and end our snack of popcorn, fried cone things and coca tea.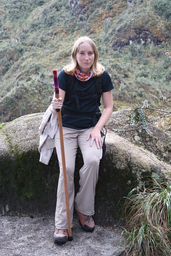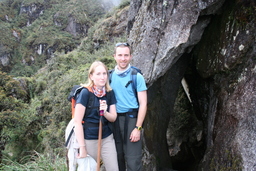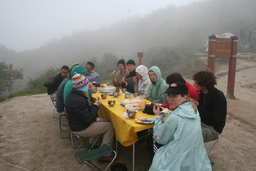 After our snack we started walking again, this time it was two solid hours of horrible downhill steps. Just like yesterday it was really hard on the knees and we were looking forward to the campsite. Naturally The Canadians and The Irish were mad-hopping down the steps and were quite a distance ahead. We shortly reached the ruin of Phuyupatamarca.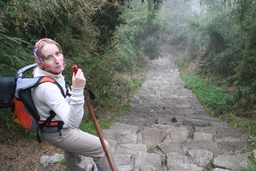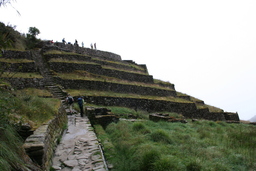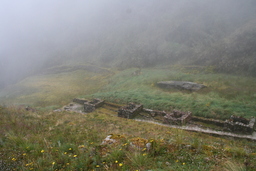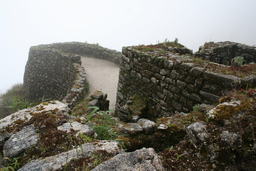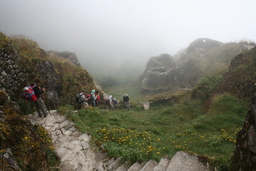 From Phuyupatamarca it was another two hours walking until we reached our campsite.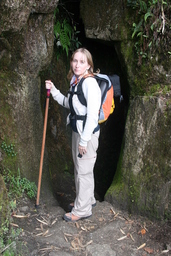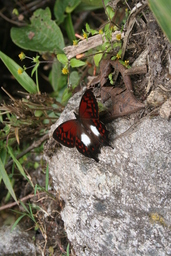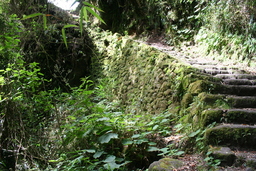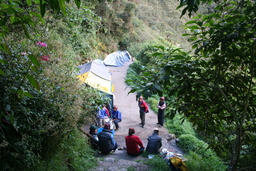 Day three was the longest day for number of hours walking - we reached our campsite at 14:45. It was a litle late to eat lunch but we were still served an entree, soup, some quinua, vegetables, potato cake and a dessert. After we'd eaten our massive meal we took a rest in our tents. This campsite was quite close to Aguas Calientes town and for this reason there was a big building at the top of the hill with a restauraant, a bar, toilets and hot showers. Pretty much everyone except us paid the S/. 5 for a hot shower but we didn't bother as we really didn't feel all that bad considering we'd been 3 days without a wash!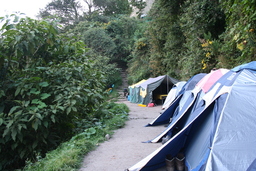 I should also add that it was therefore 3 days without access to a decent toilet. That was no worries for me, but Briony was feeling a little bound up!

At 17:30 the whole group went to the dining tent but this time it was not to eat. It's customary to give the guides, the cook and the porters a tip for good service, so this was a group meeting to discuss how much to give to a "pot" and then work out how much each member of the staff was to get - but this was only for the porters and the cook as each member of the trek group would tip the guides individually. The meeting only took 15 minutes and we soon had everything worked out. Briony and I put in S/. 60 each to the "pot" - I think everyone else did about the same.

18:30 was dinner time - we ate soup, rice, vegetables and potato cakes. We also had a surprise dessert cake!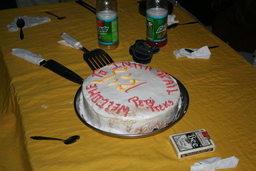 After dinner was the tipping "ceremony" where Janet made a short speech to thank the porters for their hard work and then distributed the tips to the porters. Each porter then shook each trek group member's hand and we thanked each other. After this, we all went to bed.


---
Inca Trail - Day Four

We got up at 03:45 but no coca tea today as we had to gert moving fairly quickly. We all packed our bags and put them into Bobby's tent so the porters could pack our tents up - Bobby explained that the porters need to pack up and get to Aguas Caientes before 05:30 in order to catch their train back to Cusco. If they miss it they have to walk 14Km or something to catch a different train. While the porters did our tents, we had toast, a pancake and coca tea.

As soon as we were done we grabbed our gear and walked 5 minutes and got to the checkpoint at about 04:30. The trail is closed until 05:30 and as soon as it opens there is a huge rush to get to Machu Picchu. We wanted to make sure we were ahead of the pack of 300-odd trekkers. As it turned out we were the second group there and we all fit under the shelter. As it was raining any groups behind us had to stand in the open.

At 05:30 the checkpoint staff opened the gates and Cesar led the way, walking quite fast today! It was dark and the ground was wet, but at least the rain had stopped. On one occasion I stumbled and fell forwards - I might have gone over the edge however I headbutted Briony in the butt and so I was saved!

It took about 1 hour to reach the Sun Gate and there were about 60 people there at the same time as us. We took the chance to regroup and also get some photos. We could just see Machu Picchu throug the thick cloud and we had a chance for a quick photo before the clouds obscured the site completely. Once all the group was together, we set off again.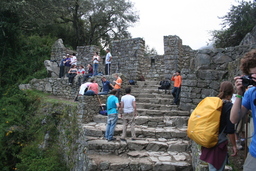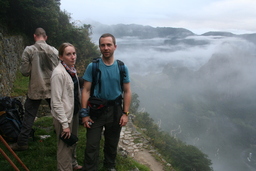 Half an hour later we were at Machu Picchu site and we got some more photos. Briony was annoyed at a very rude tourist who, in his haste to get the perfect photo (even though it was cloudy), yelled "MOVE" at her.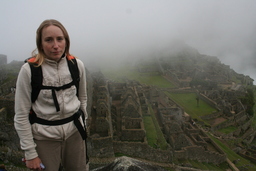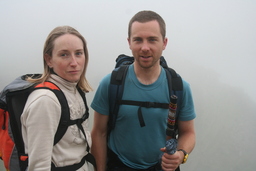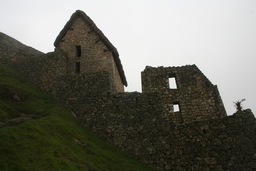 After 5 mins to take our photos Bobby took us down to the entry gate. He gave us our tickets and showed us to the luggage store. Once all that was sorted we visited the toilet (was vey clean!) and then regrouped for our tour.

For the next 90 minutes or so Bobby showed us around the most important areas within the Mechu Picchu site inluding the Priest's house, Temple of the Sun, Fertility Temple, Astronomical Room, Temple of Three Windows and the Stone Quarry. The first 40 minutes was cold and a litle bit of rain but it soon cleared up and got quite hot! Lots of photos here!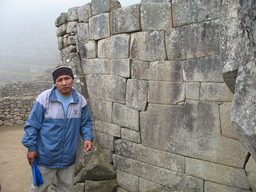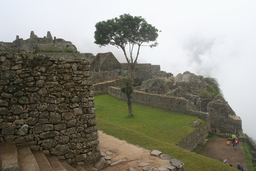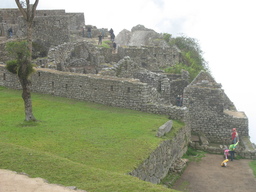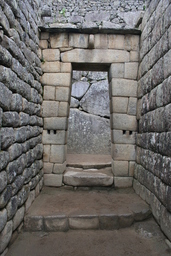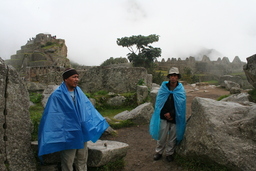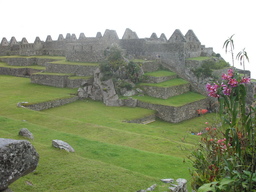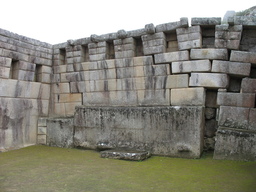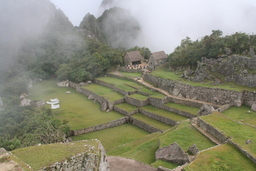 Atert the tour Bobby took us round the back of some buildings where there were no people. There he told us the story of Machu Picchu and Hiram Bingham, this took about 40 minutes and was very interesting. It was good to know that Machu Picchu is 96% original.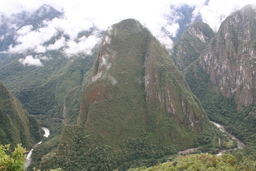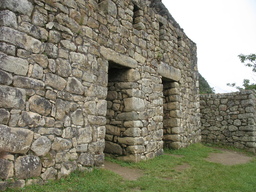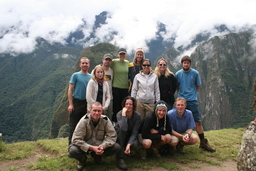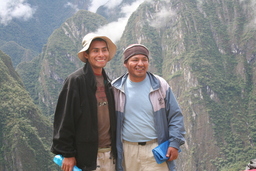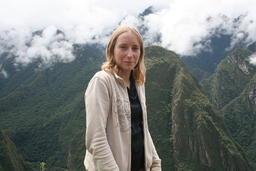 After the tour and the talk we had 2 hours free time to explore the site which is huge! After 11am the bus tourists started coming and the place started to get fairly busy. By 12pm we'd re-visited this morning's tour sites for some better photos in the sun, got some more photos and been up top to see the Alpacas. At this time I started feeling dehydrated and we were both getting sick of carrying our big jackets around as the sun was quite strong.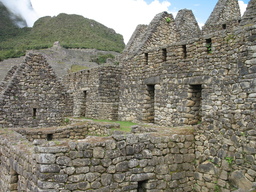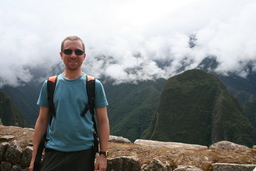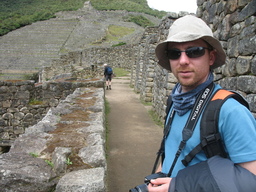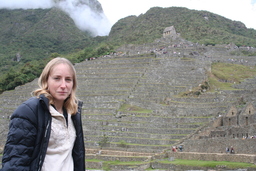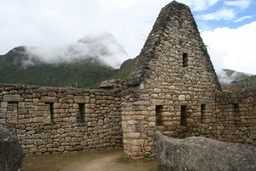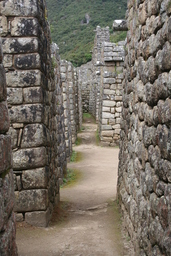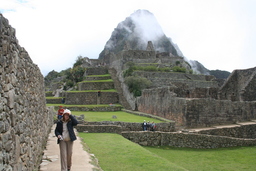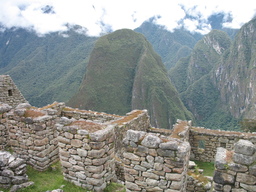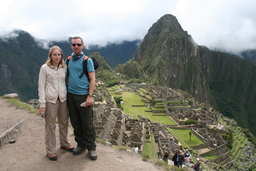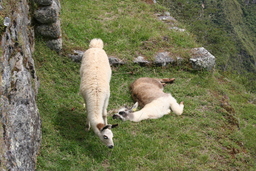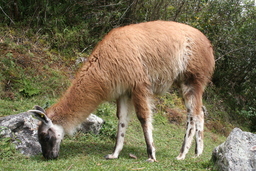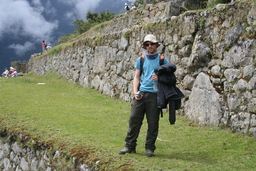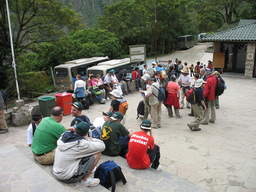 At 13:00 we exited the site and took the 20-minute bus trip to Aguas Calientes. It was pouring with rain at the bottom, so we quickly found the restaurant where we were to meet the rest of the group. Team Holland were already there, so we just hung around a bit until The Canadians, The Irish and the Americans all turned up. We all proceeded to order our pizza, pasta and of course a cold beer. Corey (The Canadians) and I shared a beer however Corey was drinking the beer extra slowly - tired after 4 long days perhaps!

The food was good and the beer was cold, which was nice after 4 days of trekking. Our meal - one pizza and one drink each) was S/. 74. The restaurant was clean and tidy however it was interesting that the roof was leaking badly in many places and the staff spend their time sweeping water towards a drain in the floor!

It was also very interesting that the PeruRail passenger train tracks run right down the middle of the main street ... there is no "road" there, it's just a footpath and a railway line. Every half our or so we would hear the sound of the train engine and e bell, and then this massive train would go rolling past.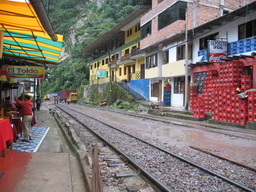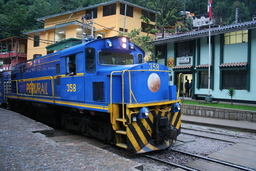 Once we had finished lunch Briony and I went up to the handicraft markets. We followed the footpath parallel to the railway. We crossed the river and found that the markets are actually within the covered entry area of the railway station. There was heaps of gear there, mostly the usual tourist stuff we'd seen in other places but Briony did manage to find a "Coca is not a drug" t-shirt. We bought an almond Snickers each and when we opened teh wrapper we found chocolate and caramel everywhere as if the bar had been crushed. We'd had this several times around Peru so I can't say were particlarly surprised.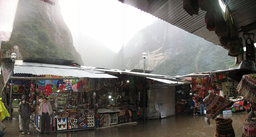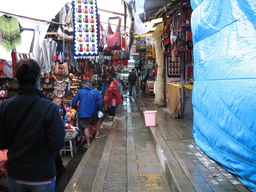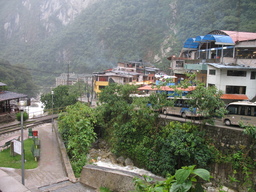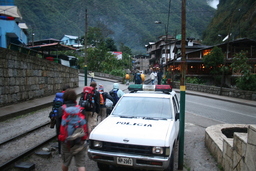 After the markets we went back to the restaurant. Briony had a coca tea and I had a coffee while we played Shit Head (card game)with The Americans.

We found Bobby and Cesar at the restaurant so we paid our tips them and also to our personal porters (the porters that carried our sleeping bag, mattress and change of clothes). From there we just hung around doing not much as it was raining too heavily to go outside.

At 17:30 Cesar came to take us to the railway station. There is no road connection from Aguas Calientes back towards Cusco so we took the train (1 hour 40 mins) and changed to a bus at Ollyantaytambo. The train trip was fine except that both Monica and Jodi had to go to the toilet on the train. Monica was in the toilet and Jodi caught one of he train staff peeping into the toilet trough a small hole in the wall! Jodi was't impressed, and a short while later her and Monica were arguing with the train staff in Spanish!!

The railway station at Ollyantaytambo was well lit and safe with the security guards hanging around, so we found our bus and 90 minutes later we were back in Cusco. Briony was still not feeling well with her cold, so we jumped off the bus and went straight to the hotel. I hope the rest of our group don't think us rude for not saying a proper goodbye!

The second we got into the hotel, we went straight to bed as we were tired from a long but enjoyable four days.


Next: Tambopata Jungle Reserve, Peru
Or, you can Return to the Peru/Bolivia 2008 Index Page





---



Last modified: Wednesday, 01-Aug-2018 13:25:38 ACST
Site created by Callan Davies / CRUZN 2007-2010
Some content protected. Other content free for your use. Contact the Webmaster

Random Photo:


---
[Articles]
Talking to the Topfield TF5000PVRt using Linux and ftpd-topfield
Setting up DynDNS in Ubuntu/Linux
Restore GRUB boot manager after Windows destroyed it