Home/Blog
Current (2015)
2014
2013
2012
2011
2010
2009
2008
2007
BabyBlogs
Majandra
Aliana
Travel Blogs
Europe/Egypt '06
Peru/Bolivia '08
Central Aust '09
Fiji '11
Cycling Maps & Routes
Links


Best viewed with Firefox




Site Built with gedit on Ubuntu


[La Paz]

A snooze and half a day in La Paz

We arrived to La Paz on the overnight bus from Uyuni at about 7am. We grabbed our bags and took a taxi to Hotel Rosario which was only 10 minutes away. The taxi cost 15 Bolivianos.

We were too early to check in, so after sitting for 15 minutes we put our bags into storage and went walking to find some breakfast and also have a look at the Coca Museum which was only a few blocks away.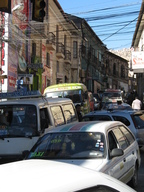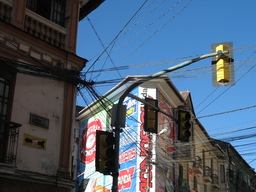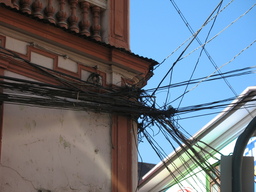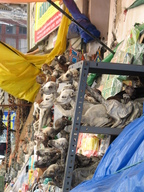 We grabbed some money from an ATM (it gave us 100's, of course) and had breakfast at Luna's on Sangargna street. Briony had fruit salad with yoghurt and a banana milkshake, I had eggs, bread, fruit salad and a cafe moka. The food was very good, and the price was good value.

After breakfast the man at the desk pointed us towards the Coca Museum,, which didn't open until for another 20 minutes (for the record, it opens at 10am). We popped into the bank on the corner of Sangargna and Illampu to change our 100-Boliviano notes into something smaller, and were surprised that the bank did not have stock of 10- or 20-Boliviano notes, they could only change our 100's for 50's. Weird, but better than nothing I guess.

After the bank we spent the next 40 minutes or so at the Coca Museum, reading history and facts about coca, cocaine and the related issues. The museum was interesting and only cost 10 Bolivianos (hence why we needed smaller notes!).

We went back to the hotel and checked into our room which was lovely and even had Cable TV. After 4 days on the Salt Plains with no shower, plus the overnight bus, the shower was great. Briony had a hot shower and obviously used the last of the hot water as mine was only lukewarm.

After my shower I found Briony fast asleep in bed, and you know what they say about leaving sleeping dogs lie! So I left her to sleep while I sat in the open courtyard with the computer, happily on the Internet using Hotel Rosario's free wireless.

We went for a walk along the "Blue Tourist Route" from the hotel's excellent map. What we saw was really cool but crazy at the same time. Officially it's just streets upon streets of markets but in reality we would have to describe it as street and streets with little stalls on the footpath and no room to move. Between these streets are little alleys which are equally packed with stalls. These stalls sell anything and everything ranging from food to cleaning products, shoes, electronics, crafts and of course brand-name clothes that are more than likely counterfeit. The good news is that there is stacks to see, and we felt perfectly safe (but still kept a careful lookout!).

For dinner we ate in Tambo Colonial which is the comfortable restaurant at the hotel. I had chicken cannelonni, Briony had spinach ravioli, we both had juice and shared an apple pie. Food was excellent, service was great, and the price was good at 105 Bolivanos.

After dinner was bed, as we had an early rise the next day!


---
City Tour of La Paz

We had arranged a 3-hour city tour of La Paz with Turisbus, a local tour agent who happens to have their office within the Hotel Rosario building.

First we visited the Witches' Market which both Briony and I were expecting to be some type of large, semi-organised market with tens of stalls, just like a real market. Instead, it was just a handful of small shops off Sangargna street (5 mins walk from the hotel). They were all selling items that the locals may wish to use in religious rituals - for example candies in the shape of houses, cars and families, dried frogs, parts of birds and of course the classic llama foetus. We had actually already seen these shops when we walked to the Coca museum, however it was good to have the guide explain what they were actually selling and what the items would be used for.

Following the Witches Market we visited the San Fransisco Cathedral, Plaza Murillo (the main square of La Paz) where we saw the congress building and another church, and the Precious metals museum which is in the only colonial street left in La Paz. Following the 20-minute museum visit we drove uphill to the Killi Killi Watchtower which has a magnificent view over La Paz and we were fortunte that it was a clear day so we got some good photos. The final destination in our tour was Valle de la Luna (Valley of the Moon) which is a protected area where natural erosion has resulted in a landscape that has been compared to that of the moon. It's a pretty cool place to see, even though we only spent 10 minutes there. On the way to Valle de la Luna we drove through the rich part of La Paz and it's amazing as you'd swear it was a different city - it's full of shiny new 4WD cars and has traffic lights, grass, trees and big houses with security guards.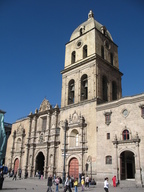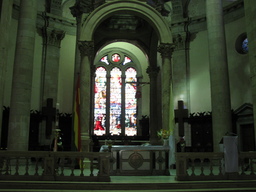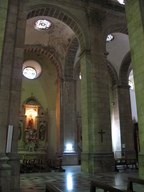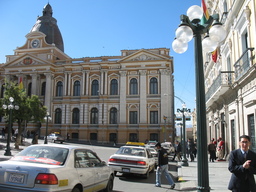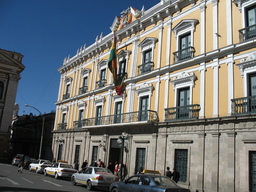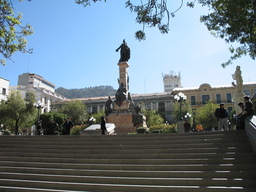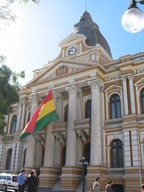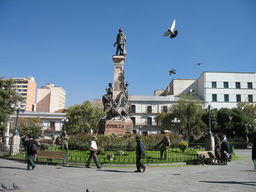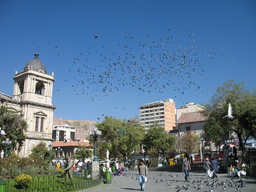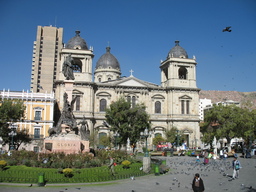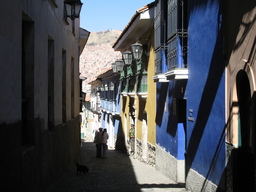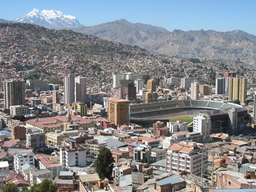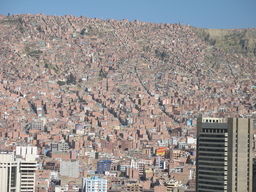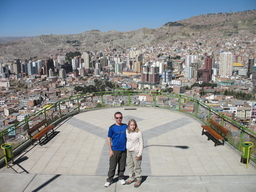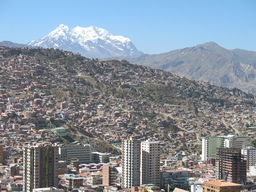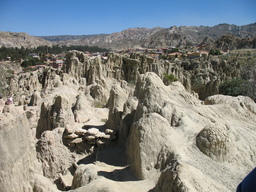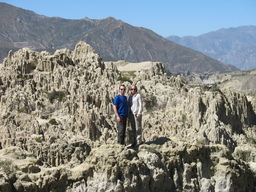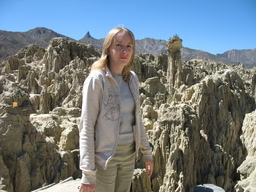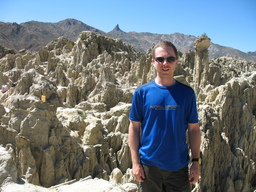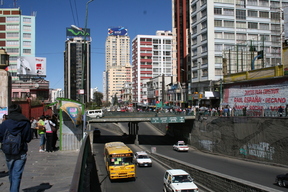 The city tour, while fairly brief, was good in that we saw several places we would not have otherwise seen, plus we learned something about the places we saw.


---
La Paz Zoo at Mallasa

After our city tour we went to the hotel for a few minutes, then walked the 10 minutes down to El Prado to make sure we could find the Gravity office for tomorrow's bike ride. After confirming our booking we walked back a few blocks and grabbed a taxi to La Paz zoo which is a little bit away from the centre in an area called Mallasa. The trip took about 20 minutes (with the driver doing 110Km/h!!) and along the way the familiar scenery made us realise that the zoo is abouut 5 minutes beyond Valle da la Luna.

The entry fee to the zoo was 3.50 Bolivianos per person which we considered to be ridiculously cheap, in fact the entry fee for us both was the same as one bottle of water and a bag of giant popcorn!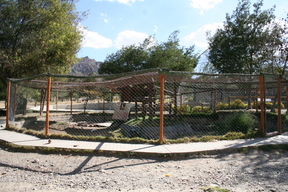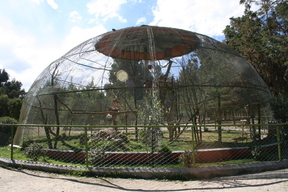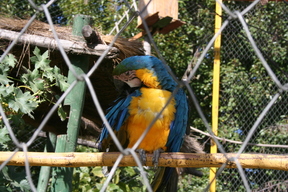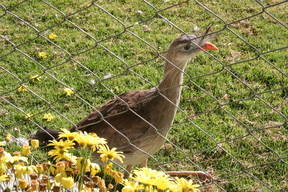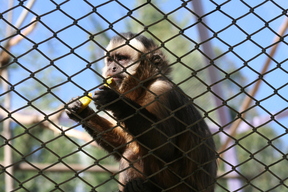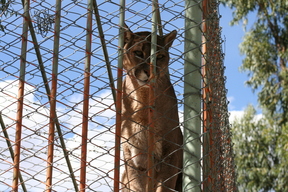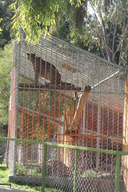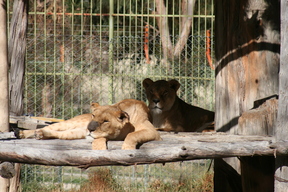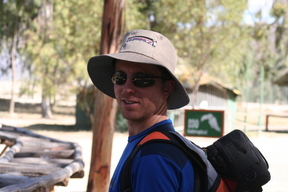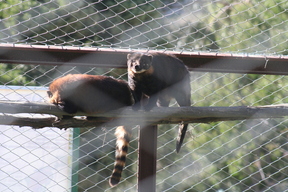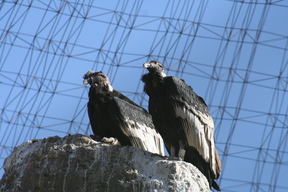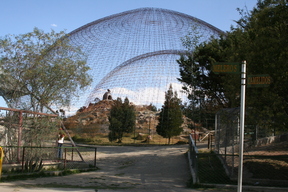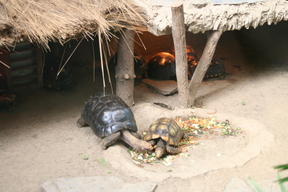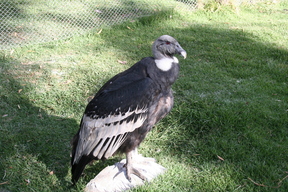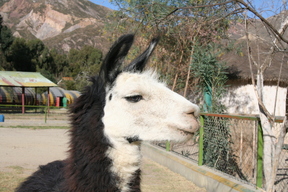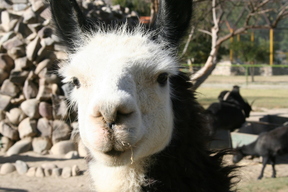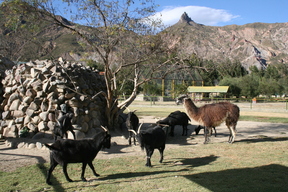 Inside the zoo there are signs pointing to the different animals and a concrete path that I think we were supposed to follow but the whole thing sort of lacked obvious direction and the layout was a bit confusing. The animal enclosures were sometimes good but sometimes quite below acceptable. For example the parrots, monkeys, goats, vicunas and llamas seem quite happy an their enclosures were large and clean. But, the big cats and the foxes had cages that were shockingly small and we felt instantly sorry for these animals that were pacing around the tiny enclosures. One of the big drawcards is the condor aviary which is absolutely massive, but really only just big enough given the size of the condors!

It took probably 90 minutes for us to finish our tour of the zoo and the ticket lady at the exit told us that we could take one of two different types of public transport (one was called a micro, I don't remember the other one). We walked across the road to where all the vehicles were lined up and asked some men what time the bus leaves. Turns out they were the drivers and the bus was in 10 minutes. The bus cost 2 Bolivianos each and was one of those buses that stops upon request to collect or drop passengers. So it wasn't a quick journey, it took almost an hour back to San Francisco church. The bus got pretty full too, but was quite comfortable.

After the zoo we went back to the hotel for dinner, then I took a walk in the evening in the opposite direction to where we'd walked previously. I'd read in the tourist books about electronic and other markets so I was keen to take a look. I was extra conscious about making sure my pockets were safe while walking around but overall I had no issues. I didn't really see anything to buy but was still good to walk around. What was really strange is walking downhill back towards the hotel there was a crossroad and the streets all around were quite literally packed. There were people there cooking food and selling produce so I'm guessing this was some sort of food court type activity but I can't be sure as it was a little too crowded for my liking.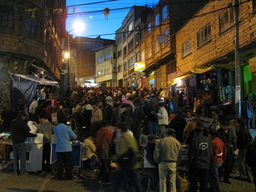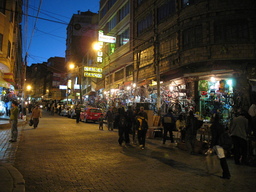 ---

Riding the World's Most Dangerous Road with Gravity Bolivia

What can I say about this except ABSOLUTELY AWESOME and definitely top marks to Gravity for putting on a thoroughly enjoyable day for us.

I have to confess that the World's Most Dangerous Road is nowhere near as bad as i had originally thought, and definitely rates more "fun" than "dangerous".

After breakfast at the hotel, we took a taxi (10 Bolivianos) to the cafe opposite Gravity's office on El Prado. The cafe was full of early 20's males and only a few females and older couples, and we could tell straight away there was a lot of energy there. We were greeted by our guide, Damon, and had our names checked off the list. After a quick intro speech we got on the bus and started the one-hour drive up hill. La Paz valley is around 3500m altitude and we were to start our trip at over 4000m so it was quite a climb to the top. Along the way we had plenty of heavy music, plus stacks of sarcasm and really bad (but funny!) humour from Damon.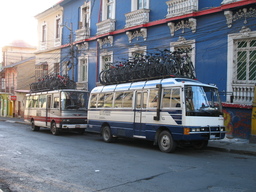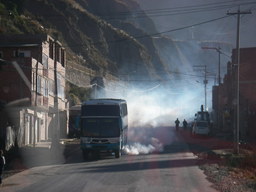 At the top of the hill is a small carpark where the three Gravity minibuses stopped. We all got dressed in our warm jackets and were given our assigned bikes. We were given the obligatory bike intro by Damon or the assistant guide, Scooby Doo. They really just told us how to use the gears, made sure the bike fit okay, and of course gave us a big warning about how powerful the disc brakes are and to never, ever squeeze them too hard!

20 minutes later we were off, the first 30Km of our ride was on the road with only the occasional car. It was 90% downhill, but after the anti-narcotics checkpoint there was some uphill to be done. Briony and a few others took the soft option and got a bus-ride up the hill, but most of us slogged it on the bikes. The uphill wasn't particularly bad however the high altitude meant that it was very hard to get enough breath.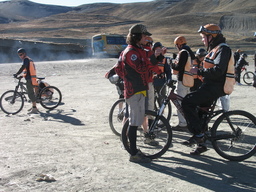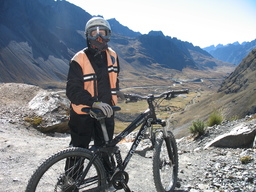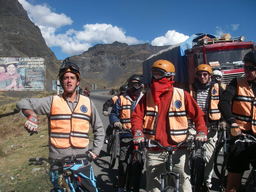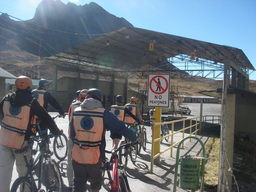 At one point we had to stop for a few minutes as there was a pair of tow trucks blocking the road - they were hauling up a beat-up tourist bus that had driven off the edge the previous day, and this is the main highway, not even the dangerous road we were all looking forward to. Damon told us that despite the beat-up appearance of the bus, nobody had died.

We stopped just before a tunnel for a rest, and were told that we had to follow the gravel path around the tunnel as it's prohibited to ride through it. Damon told us that another bike company had a group and they never mentioned the tunnel. a girl from their group rode into the tunnel with her sunglasses on, couldn't see thing and of course rode straight into solid rock hurting herself quite badly. So we took the safe route around the tunnel. Unfortunately as safe as safe can be, there was an accident - we learned later in the day that a girl from one of the other Gravity groups behind us had grabbed a handful of front disc brake on the gravel, gone over the handlebars and smashed her front teeth on the ground. She had to be taken to hospital which I guess ruined the day for her.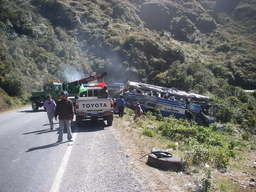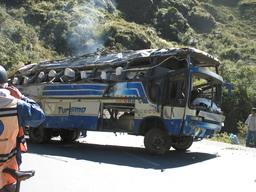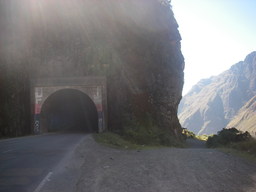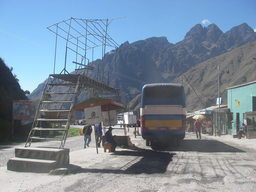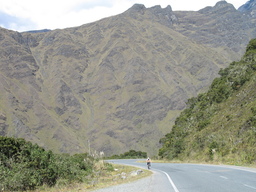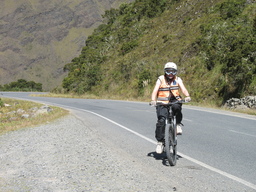 A short while after the tunnel we were at the junction to the World's Most Dangerous Road. We had a snack and some more instructions about the ride, and for the next four hours we just rode downhill, stopping occasionally to re-group and get pictures - or in one case to let pass a truck coming uphill that at least once drove into the cliff while we were watching.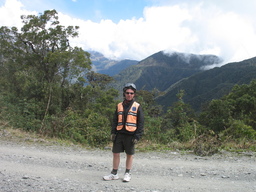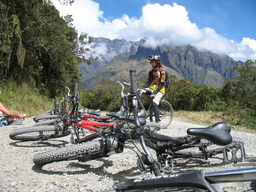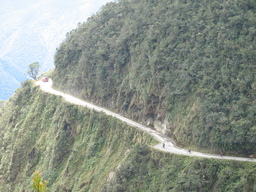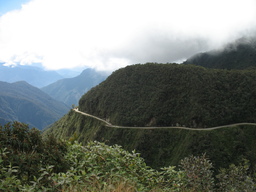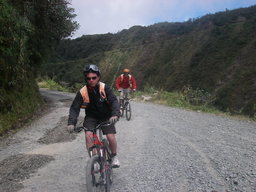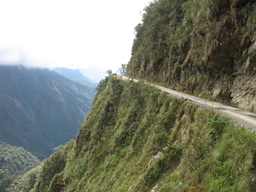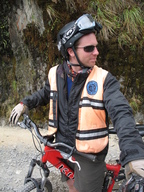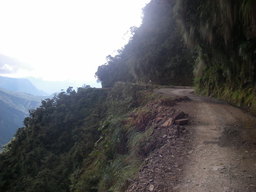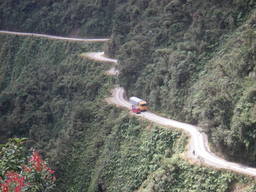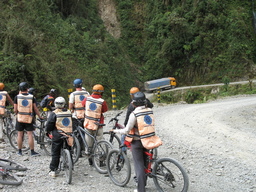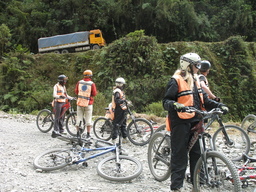 The ride was fantastic, the road was quite narrow and a little dodgy in places, but photos tell so much more than words.

We stopped abut half way down for a snack sandwich. About 6 people of our group had aleady stopped, and I was following Briony down the hill. I was slowing down to stop and all was well, until I (and everyone else in the group) saw that Briony wasn't going to stop and rode straight past everyone. When everyone started yelling and whistling she quicly realised, turned around and walked the bike the 50m back up the hill! After our snack we continued downhill some more, including riding through a (small) waterfall which was nice.

At the end of the ride we had to do a 'river crossing' as the guides described it, but I would describe it as a really big, moderately deep puddle over rocks - either way the photos will show what it was like. Scooby-Doo was to take some video so he went first and of course had to show off by riding on his back wheel all the way through the water. Everyone loved that, and everyone had a good time cheering the other people through the water. Nobody fell off, but I did manage to get some photos of Briony pulling some strange faces, probably out of fear!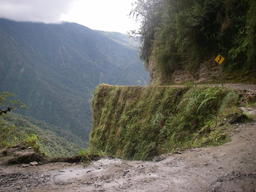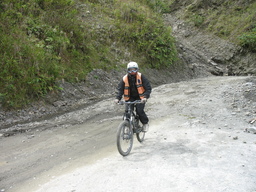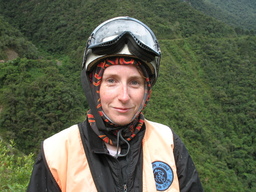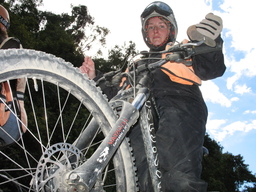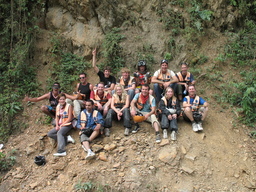 After the ride was finished we stopped at an animal refuge where some people had hot showers and everyone had a late lunch at about 4pm. We ate pasta with salads which was included in the Gravity tour price, and afterwards we ordered some dessert and coffee which was made from beans grown on the property. All the money they raise from meals goes back into improving facilities for the animals. Lunch was excellent, with the exception of the garlic bread which we didn't eat as it was so stale that it had actually gone hard. But the pasta was great so who cares about the garlic bread!

Oh, I should also note that Briony deserted me! I was sitting on the grass while she had a shower, not realising that lunch was ready just out of view. After getting bitten by countless sandflies I eventually went searching for Briony and I found her in the dining area half way through her meal! Oh well, I still ate, and I got a photo of a sandfly biting me!

After the meal we got back in the bus for the three-hour trip back to La Paz. We took the old road (World's Most Dangerous Road) back up to the top of the mountains and the driver insisted on driving fast and showing us a good (but still safe) time. Towards the top it got foggy and then dark, and right before it got pitch black we got to the main highway and returned to La Paz around 20:00.

Again, top marks to Gravity Bolivia for a great, safe day. They also create a CD-ROM with all the pictures and videos of the day, which costs 40 Bolivianos and can be collected from their office.


Next: Flight Home to Adelaide
Or, you can Return to the Peru/Bolivia 2008 Index Page





---



Last modified: Wednesday, 01-Aug-2018 13:25:38 ACST
Site created by Callan Davies / CRUZN 2007-2010
Some content protected. Other content free for your use. Contact the Webmaster

Random Photo:


---
[Articles]
Talking to the Topfield TF5000PVRt using Linux and ftpd-topfield
Setting up DynDNS in Ubuntu/Linux
Restore GRUB boot manager after Windows destroyed it