Home/Blog
Current (2015)
2014
2013
2012
2011
2010
2009
2008
2007
BabyBlogs
Majandra
Aliana
Travel Blogs
Europe/Egypt '06
Peru/Bolivia '08
Central Aust '09
Fiji '11
Cycling Maps & Routes
Links


Best viewed with Firefox




Site Built with gedit on Ubuntu


[Paracas]

The bus journey from Lima to Paracas, all in all, was quite uneventful. It was interesting to see all the different types of housing on the way out of Lima. We didn't really see any 'slum' housing as such, but certainly there was a lot of simple housing areas, some of them built on the sides of steep hills, with just one road in the whole place and a bunch of bright yellow staircases weaving their way up the slope - no roads to the top, you have to walk.

Lunch was served on the bus, comprising of chicken + rice, a pumpkin bread spiral with ham and some white stuff (maybe was egg), a sweet dessert treat and a cup of coca-cola. Briony ate some of her rice and her dessert, but obviously the vegetarian thing put a stop to the rest. But being the good husband, I gave her a hand with the chicken and pumpkin bread.

We arrived to Paracas right on 17:00 as advertised by Cruz Del Sur. There was no need for the hotel staff to meet us as the bus stops literally across the road from Hotel Zarcillo Paradise. The bus "station" is actually a block of land with a desk, a few dune buggies, and piles of building materials. Some random taxi drivers seem to wash their cars in there too. I suspect this block of land is owned by Zarcillo, and is just a temporary bus "station" as the old one at Hotel Paracas fell down in the recent earthquake. Turns out that Zarcillo is also the agent in Paracas for Cruz Del Sur, so I guess it all makes some sense.

After checking into the hotel we just hung about for a bit, enjoyed the view out the back and gave the camera a workout.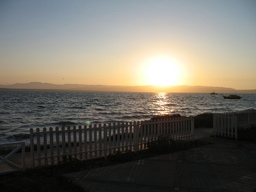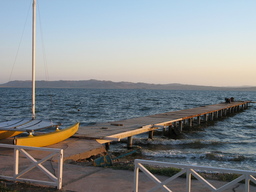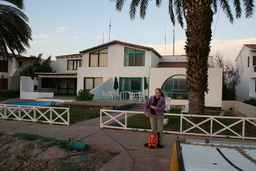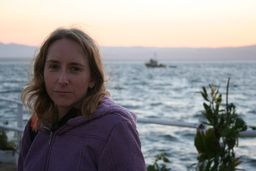 A little bit later we decided to scoot down to the main strip to check out the place and get some dinner. Being our first proper stop in Peru we weren't too sure about the safety, however after about 10 minutes we decided this place was safe and we'd have no issues.

The guy from Zarcillo had recommended BAHIA as a good restaurant, so we headed there for dinner. All the restaurants along there really were quiet, as it seems Paracas is mainly a day-trip kind of place for tourists, and the local population is quite small. Dinner was good - I had Calamari + Chips, Briony had Rice + Vegetables. Briony had a coca-cola, and I had a beer, which turned out to be a giant 625mL bottle of Brahma. The meal was good, however the plate of Calamari was massive and I felt a little greasy afterwards. Cost of the meal was S/. 37.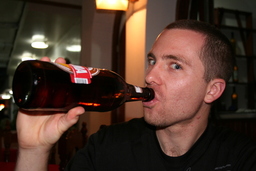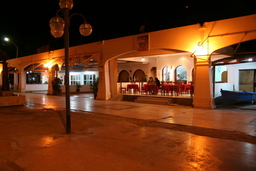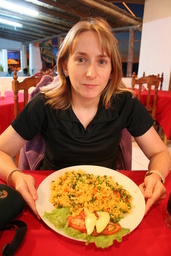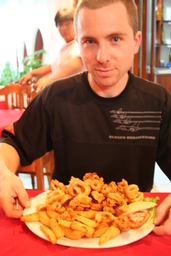 We took a walk back to Hotel Zarcillo Paradise, and turned in for the night.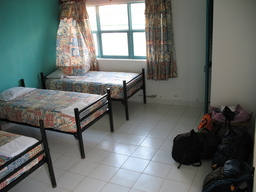 The following morning we were up early for breakfast which was rolls + jam + coffee/tea + juice. Then we got a lift down to the docks to meet our tour group. We were waiting around for perhaps 20 minutes, and already we were regretting not bringing our hats. However, we had our 'buffs' (head scarves) so we put them on, and it turned out to be the best choice after all.

After a short time we were shown to our boat, paying S/.1 in dock fees along the way. We put on our life jackets and prepared for what I thought would bee a long, boring and slow journey. But as soon as we were clear of the dock I was proven wrong, as the boat's twin 150HP engines roared and we picked up to quite a rapid pace! It was at this time that people started losing their hats, but our buffs stayed on our head no problem.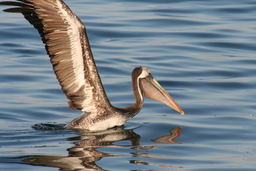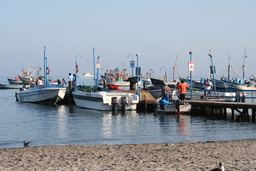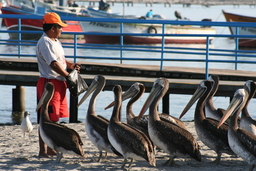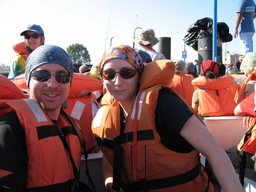 After 5 minutes or so, we passed a large ship at dock and then just around the corner was the Candelabro, a massive figure etched into the hill face. Nothing 'exciting' about it, but very cool to see in real life and get some photos.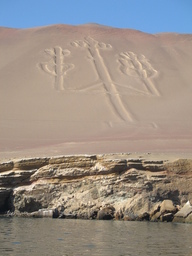 After a few minutes of explaining the Candelabro to us, we were on our way to Ballestas Island. This was perhaps another 10 minutes in the boat, again at quite high speed.

At Ballestas Island we saw penguins, sea birds, pelicans and sea lions. I had the "big lens" on the EOS350D and got some good shots in. We also saw some structures such as tanks, docks and buildings dating back to when this island was used for the commercial harvest of "guano" - the fancy word for bird poo - which used to be collected and exported as a fertiliser.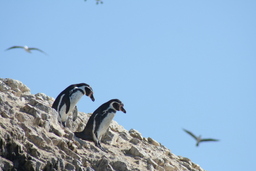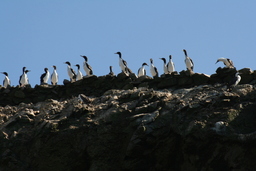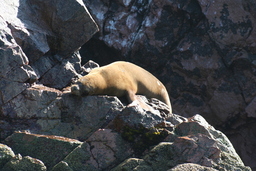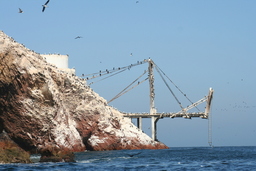 These days Ballestas Islands is just a haven for wildlife with some wonderful rock formations. I'll let the photos do the talking from here!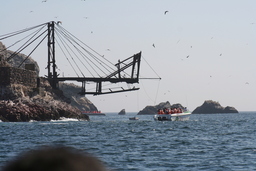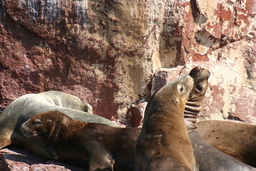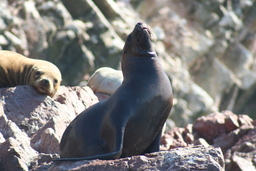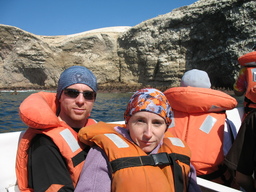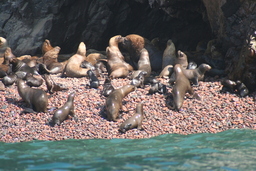 After the Ballestas Islands tour we hung around the dock waiting for our second tour. Shortly afterwards we were et by a guide who showed us to our car and driver. The car was a 1980s Toyota Corolla, obviously owned by the driver who had been hired for the day. They were to take us on a tour of the Paracas Nature Reserve, along with another tourist from Switzerland.

We drove into the Paracas Reserve which is guarded by a road checkpoint. We paid the entry fee (S/. 5 ea) and our first stop was a small (free) museum that gave us some insight into what we might expect to see in the reserve, plus some history about the area including information about earthquakes and the "El Nino" phenomenon.

From there, we visited the Cathedral rock formation, which unfortunately was seriously damaged in the recent earthquake but is still good to see. We also saw the red beach and a number of other natural sights, again I'll let the photos do the talking.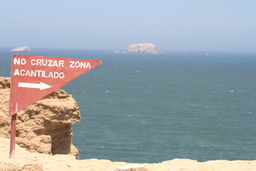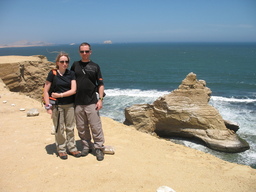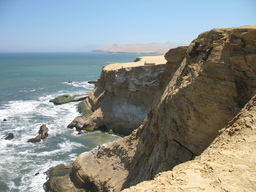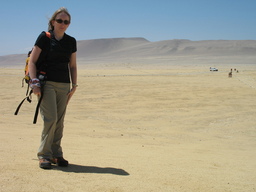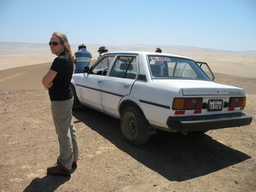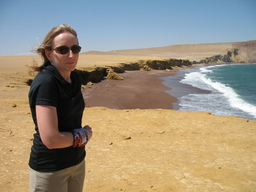 Following our sightseeing, we visited a remote fishing port called Lagunillas. It's just three restaurants (was more before the earthquake) plus some port facilities for fishermen. Our guide explained that the fishermen don't live here as it's really in the middle of nowhere, but instead they just come in their boats every day, and go home probably to Paracas in the evening.

We had lunch at a restaurant called El Che which, surprise, is a fish cafe and is run by what looked like a family. Briony had a plate of chips as the vegetarian menu was very limited (for obvious reasons), and I had Chita a La Plancha, which means Grilled Chita. The fish was great, I think Briony's chips were okay, and the whole lot including a Inka Cola each was S/. 32.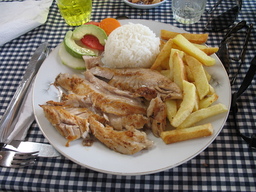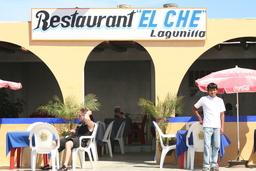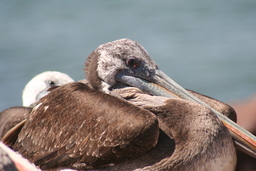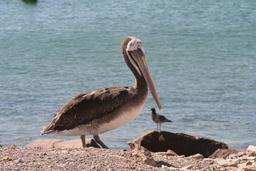 After taking a few picture around Lagunillas, we jumped into the car and headed back to our hotel. We had some time to kill, so we went fo a 40-minute stroll around the place just seeing what was around and getting some photos. Unfortunately we also managed to get sun burned!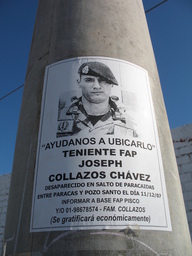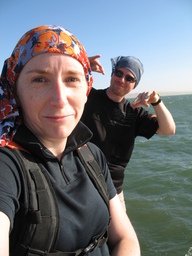 We collected our bags and headed over to the bus "station" for the 17:00 bus to Nasca. The bus was about half an hour late, and said "Lima" on the front destination board, but the attendant assured me that we were definitely going to Nasca. Sure enough, about 3 hours later we arrived in Nasca no worries!


Next: Nasca, Peru
Or, you can Return to the Peru/Bolivia 2008 Index Page





---



Last modified: Wednesday, 01-Aug-2018 13:25:38 ACST
Site created by Callan Davies / CRUZN 2007-2010
Some content protected. Other content free for your use. Contact the Webmaster

Random Photo:


---
[Articles]
Talking to the Topfield TF5000PVRt using Linux and ftpd-topfield
Setting up DynDNS in Ubuntu/Linux
Restore GRUB boot manager after Windows destroyed it