Home/Blog
Current (2015)
2014
2013
2012
2011
2010
2009
2008
2007
BabyBlogs
Majandra
Aliana
Travel Blogs
Europe/Egypt '06
Peru/Bolivia '08
Central Aust '09
Fiji '11
Cycling Maps & Routes
Links


Best viewed with Firefox




Site Built with gedit on Ubuntu


[Planning our Holiday]

Right back to our first overseas trip in 2006, and for this Peru trip too, one of the things we've always said is that we're not going to do one of those stupid package tours with a big group on a bus. We've had lots of friends do these trips and while it's cool that everything is organised for you, that's also half the problem in that you don't have any control.

Sure, this means that we spend less time getting drunk with other tourists, but we can get drunk at home with our friends at any time.

The stories we've heard from friends really make us enjoy our journeys more ... for example one friend 'saw' the leaning tower of Pisa, but that's all she did. We actually climbed it. Another friend 'went through' Venice. We actually stayed there and walked around.

Of course there is one big problem with arranging our own trips - it's an awful lot of work! According to stats in OpenOffice, we've spent 114 hours editing our itinerary document alone, not to mention the other stuff.

Now, this planning page is about two things. Firstly, a comparison of the planning experiences from Europe2006 and the current PeruBolivia2008 journeys. Secondly, a little more detail about the preparation for the trip, and what we are packing.

So we'll start with our Europe2006 trip. This was a hard work at the time, but being our first big holiday this is not particularly unexpected. A simple Google search for maps and information gave plenty of results. So it was easy to collate information about where you're going and what you're doing. The places (hotels etc) we emailed replied quickly and thoroughly. You could get from everywhere to anywhere by train/metro, only a couple of times did we take a bus or taxi.

South America on the other hand, was a little more time consuming. Some of the places we emailed took a while to reply, and only answered half our questions. The reason we had to email in the first place is because many of the websites we visit are incomplete, broken, or just missing vital information.

Of course with planning any holiday, each day in the itinerary relies on confirming the plans from the previous day. So until a few emails have been bounced between each other and things are finally confirmed, we can't move to the next day. Rough maths shows that 3 days to organise each 'day' of our trip, x 30 days, equals roughly three months of emailing hotels and tour companies and trying to remember where it's all up to!

Oh, the shopping list! Since the PeruBolivia2008 adventures were to include walkig, hiking, biking plus also some really cold conditions, we had a fairly big shopping list. Between Mountain Designs and Kathmandu, both in Rundle Street,, Adelaide, we bought some Raichle hiking boots, shirts, trousers, socks, jackets, jumpers, hats and more. I don't know how much we spent on clothing but it would easily be asround $1500.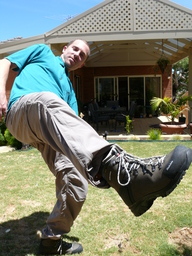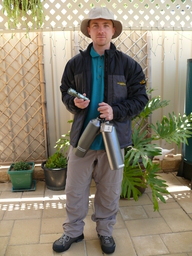 Anyway the good news is that just like Europe2006, we finished everything in the nick of time, printed all our gear, and we're ready to go!!


Next: The Flights from Adelaide to Lima
Or, you can Return to the Peru/Bolivia 2008 Index Page





---



Last modified: Wednesday, 01-Aug-2018 13:25:38 ACST
Site created by Callan Davies / CRUZN 2007-2010
Some content protected. Other content free for your use. Contact the Webmaster

Random Photo:


---
[Articles]
Talking to the Topfield TF5000PVRt using Linux and ftpd-topfield
Setting up DynDNS in Ubuntu/Linux
Restore GRUB boot manager after Windows destroyed it