Home/Blog
Current (2015)
2014
2013
2012
2011
2010
2009
2008
2007
BabyBlogs
Majandra
Aliana
Travel Blogs
Europe/Egypt '06
Peru/Bolivia '08
Central Aust '09
Fiji '11
Cycling Maps & Routes
Links


Best viewed with Firefox




Site Built with gedit on Ubuntu


[Puno]

After getting off the Inka Express bus and meeting the man from our hotel - Tambo Real Titikaka - we all jumped in a taxi and took the 10-minute drive to the hotel. I guess it was peak hour, but we were still shocked at the absolute chaos of the traffic, particularly given that there are so many "trici-taxis" (three wheeled bicycle taxis) around and none of them ave lights. So the streets are a crazy mix of pedestrians, bikes without lights, tourist vehicles, colectivos (small buses) and taxis.

After arriving at the hotel we checked in, and the lady at the desk was really thorough - she knew who we were, she knew she had arranged a tour for us the next day and she knew she had arranged the bus to Copacabana the day after. Top marks again!

We were shown to our room which was great. It had a double bed and a decent bathroom, plus a TV with a cable receiver. The hotel also had Internet facilities downstairs, but I had found a wireless network I could use. I had noticed a wireless modem in the lobby so I can only assume it was the hotel's wireless I was using!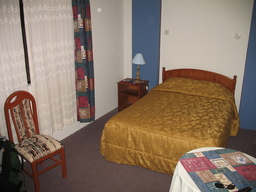 After tidying up we went to La Casona for dinner, which is in the main pedestrian area of Jiron Lima and had been recommended by the hotel staff. Inside the restaurant was first class and really fancy, in fact we thought it would be expensive but the prices were about normal. We ordered our drinks, and Briony fizzed her Inca Kola all over the table. For starters I ordered a dish of potato with fried cheese, notparticularly heathy but tasted good. For mains We shared vegetarian pizza and vegetarian lasage, both were absolutely excellent. The bill was just over S/. 50. After dinner we went back to the hotel.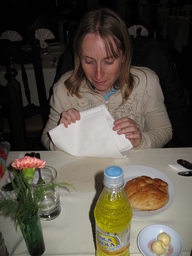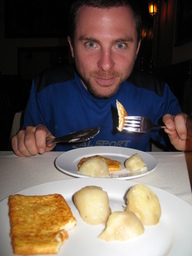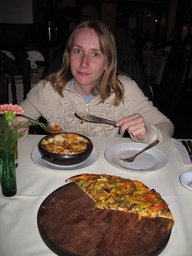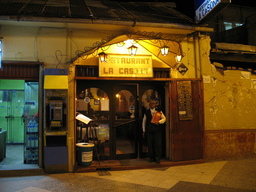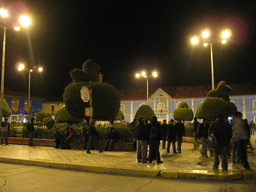 After getting our gear organised and checking email, we went to bed. Briony was a mass of itches and insect bites from our jungle trip and was tossing and turning trying to get rid of the itches. After 45 minutes of this it was too much so I grabbed the bed spread and pillow and made my home on the floor. I went straight to sleep once I had gotten rid of the female annoyance called Briony!

The next morning we got up at 05:30, showered and had a good breakfast at the hotel. At 06:40 our transport arrived right on time and took us down to the docks where we were shown to our boat for the tour. The boat was comfortable and quiet, and the trip to the Islas Flotantes (floating islands) took about 15 minutes. The boat travelled quite slowly, we figured that was due to the lake being so shallow in this area.

On the Islas Flotantes we sat down and were given a presentation of the Totora reeds which are used for everything - the island is made from it, the houses and boats are made from it, they eat it and they use it to make fire for cooking. The presentation was quite good and was followed (of course) by the islanders showing us the tourist goods they had for sale. Briony saw a hand-made cloth with Inca designs on it, so we bought that for S/. 80.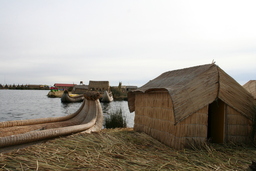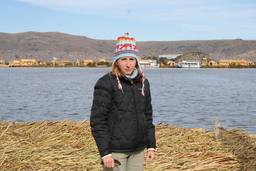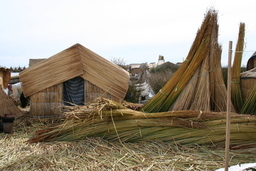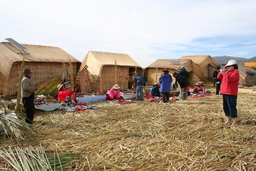 We then took a 15 minute ride in a traditional boat, once again made from the totora reed but this time with 2,000 plastic drink bottles inside to help with flotation. The ride on the boat was pleasnt but perhaps a little pointless as we didn't actually go anywhere, but at S/. 5 per person I guess it was okay.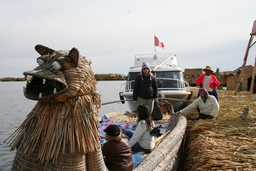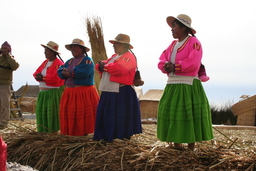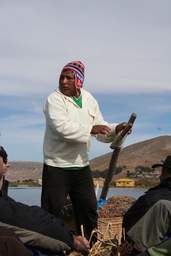 After the Islas Flotantes came the boring part of our day. We were to take a trip to Isla Taquile which sounded okay, but the boat was still going really slow and our guide explained that the trip to the island would take 2 hours and 40 minutes. Boring!! So, we talked a bit, got bored a bit, ate a bit, got bored some more, and then had a snooze. We felt sorry for the (German?) guy and his friend across the aisle, as the two rude tourists in front of them had reclined the seats all the way back leaving no room behind.

After almost 3 hours we arrived at Isla Taquile. Our trip here can be summarised really easily as we didn't actually do anything.

The first part was a walk from the boat dock to the top of the hill which was fairly steep at first but soon flattened out. Briony and I walked at a comfortable pace but this was too fast for the rest of our group and we ended up getting to the top 20 minutes ahead of the pack. Once there we bought some snacks, and then went for lunch at a small restaurant.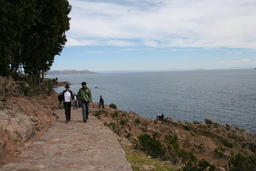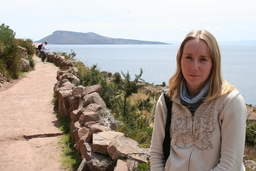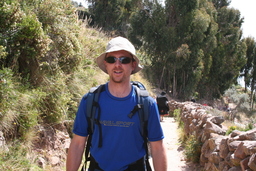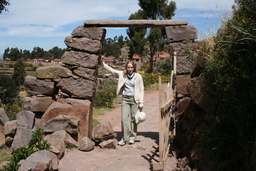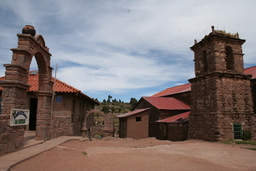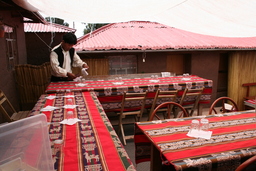 Lunch was quinua soup which was great, followed by a choice of trout from the lake or for the vegetarians, an omelet. Needless to say I was more than happy with omelet but Briony wasn't. I ended up eating her omelet and she ate my salad and chips. Our guide explained to us that all the restaurants etc on the island are owned and operated by locals - there are no "big" hotels and restaurants here, so all our money stays on the island. Lunch was S/. 15 each plus drinks.

After lunch we walked 15 minutes of flat path towards the boat dock on the other side of the island. Then there were 500 steps down to the dock. Again, we got there well ahead of everyone else.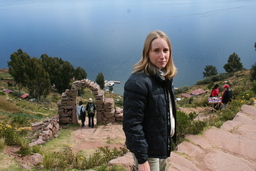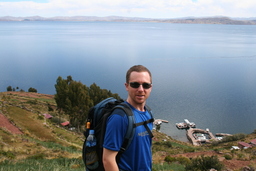 Once everyone had arrived we boardedt he boat and sat up top on the roof in the fresh air. After 40 minutes I was bored and was nodding off to sleep so we went back to our seats and had a snooze. Another 3 hours later we were back in Puno.

So the quick summary of this trip - the Islas Flotantes were okay for a 2-hour trip. Isla Taquile was pleasant, the food was good and it's nice to support the locals, however it most definately was not worth the almost 6 hours on the boat.

After the tour we were dropped back at Plaza De Armas and we walked back to the hotel which took less than 5 minutes. Inside we paid our bill (once we managed to extract the total amount owning!) and then headed out for dinner.

We ate at IncABAR which is in the main pedestrian area of Jiron Lima. It was quite groovy inside and we had heard they had good vegetarian curries. We found there we no such curries however we settled for pasta. Briony had fried eggplant pasta and I had a mushroom pasta. I also had a really nice chocolate milkshake and Briony had a soft drink ... she ordered Inca Kola but was served Sprite. Weird, but no big deal. Dinner was excellent, and the cost was S/. 53.

We went back to the hotel and started packing our bags. Briony had to rush to the toilet with an upset stomach, and we eventually went to bed at about 21:00 - I slept on the floor again!

The next morning we were up at 05:30 again. We showered, made a quick Skype call (using the borrowed wireless) to Briony's father, then had breakfast downstairs. We got all our gear together and waited downstairs for our taxi to the bus station which arrived 5 minutes later.

The bus station in Puno is called the Terminal Terrestre and isn't too bad inside. Just like he station in Arequipa, the walls are lined with tens of different bus companies offering trips and tours around Peru and into Bolivia. It's surprising how many companies there were, considering that our Internet searches for the Puno-Copacabana bus didn't really have any success. I guess in Peru you're supposed to just rock up at the station and find a bus!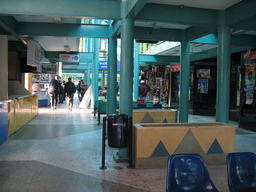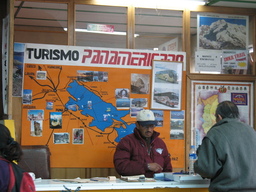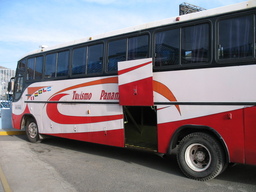 Getting the bus was no big deal - find the desk of our bus company (we already had the ticket from our hotel), check in, leave our bags and check which gate our bus was at. After using the (dirty) toilets we went to gate 2, and were pointed to a bus which was round the corner at gate one. There were so many buses out the back it was hard to know which was which. We saw our bags being loaded onto a bus so we got on too! The bus was a lot older then all the buses we'd used so far, I guess this was more of a normal bus company as opposed to a tourist bus company. Now that I think about it, the three-hour trip was S/. 40 (15 Australian Dollars) for the two of us, opposed to five times that amount for a tourist bus.

We managed to snap a few random photos out the bus window as we were leaving Puno...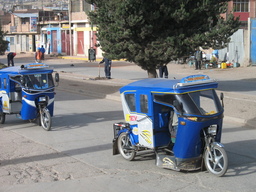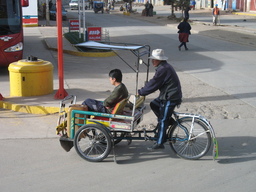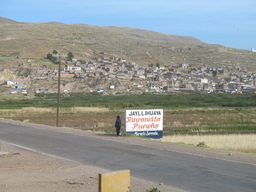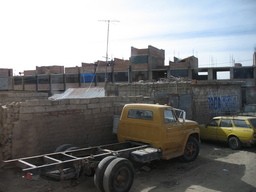 The bus journey was okay, if a little bumpy on the Puno roads, and Briony caught a glimpse of some more dead sheep on the side of the road. Nasty.


Next: Copacabana, Bolivia
Or, you can Return to the Peru/Bolivia 2008 Index Page





---



Last modified: Wednesday, 01-Aug-2018 13:25:38 ACST
Site created by Callan Davies / CRUZN 2007-2010
Some content protected. Other content free for your use. Contact the Webmaster

Random Photo:


---
[Articles]
Talking to the Topfield TF5000PVRt using Linux and ftpd-topfield
Setting up DynDNS in Ubuntu/Linux
Restore GRUB boot manager after Windows destroyed it