Home/Blog
Current (2015)
2014
2013
2012
2011
2010
2009
2008
2007
BabyBlogs
Majandra
Aliana
Travel Blogs
Europe/Egypt '06
Peru/Bolivia '08
Central Aust '09
Fiji '11
Cycling Maps & Routes
Links


Best viewed with Firefox




Site Built with gedit on Ubuntu


[Central Australia 2009]
[Coober Pedy, South Australia]

We'd passed through Coober Pedy on the way down to Woomera, and kind of been scared away by the rough & drunk Aborigines in the main street. But we soon learned that it's really not so bad, if you can ignore that part of the main street. We went to the visitor centre and grabbed a map - they also have free Internet access there.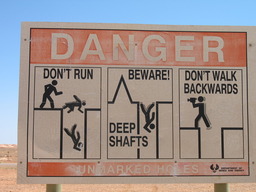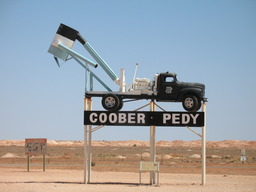 We took a little drive around the place, and stopped for a look around the Old Timer's Mine. This is a really cool place - it's an old opal mine of course. We got there just in time for the outside machinery demo, where one of the staff was showing some of the machines that were used in old mines, plus newer machines such as the Coober Pedy Blower which is just an amazingly powerful vacuum cleaner. Entry to Old Timer's Mine was $8 each.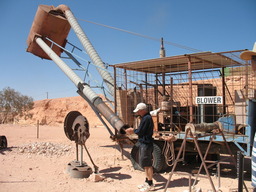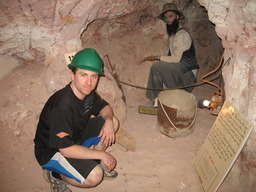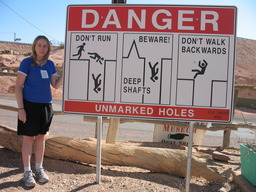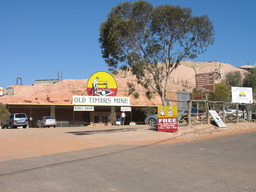 Inside the old mine they've got a few mannequins and displays so you can see what life must have been like for the miners before modern luxuries of electric light and big machinery. They have a little museum up top aswell, with stacks of history including the drive-in movie projector from the Crocodile Dundee premiere, some old newspaper clippings, old maps and photos and just stacks of generally interesting things.

After Old Timer's we just went for a drive around town, checking out the Serbian Orthodox Church and the spaceship from the set of Pitch Black.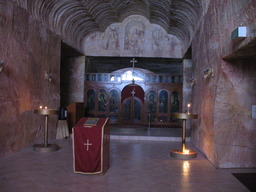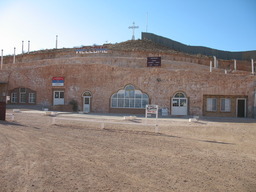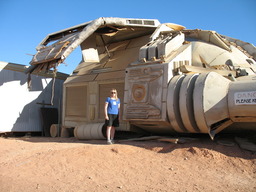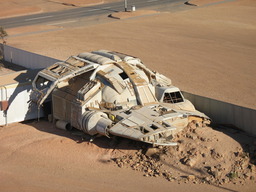 We checked into Riba's Underground which is both a caravan park and unique underground camping ground - it's actually possible to pitch a tent underground. A litle pointless, yes, but great for the novelty. It's well-priced, and the facilities are clean.

Riba's Underground is based in an old opal mine. Every night they run a tour of the mine and explain all about opals and mining. A lot of this we'd already read about at Old Timer's however each person explains things a little differently and this mine tour was excellent.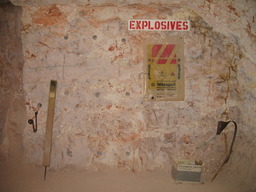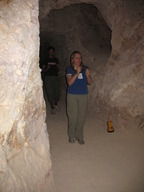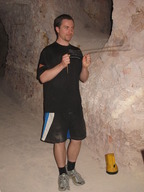 The next morning we went to the Underground Bookshop to meet our guide for the Mail Run tour. This really is the actual postman, delivering mail to some fairly remote places including several cattle stations. Of course what's really going on is that he's got a big 4WD full of tourists, and it's all tax deductible since he's deliving the mail at the same time! The tour itself was great though, a long drive, but we saw some great things and the guide was full of some fairly interesting stories. I do suspect that some of the stories were stretching the truth but they were all good fun.

On the Mail Run tour we stopped for lunch at William Creek - once a busy railway town along the Old Ghan line, it's now just a pub and that's about it. The pub is cool though, one of the drawcards is that you're allowed to stick something (anything!) to the wall for a gold coin donation. On the walls and ceiling there's everything from bras and shirts to business cards, drivers licence, beer cans and about anything else you can imagine. The food was good too - they actually had veggie burgers! Oh, there's also an open air display across the road with some old machinery and railway gear.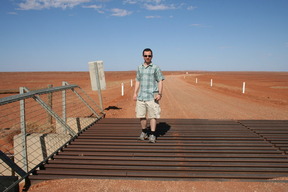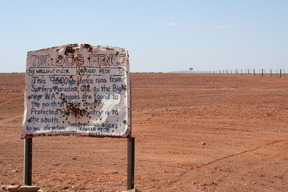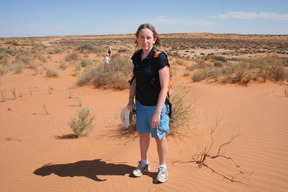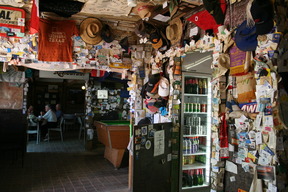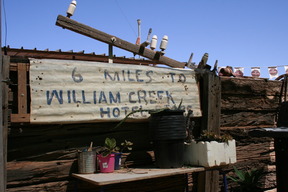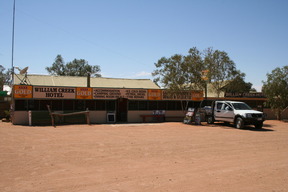 After some more driving we were soon following the route of the Old Ghan railway line. This line was closed down in the 1980s (I think) when the new Standard Gauge line to Alice Spring was built a little further west where it would not be so prone to flooding. We saw numerous old bridges, the highlight being the amazing Algebuckina Bridge. At over 580m in length it's South Australia's longest single bridge - and it was built starting in 1878 with all the frame imported from England in pieces. The bridge was assembled using hot rivets - no nuts and bolts. There were no cranes here in the middle of nowhere, it's amazing they actually built it and with such accuracy as the bridge is only out by a couple of inches over its whole length.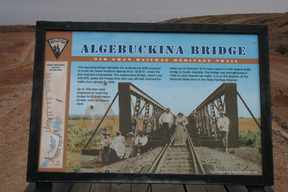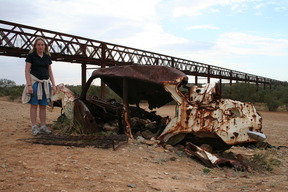 After even more driving and a visit to another cattle station we finished our day at Oonadatta. This a very small town with a mostly-Aboriginal population, and everyone seems to know everyone. Oodnadatta was yet another busy railway town when the Old Ghan terminated there. These days there's no railway - just a small hospital, a museum in the old railway station, a few houses and of course the iconic Oodnadatta Pink Roadhouse which is the local cafe and supermarket all together. They have a good atmosphere and a pretty good menu too! We had the best veggie burger ever a the Pink Roadhouse. There was nothing particularly special about it, it was literally a hamburger with a veggie patty instead of meat but it still had egg, pineapple and beetroot on it. Most other vegieburgers ae just a veggie patty + cheese + tomato. This was awesome.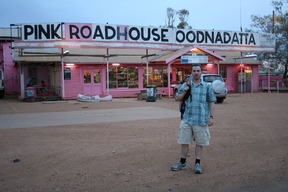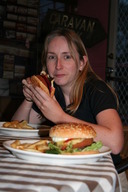 After Oodnadatta we drove back to Coober Pedy to end the day. It was a good 90 minutes at least, in the dark, along dirt roads. We got back to Coober Pedy at 21:30 and headed back to Riba's to get some sleep.

The next morning we met up with Merv from Arid Zone Tours. The agenda today was a Coober Pedy town tour (including Merv's own underground home) followed by a drive out to the Breakaways. The town tour was excellent - it was just a drive around the town's "suburbs" having a look at the different types of homes and some of the really big mansions too but of course they are 99% hidden underground so really it's only possible to see the front. We learned a lot about the people of Coober Pedy and who loves where. We went for a drive through some of the opal fields, seeing the mounds of waste and the huge holes in the ground. There were some machines operating there and Merv explained who they were, what their background was and what they were doing with the machines.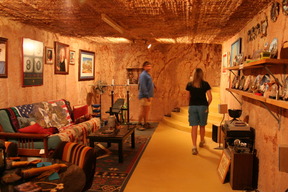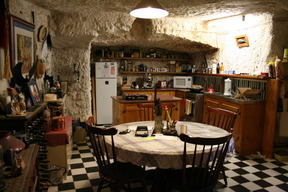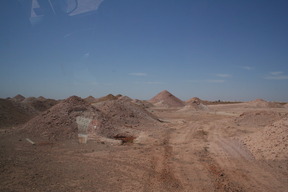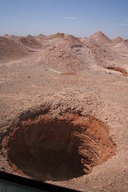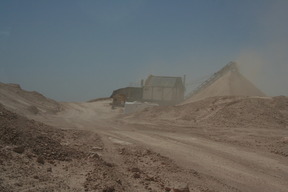 The Breakaways were cool, they were perhaps 20 minutes drive from Coober Pedy town. The Breakaways is an ancient sea bed that they call the Moon Plain as the surface is thick with dust. There are some lovely rock formations there. We also had a look at the infamous Dog Fence, then headed back to Coober Pedy for the afternoon.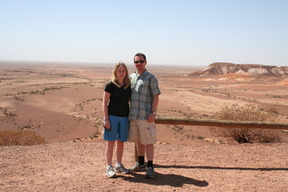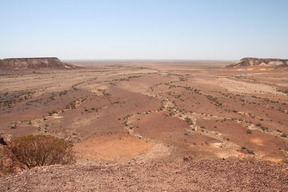 The following morning was with Merv again. This time it was a trip out to the Painted Desert which is a good hour's drive - through a dust storm. The Painted Desert is a lovely landscape with the particular feature of minerals leeching out of the rocks and staining them all diferent colours. We stopped for a walk up to the top of a hill and admired the view - we actually had to be really careful as the wind was so strong it could have actually blown us over the edge!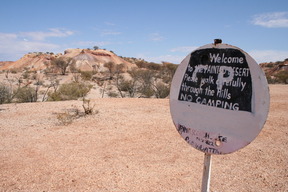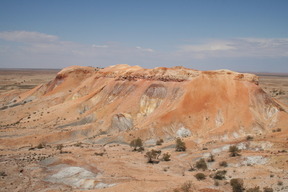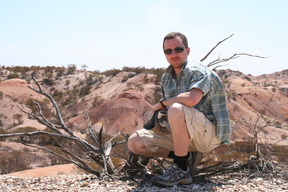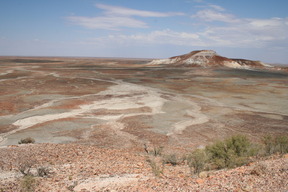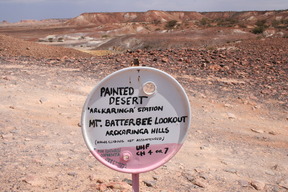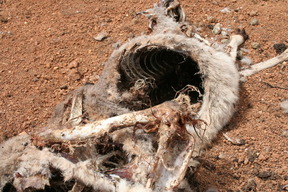 We stopped by a dam for a quick snack, then headed back to Coober Pedy but this time not to Riba's, but to the Down to Erth B&B which as its name suggests, is an underground B&B.

We checked into Down to Erth relaxed for a bit then drove into town for some more looking around. We went up to the Big Winch which is a town lookout. Not a bad view from here, and it even has Coober Pedy's firt tree which is made from iron. The story is that one of the first trucks to Coober Pedy in the 1950's broke down and the children were complaining of no trees to climb in town. So the owner cut the truck up and made a tree out of the iron.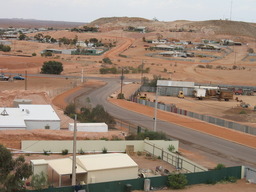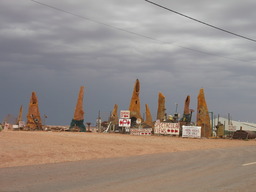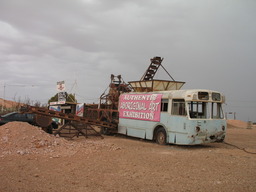 We had some dinner at the B&B, and played some Trivial Pursuit. I got two wedges and Briony got none, and she then decided that every question is a wedge question. 5 minutes later she was sick of it and withdrew from the game. Apparently I got all the easy questions. So we watched a movie and drank some wine, and got to bed at a reasonable hour. It was so quiet and dark in the underground house, kind of made me want my own underground house!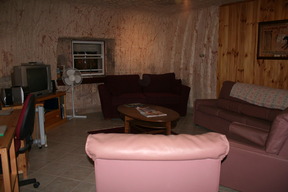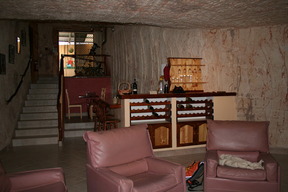 The next morning we woke early, had breakfast and began our drive back to Alice Springs. The South Australian part of the drive was so slow at 110 Km/h, it was lovely to hit the Northern Territory border and see the 130 Km/h speed sign!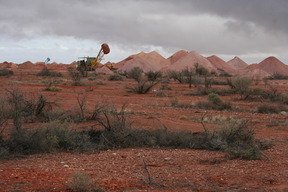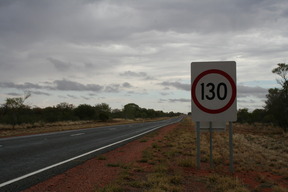 Next : East MacDonnell Ranges & Alice Springs, Northern Territory
or, back to Central Australia 2009 Index




---



Last modified: Wednesday, 01-Aug-2018 13:25:38 ACST
Site created by Callan Davies / CRUZN 2007-2010
Some content protected. Other content free for your use. Contact the Webmaster

Random Photo:


---
[Articles]
Talking to the Topfield TF5000PVRt using Linux and ftpd-topfield
Setting up DynDNS in Ubuntu/Linux
Restore GRUB boot manager after Windows destroyed it