Home/Blog
Current (2015)
2014
2013
2012
2011
2010
2009
2008
2007
BabyBlogs
Majandra
Aliana
Travel Blogs
Europe/Egypt '06
Peru/Bolivia '08
Central Aust '09
Fiji '11
Cycling Maps & Routes
Links


Best viewed with Firefox




Site Built with gedit on Ubuntu


[Central Australia 2009]
[Woomera, Roxby Downs and Andamooka, South Australia]

Our trip down as far as Woomera wasn't really planned. We'd sort of stuffed up our itinerary a bit, thinking that we'd drive back to Alice Springs after Uluru. We were going to meet Kerrie (Briony's sister) and Rob in Alice Springs for dinner as they happened to be on holiday the same time we were. We decided that was too much driving, so we ended up having a day to kill. So, we headed south to Woomera ... I kind of knew there was not much there, but I still wanted to see it.

We started our road trip down to Woomera as soon as we'd finished at the Olgas. We stopped in Coober Pedy to get some groceries. At first sight Coober Pedy freaked us out. The main street was full of the natives (Aborigines), but they were not the nice kind that we found in Alice Springs. These were the rough type, all drunk off their heads, yelling and screaming at each other and just being generally unpleasant. Briony had to visit the toilet, so we tried one of the public toilets in the main street. The toilet itself was overflowing and there was excrement all over the floor. Suffice to say our first impressions of Coober Pedy were not good.

We still had a fair bit of driving so we carried on, and stopped in a small town called Glendambo - population 30 people plus a stack of sheep and flies. Glendambo really was just a couple of petrol stations plus the Glendambo Hotel-Motel which is a pub with accomodation plus a restaurant and camping/caravan park. We checked the pub menu for dinner options - no vegetarian at all. But then I noticed they had a more formal dining area out the back - this had proper food and a proper menu. Briony wasn't too sure about the Vegetable Arranchini - probably because neither of us knew what it was. It ended up being one of the best vegetarian meals we've had - it was basically a vegetable risotto, battered and fried with salad on the side. A squeeze of lemon on the top - yum!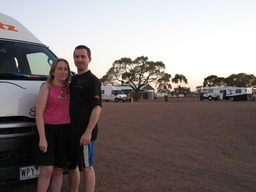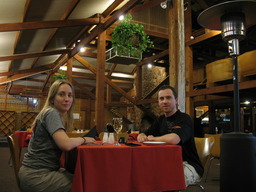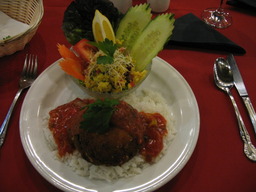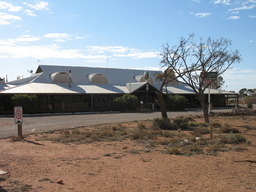 After dinner it was sleep time, ready for some more driving in the morning!

A short drive South of Glendambo was Lake Hart - a huge salt landscape similar to what we saw during our 2008 stay in Bolivia. We parked the car and walked down to the lake, being bothered by flies all the way down. We walked onto the lake and found evidence of a jetty or similar structure, completely buried in salt. It was quite warm and windy, so we took some photos and headed back to the van.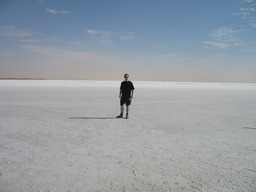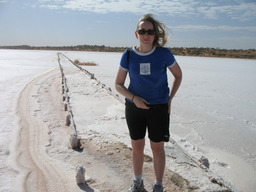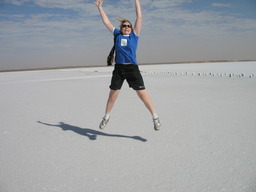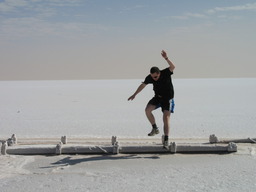 The drive to Woomera was really nasty as there was a strong wind blowing the van around, plus the wind had created a dust storm that went for over 100Km along the highway. We arrived in Woomera and stopped at the information board to see what we could do. We went to the missile display park which is in the middle of town - it's an open air park with some rockets, missiles and other artifacts from the days when Woomera was used in the British space programme.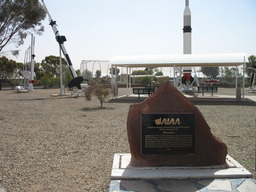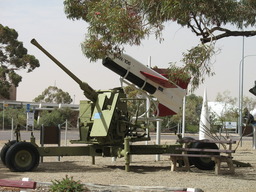 We called into the visitor centre to see what was there. The visitor centre desk was closed but the cafe was open so we stopped for a coffee. While at the cafe I noticed there was a space museum in the building - I could not resist! The $6 entry was reasonable, and the museum itself was brilliant. Stacks of photos and information, plus lots of actual items that were used in the past. I didn't get any photos in there, but certainly I do recommend it!

That was about it for Woomera and we still had half a day to kill. Roxby Downs was only 85Km away, so we figured we'd take a drive. Again, the drive was windy and dusty but otherwise uneventful. Roxby Downs is a fairly nice place - fairly big, green, tidy and good facilities. I was hoping to do a tour of the Olympic Dam mine, but upon enquiring I found that's quite a big tour and only offered a few times per week. So we just hung around the town centre for a bit. No photos from Roxby Downs I'm afraid ...

Since we'd done all we really could do in Roxby Downs, we decided to carry on another 40Km to Andamooka which is the end of the sealed road. We figured it was only 40Km so we might aswell have a look. Andamooka is just like Coober Pedy - an opal mining town. There are a few questionable tourist attractions such as The Long Bus which is just 3 old buses with the ends cut off then joined together. It looks really, really dodgy.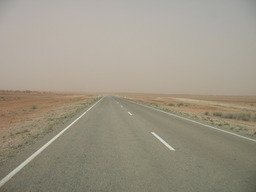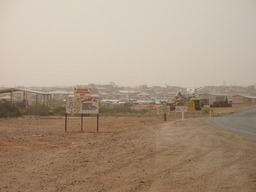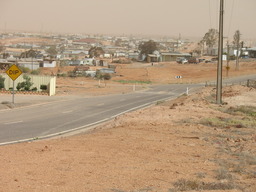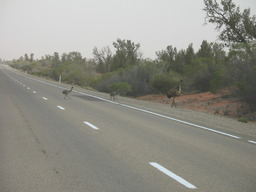 After a short drive around Andamooka (I don't think we saw a single person - weird!), grabbed some photos and headed back to Roxby Downs. We visited the supermarket, then headed back towards Coober Pedy, staying the night at Glendambo again.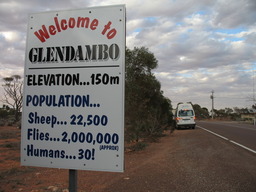 Next : Coober Pedy, South Australia
or, back to Central Australia 2009 Index




---



Last modified: Wednesday, 01-Aug-2018 13:25:38 ACST
Site created by Callan Davies / CRUZN 2007-2010
Some content protected. Other content free for your use. Contact the Webmaster

Random Photo:


---
[Articles]
Talking to the Topfield TF5000PVRt using Linux and ftpd-topfield
Setting up DynDNS in Ubuntu/Linux
Restore GRUB boot manager after Windows destroyed it