Home/Blog
Current (2015)
2014
2013
2012
2011
2010
2009
2008
2007
BabyBlogs
Majandra
Aliana
Travel Blogs
Europe/Egypt '06
Peru/Bolivia '08
Central Aust '09
Fiji '11
Cycling Maps & Routes
Links


Best viewed with Firefox




Site Built with gedit on Ubuntu


[Aswan, Egypt]

DAY ONE

The railway journey to Aswan went no problems and I guess we slept reasonably well. Probably because the train went so slowly! After waking and a quick freshen up , we had breakfast which was coffee/tea plus some juice and some toast.

The next couple of hours were spent slowly rolling past simple, rural towns, hoping to eventually arrive in Aswan. We saw plenty of fields full of crops, along with horses, donkeys, goats and other animals. The amount of garbage in the towns was quite surprising - these towns were just simple dirt roads with what looked almost like mud houses, and there was garbage everywhere. It was on the road outside the houses and shops, it was all over the railway line, and often we would see just big piles of garbage almost like a landfill, but perhaps only the size of one normal house, and in the middle of a populated area. Also, some of the locals seemed quite fascinated by the sight of the train. Anyway, after seeing plenty of garbage and pollution, we finally got to Aswan about two hours late.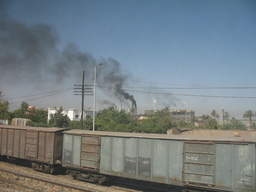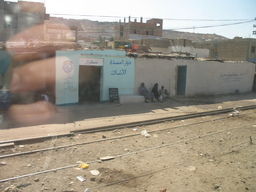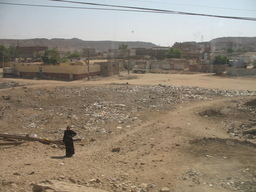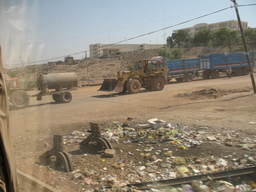 From Aswan Railway Station we walked in the direction of Keylany Hotel where we would stay the next 2 nights. The streets were all just dirt with people walking everywhere, very few cars, and plenty of animals around the place. When we got towards the right area we unfortunately walked right past the hotel as it was a little hidden from obvious view. We ended up 10 mins walk up the road, and we eventually grabbed a taxi to the hotel not because it was hot, but because we were two hours late for meeting our tour guide! The taxi driver must have loved us, as we asked him for Keylany Hotel, he looked over at his mate, then looked at us and said "20 Pounds" which was a massive price given it was probably 2Km away, however this was only $4 Australian so we were happy to pay the price.

We checked into the Keylany Hotel and left our luggage there. Almost immediately our guide came back to collect us. He introduced himself as Hany, and he spoke excellent English. Outside the hotel our car and driver were waiting. The car was a white Toyota van and it was quite comfortable and it was air-conditioned.

First stop today was a quick look at the High Dam. We had to drive across the High Dam on our tour, so we stopped at the lookout for some photos and Hany explained some of the things that we could see. We only spent 10 minutes there - apart from being really quite large, there's not a whole lot to look at. From the High Dam we drove only a few minutes to a large monument which was a gift to Egypt from the Soviet Union as a symbol of Friendship. I recall that the Soviet Union assisted Egypt to build the High Dam, something that would have been horrendously expensive and probably Egypt could not afford to do it without help.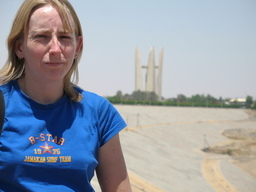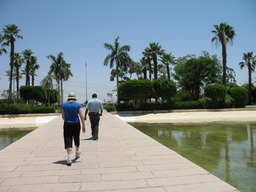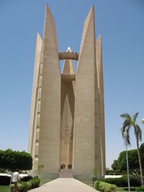 Next stop was the Temple of Isis at Philae Island, often known as Philae Temple. This was our first visit to a typical Egyptian temple, and it was somewhere around lunchtime by now - we could feel the temperature rising! To get from the mainland to Philae Island is a 10-minute journey on a small boat, in fact there are absolutely heaps of boats waiting but we were the only people going across to the island. Perhaps it gets busier at other times when the tour groups arrive.

Here Hany showed his knowledge as a guide, pointing out what things used to look like, why things are built the way they are, and of course translating the meaning of some of the ancient heiroglyphs. Soon it was time to head off the island and back towards Aswan. After walking around in the sunlight, we were feeling hot, sweaty and looking a bit pink in the face!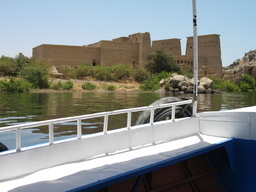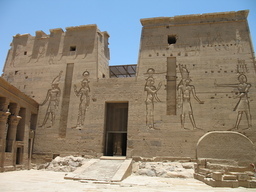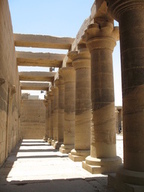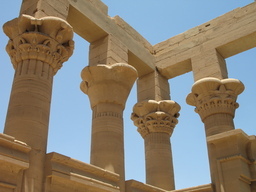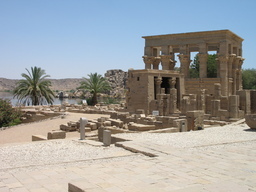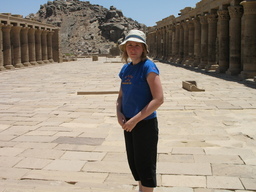 Next stop was a Papyrus shop, for a demonstration of the making of Papyrus. Of course this was more a sales visit rather than a demonstration, we knew about these types of visit but that was no problem. The Papryus they had was beautiful, with so many sizes and colours. We've always liked Papyrus but they were a bit expensive. Of course when they knew we were not going to buy, they offered to include a second one for "free", so we bought them. We paid 500 Egyptian Pounds which was about 100 Australian Dollars. I'm sure this was far too much but the Papyrus is lovely.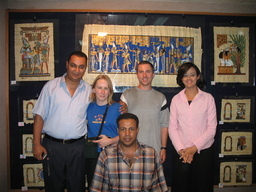 From the Papyrus shop we went to visit the Unfinished Obelisk. This is a quarry in the ground from where the ancient Egyptians would extract limestone. In many Egyptian temples they had large obelisks, perhaps 10 metres tall, and carved from a single piece of stone. The Unfinished Obeslisk complex shows where the workers were grinding the rock away to make an Obelisk, it's absolutely huge, but all of a sudden there was a crack in the stone. Due to this reason, they simply abandoned the project as of course it was not strong enough due to the crack. It's hard to see a good photo of this area, as it's all raw stone which all looks the same colour in the strong sunlight.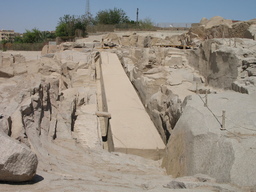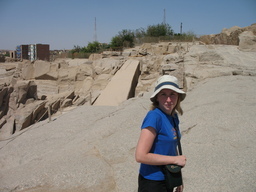 From the highest point in the Unfinished Obelisk complex you have a nice view, including a view of the Fatimid Cemetary across the road. After a further look around we headed towards the exit, past the tourist shops of course, and then back to our hotel as the tour was finished for the day.

After a quick rest and freshen up, we headed out for a walk around Aswan. We didn't really visit any shops, more just walked around looking at the general surroundings. In the late afternoon we went to a pizza place on Midan al-Mahatta, directly in front of the Railway Station. The food was excellent and really cheap - I seem to recall paying around 7 Australian Dollars for our meal which was a pizza and drink each.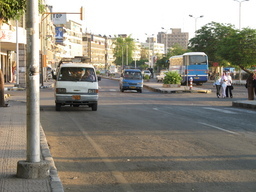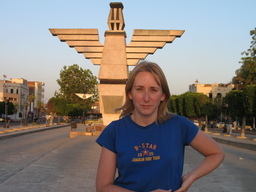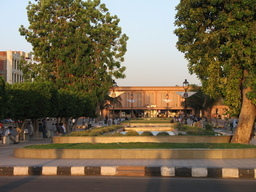 ---

DAY TWO

The next morning at some ridiculous hour (about 3:30am I recall!) we woke up, showered, and met Hany and our driver at 4am. Today was our tour South to Abu Simbel, to see the Temple of Ramses II and the Temple of Hathor. This is one of the main attractions in all of Egypt, however it's not at all easily accessible. I guess there is some carry-over from less peaceful times, but we noticed that there are security checkpoints everywhere, complete with tyre spikes and machine guns. We decided (and Hany confirmed!) that it was probably a really bad idea to take photos of the soldiers.

In order to get to Abu Simbel, one must join one of two daily convoys. From memory the convoy was due to depart at about 5am, so we arrived with plenty of time to spare. The convoy was basically made up of a few military vehicles, a bunch of white vans, and a heap of tour buses. The funny thing is that after about half an hour of driving everyone suddenly takes off and drives as fast as possible, so nobody is really in a proper convoy any more!

The journey takes about 3 hours, so in between snoozing and eating from our breakfast box, it was nice to look out the window. For the most part it's just boring desert, however occasionally we would see fields, crops, dams, irrigation canals and animals. Eventually we saw the sun coming up over the desert, and then finally we arrived at Abu Simbel. We parked, used the bathroom, and then just waited around until the gates were properly opened.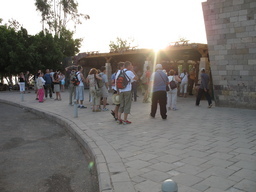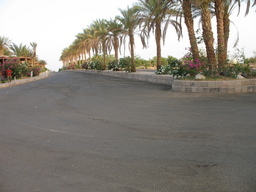 After a short wait at the entrance we headed down the path to the temples. As you come around the corner all you can see is miles of water, which is the flooding of either the High Dam or the Aswan Dam, I can't remember which. Basically when the dam was constructed and filled, the water level rose to cover the plains and hills for a massive area, hence why it appears that Abu Simbel is surrounded by ocean. When the temples come into view it's amazing as they are just standing there facing the sun, in such excellent condition.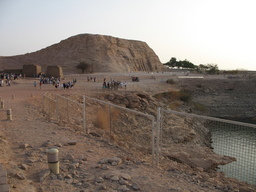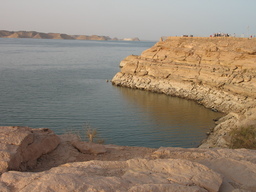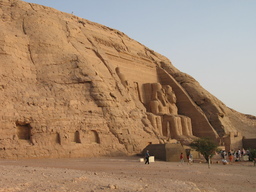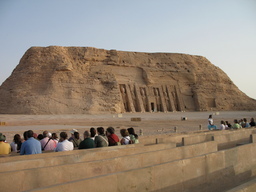 There are a bunch of seats a couple of hundred metres from the temples. Here we sat while Hany explained some of the history to us, including the relocation of the Temples. He told us that with the construction of the dam, the Temples, just like the Temple of Philae, would have been lost under the artificial lake. So in a huge effort, both temples were cut unto blocks, disassembled, relocated to higher ground, and subsequently re-assembled into their original form. The temples have been reconstructed flawlessly, and from only a short distance you'd never be able to tell that they had been chopped up!

The next two hours were spent looking at the temples both outside and inside, taking lots of photos (no flash of course!) and just appreciating the beauty of the two temples.

First, the Temple of Ramses II -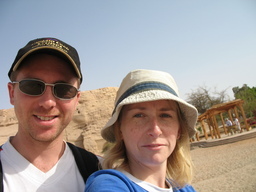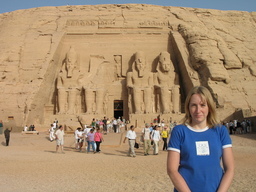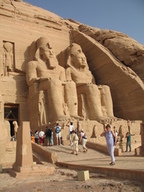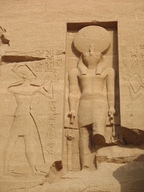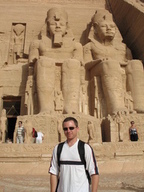 And, the Temple of Hathor -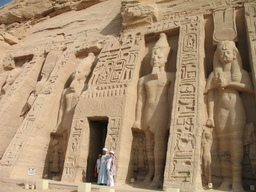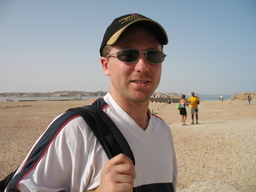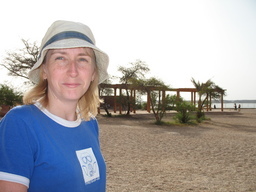 After 90 or so minutes in the heat and blazing sunshine, it was time to get some last photos and head back to Aswan. Given we'd got there so early (ahead of the tourist buses), we were quite surprised at the number of vehicles in the car park!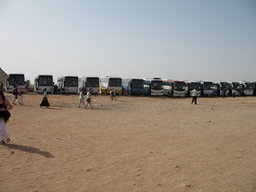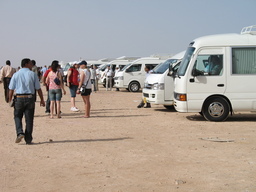 After the Temples we began the 3 hour drive back to Aswan. Along the way we saw an area with lots of bulldozers and trucks, Hany told us that this is part of a massive project to irrigate a huge area of land, apparently they are going to build canals and lakes in the middle of he desert!

Once back in Aswan we went for another of our walks around the place, taking photos and just observing the surroundings. The whole place was very safe and apart from some of the Egyptian men staring at the sexy Briony, nobody really said anything to us (except asking if we wanted to go into their shop, or buy some tobacco, or buy some spices, or swap their Euros for Egyptian Pounds ...!!).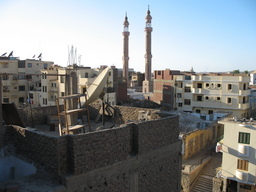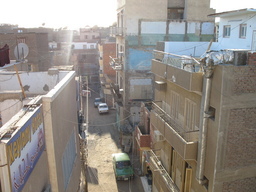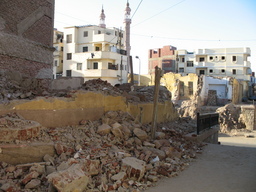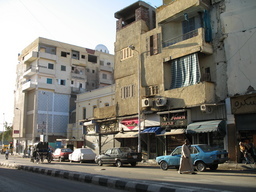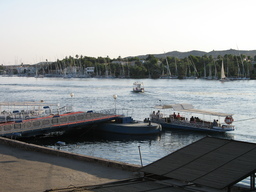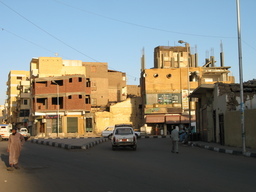 At the edge of the river there was a floating restaurant called Aswan moon. Here we enjoyed lentil soup with bread, and some cool drinks, and it all cost only a few dollars. There were a bunch of cats at the hotel, a mother plus her kittens. We were going to give them some food but they were so shy.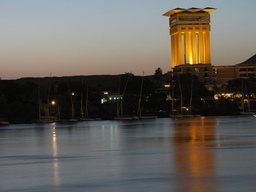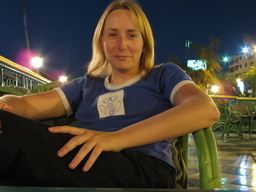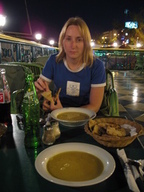 The next morning we woke up early, had some breakfast, grabbed some supplies for the day and made our way north,

Next : Luxor, Egypt
or, back to Euroblog Index





---



Last modified: Wednesday, 01-Aug-2018 13:25:38 ACST
Site created by Callan Davies / CRUZN 2007-2010
Some content protected. Other content free for your use. Contact the Webmaster

Random Photo:


---
[Articles]
Talking to the Topfield TF5000PVRt using Linux and ftpd-topfield
Setting up DynDNS in Ubuntu/Linux
Restore GRUB boot manager after Windows destroyed it