Home/Blog
Current (2015)
2014
2013
2012
2011
2010
2009
2008
2007
BabyBlogs
Majandra
Aliana
Travel Blogs
Europe/Egypt '06
Peru/Bolivia '08
Central Aust '09
Fiji '11
Cycling Maps & Routes
Links


Best viewed with Firefox




Site Built with gedit on Ubuntu


[Prague, Czech Republic]

We left Nurnberg via train, and this was the typical Deusche Bahn (DB) train, all the way to the border of Germany / Czech Republic. At this point we had to change trains, and we also had a border patrol come aboard the train and inspect our passports. I must say, the lovely blonde Czech police woman was rather stunning!

After getting off the German train, the Czech train was a bit of a shock to the senses. I guess it just struck as strange as the train was so small, so old, and so ugly! After the initial shock, the train ride was quite okay, not at all uncomfortable.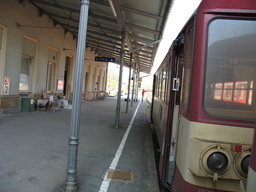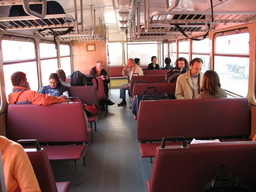 About half way to Prague we were asked to get off the train, as a section of the railway was closed for maintenance. We got off and had to transfer to a bus, and of course the whole thing was hodge-podge with no signs etc, and the train staff + bus staff spoke no English. We eventually confirmed that the bus we were boarding was in fact going to Prague, and we were on our way again. The bus soon pulled into another railway station, where we jumped on another train to take us to Prague. We arrived at about lunch time.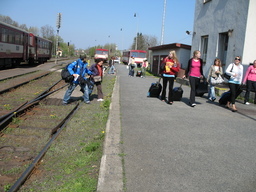 It was a weird feeling coming into Prague, as all the railway stations had names that just sounded so Soviet - Praha Smichov was one of the stations, and eventually we came to the main station. This reminded me of Soviet too, as it was just so different! Coming into the main station area where all the ticket booths are, they play announcements regarding the next train etc, just like any other station. But this was not preceeded by a simple ding-ding, it was preceeded by this fun-times sounding tone, I can't describe it, I'll have to see if I can find it online.

The station area was sort of drab and miserable looking, and we were not sure about how safe this place was. But once we got outside we realised that it's all ok after all, and the dodgy people were just the usual 'cool' crowd you would see in any city. We jumped onto Tram 9 and then changed to Tram 22/23/34 up to Mala Strana (Little Quarter), the area across the river where our hotel was. The Hotel was on a street called Nerudova, and we had to find a phone box to ring the hotel to make sure someone was there.

The hotel was called the Castle Steps and was more like an apartment as we got a key to the main gate, and then inside the building there were 3 or 4 rooms with shared bathroom facilities. We were on the top floor, it was a lovely clean and modern room with great beds and nice lights etc. The hotel was about 10 minutes walk uphill from Charles Bridge, and it was about 10 minutes further up the hill to Prague Castle.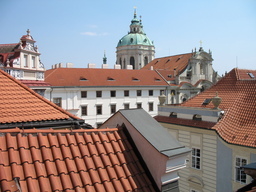 After we dropped our bags and got settled in, we went for a walk around Prague. First stop was the Kodak shop near our hotel, so we could get our digital photos burned to a DVD. After that was the Furnicular Railway up to Petrin Hill. This area has really nice gardens, and also features the Petrin Tower which looks sort of like the Eiffel Tower from Paris - apparently there is a story about this tower being a gift from France, or something like that. The Furnicular Railway wasn't really anything special, and it was actually quite a long wait in line to get in there. In hindsight, we probably should have walked.

Once at the top of Petrin Hill, we climbed the tower. It's a couple of hundred steps to the top, and its pretty crowded in there. The view, however, is well worthwhile - you can see the bulk of the city, plus a good view of Prague Castle.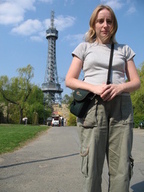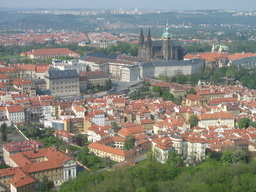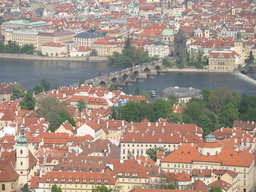 Once down the bottom we walked further along the river, crossed the bridge near the National Theatre and saw the "dancing building". We walked along the other side of the river and just took in the sights, and went for a walk around the new and old town. We saw plenty of lovely sights including the National Museum, Wenceslas Square, Concert Hall. We stopped for a quick meal and kept walking around the old town at night. We visited the Black Light Theatre which is a fabulous show under UV lights, with actors in fluorescent outfits. Great show, but we were very tired by this time. Back into the Old Town afterwards - it was quite safe, however it was absolutely packed with people, and lots of drunk English! Charles Bridge was so crowded you could hardly move, and we eventually headed back to our room.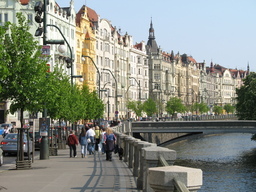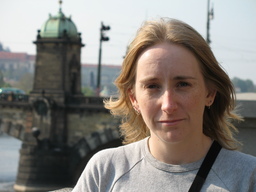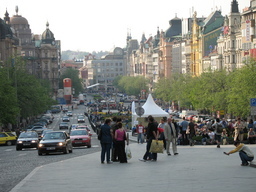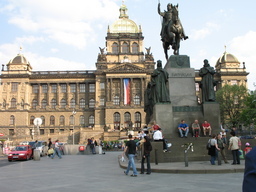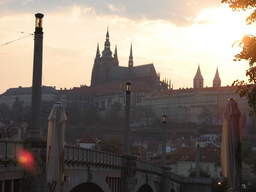 The next day we got up early and headed uphill to Hradcanske Namesti (Prague Castle). It was quite spectacular, and we got to see inside the cathedral and also up the tower. The stairs in the tower went on for ever and we (well, Briony) were complaining of sore legs. Again the view was great, we took some photos and then headed down to the square. Lucky we got there early, as it wasn't long before all the tour groups started to arrive in their hundreds.

After having a look around, we heard a big racket and the crowd was rushing towards the entrance. Turns out it was time for the Changing of the Guard. There was a big parade and hundreds of people there. We couldn't see anything, it didn't seem that exciting anyway, so we got out of there for a further look around.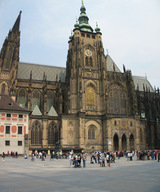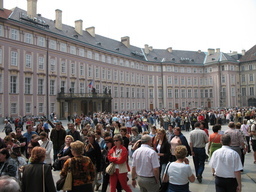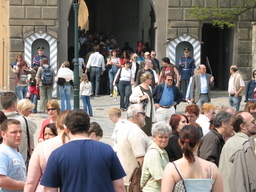 We were soon ready to leave, so we walked down the Golden Mile or whatever it's called, down to the exit. There were loads of people here too, and we did see the Changing of the Guard, after which we headed down the VERY long exit ramp along with so many people! At the bottom, we took a seat on some grass for a rest, and watched as a really fat council worker took a break from his work while he aired off his big sweaty belly.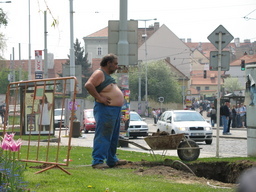 After big belly man, we headed round the corner to an area called Letna, which has some nice gardens on a big hill, with some really huge stairs going up. At the top there is a monument in the form of a giant metronome/pendulum. The metronome has some massive gears and levers and is obviously supposed to move, however it seemed broken when we were there. In the general area of the metronome is a huge flat paved area, there was lots of graffiti and lots of kids on skateboards, but it all seemed quite safe overall.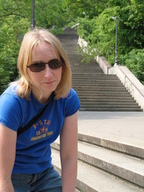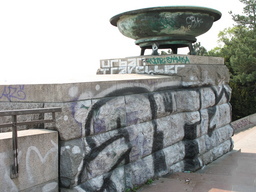 After the broken metronome we headed back to the old town square, just in time to see a marijuana rally! Once the rally had passed, we took some photos of the hugh Church of Our Lady before Tyn, and then walked around the square. On the opposite side to the Church is the Astronomical Clock. It seems this is one of THE things to do in Prague, and there were people everywhere waiting for the clock to do whatever it does. While the clock was nice to see, to this day I could not tell you what it actually does. Advice is to see it, photograph it, and move on.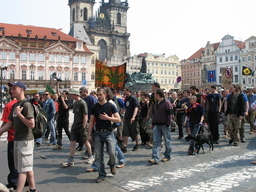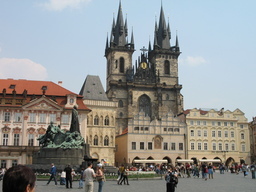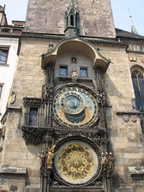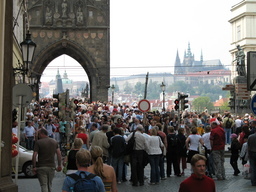 After some more walking around we went back to Charles Bridge which was even more packed that the night before! We crossed the bridge, looked around and walked back to the old town, where we went to U Medvidku for dinner. Briony had vegetables, and I had roast wild boar! They served massive steins of beer, and obviously there is some rule about leaving your glass empty. No sooner had I finished my beer and put my glass down on the table, and the waiter came along, put another stein of beer for me, drew a line on our bill, and ran off before I knew what was happening! Briony also used her beer coaster as a plate for the olive oil bread dipping exercise.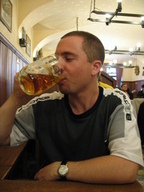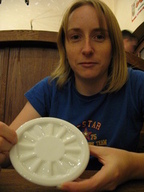 Later that evening, after collecting our gear from the hotel lobby, we headed to Prague Railway Station ready for our next journey. We had already (in Nurnberg) booked our sleeper cabin, so we went straight to the train with only a few minutes to spare. Once we got there, the train guard kindly told me that all we had paid for was a reservation of sleeper cabin - we had not actually paid for a ticket. So with less than 10 minutes to spare, I sprinted back to the ticket booth, waited in line for a couple of other tourists who were taking their sweet time, and I finally grabbed a couple of tickets. After a sprint back to the train, we boarded just in time and we were on our way to Poland!

Next : Krakow, Poland
or, back to Euroblog Index




---



Last modified: Wednesday, 01-Aug-2018 13:25:38 ACST
Site created by Callan Davies / CRUZN 2007-2010
Some content protected. Other content free for your use. Contact the Webmaster

Random Photo:


---
[Articles]
Talking to the Topfield TF5000PVRt using Linux and ftpd-topfield
Setting up DynDNS in Ubuntu/Linux
Restore GRUB boot manager after Windows destroyed it