Home/Blog
Current (2015)
2014
2013
2012
2011
2010
2009
2008
2007
BabyBlogs
Majandra
Aliana
Travel Blogs
Europe/Egypt '06
Peru/Bolivia '08
Central Aust '09
Fiji '11
Cycling Maps & Routes
Links


Best viewed with Firefox




Site Built with gedit on Ubuntu



[Colca Canyon, Cabanaconde]

Our trip to the Colca Canyon was a three-day / two-night excursion arranged by Colca Trek in Arequipa.

Colca Trek - Day One

After breakfast (Juice, Tea/Coffee, Bread) at Hostal Solar, we left our bags at the Hostal and met our guide, Elias, out the front. He took us to the car round the corner (since they were still digging up our street), which was a roomy, modern van. We began our journey with just one other tourist - Jenny from Germany. We made friends with Jenny quickly as she was a great girl and spoke good English.

we spent the rest of the day driving from Arequipa to a small town called Cabanaconde where we were to stay the night before the trek down to Colca Canyon.

Along the way we stopped on the side of the road to look at some Vicunas with Mount Misti in te background, and we stopped by the Stone Forest which is the result of some interesting erosion processes in the past. A little further on we stopped to look at some llamas on the side of the road, to view some natural wetlands, to view some interesting rock-shaped plants and also to view the sights from the higest point of our drive which was 3900m altitude.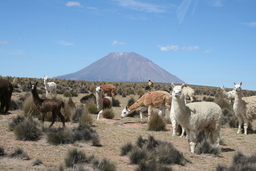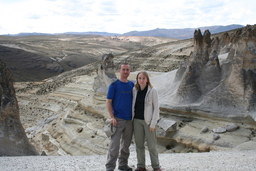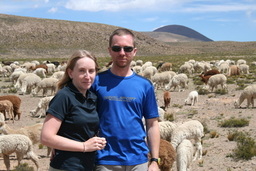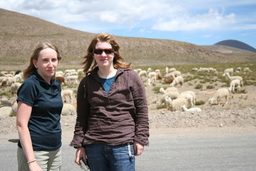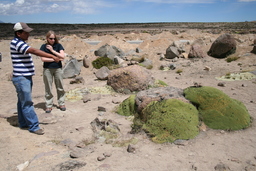 After descending from the highest point we reached the town of Chivay where we had a really good buffet lunch at a fairly large restaurant. The food was good, it even gets the thumbs up from a vegetarian perspective. The cost of lunch was included as part of our tour, but we had to pay for drinks separately. We both drank Inka Cola, and Jenny got a jug of Chicha Mora to share.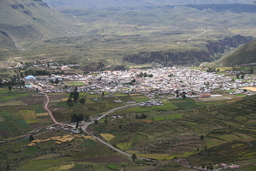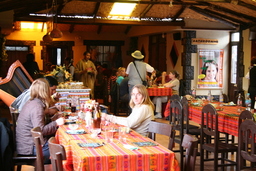 After lunch we took a half-hour walk to Chivay's Plaza De Armas, and pretty much along the way we saw locals going about everyday business, there weren't any other tourists around.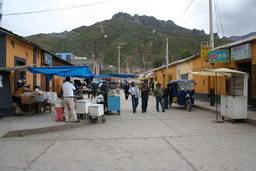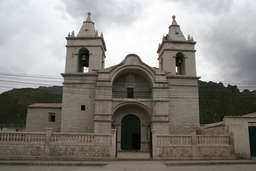 In Plaza de Armas there were two young girls with llamas or alpacas (don't know which) and they asked us if we wanted a photo. We'd been asked by other people if we wanted a photo (you have to give them a tip) and we normally decline, however these two looked nice so we took some photos and paid them S/. 1 each eve though the animals weren't paying attention!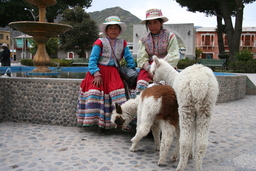 A little bit later and we were on our way, although this time on a dirt road all the way to Cabanaconde which was another 4 hours away.

Just over three hours along this bumpy dirt road we stopped on the side of the road and Elias explained that this was the area for Cruz del Condor, although we had parked about 500m away. It was very cold and windy, but we headed out onto the path to the proper Cruz del Condor lookout 500m uphill and Elias told us that the car would meet us there.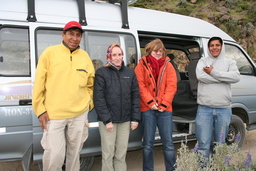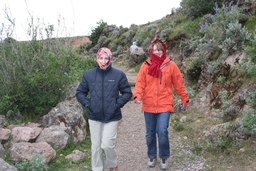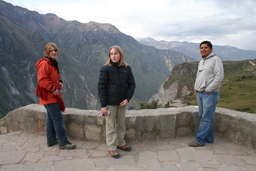 At this time we were at probably about 3000m altitude and we found ourselves getting a little out of breath walking uphill. 15 minutes later we had passed through two small lookouts and we arrived at the poper Cruz del Condor lookout. It was late afternoon so there were no Condors there, and no other tourists. After a few minutes we jumped back into the car and drove the last half hour to the town of Cabanaconde.

We arrived to Hotel Kuntur Wasi about 5pm. The hotel was lovely, our room was beautiful and comfortable. The hotel also had satellite Internet for US$1 per hour. After settling into our room we had dinner as a group together with Elias and our driver. I had a beer, the girls had Inka Cola, but I can't remember what we actually ate. No doubt I'll find a photo soon!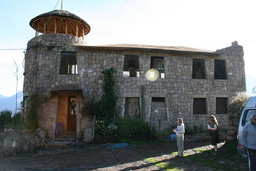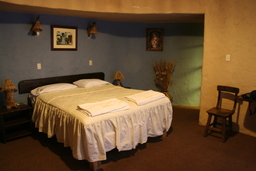 After dinner Elias briefed us on the plans for our trek, and we headed to bed.


---

Colca Trek - Day Two

The second day of our trek started early with breakfast at 7am, which consisted of the usual rolls + jam + tea/coffee + juice, plus our choice of fried or scrambled egg. The two girls had a pot of coca tea, and I satisfied my caffiene addiction with a decent coffee with fresh milk.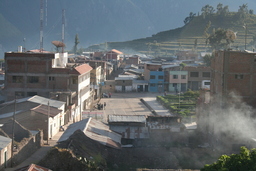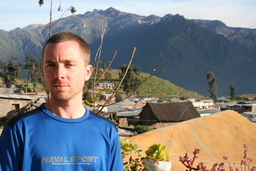 We finished breakfast at 7:40, then had 20 minutes in Plaza De Armas (the main town square) to grab some photos and get ready for our walk. At 8, we met our guide and began the 20 minute walk through fields of crops, to arrive at the official start of the trek. Just before we started, we saw a man with 2 mules heading down the hill. The mules are used to get supplies up and down as they do it far more efficiently than people, doing in 1 hour what takes tourists 3 hours.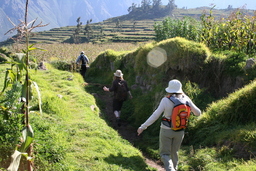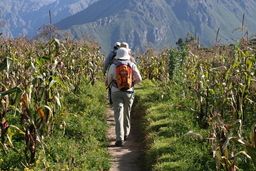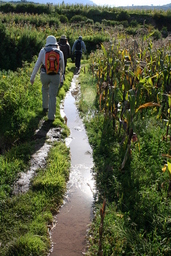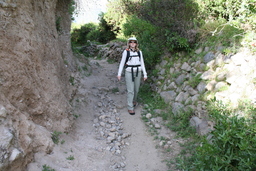 So about the trek .... well this was the down-hill day, and I guess there's not really a whole lot I can write about walking down a big hill into a canyon. The stories on the Internet seemed to suggest that the path was REALLY steep and REALLY slippery, to the extent that you might fall over and die. These stories seem to be largely exaggerated, as while the path is rocky and fairly loose, if you have decent shoes it's not really an issue. Naturaly if you insist on wearing sneakers and running down the hill then yes you probably will fall over the edge and suffer a miserable death stuck in a cactus tree.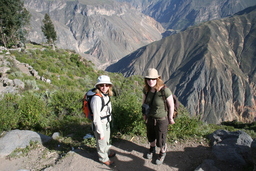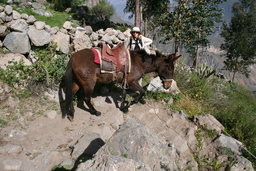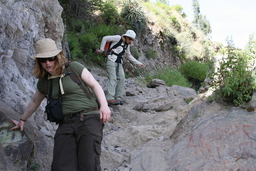 The walk down the hill was fairly warm as we had sun for most of the way. A few short breaks in the shade were quite welcome. About 20 minutes into the trek we got a glimpse of our campsite down the bottom, which I was expecting to be just a grassed area for tents. But, from way up top we caught a view of palm trees and a pool - it looked quite nice. But, a long way down! The trip down took just over three hours in total, including all rest stops and the initial 20-minute walk from the town centre. The last 10 minutes or so is a litte hairy as the path is extremely narrow and loose so extra care is needed not to fall over the edge of the mountain!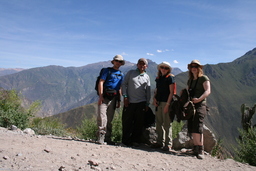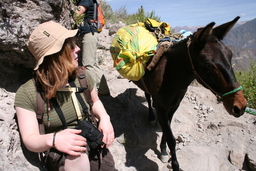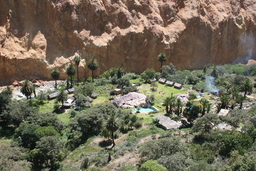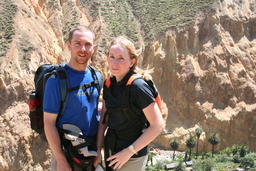 When we arrived at the bottom, we realised that the overall area was huge and actually had several campsites there, presumably each one is owned separately. We seemed to have the best one of the lot as it had a dining hut, some outdoor tables made of palm trees, a shop that sold cola and beer, decent toilets and most importantly a fantastic pool!!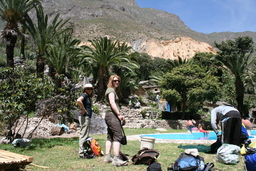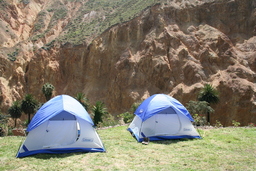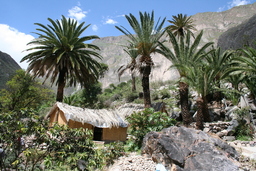 Our tents were already set up, so we put our backpacks inside, put our bathers on and jumped into the pool. The water was lovely, there were two really cool fountains and the pool was plenty big enough. One edge "wall" of the pool is actaully a natural rock which is at a perfect angle to climb and sit in te sun like a lizard! If we have to give one complaint, it would be that the pool was really, really deep - I could only just keep my head above water at the shallow end, so of course Briony had no chance and just stayed against the edge.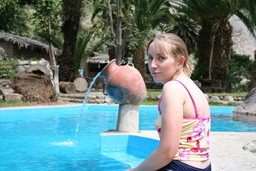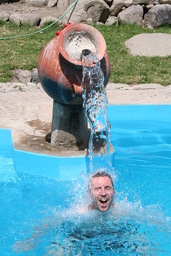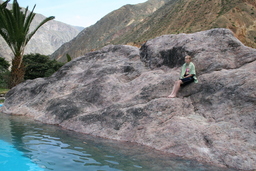 After swimming for a bit, a far-too-big lunch was served. We were provided with soup and bread, plus we bought some drinks, and we figured that would be our lunch. But the staff were inside watching us. As soon as we had finished the soup, the main course came out - rice with vegetables. When we were done with that, they brought out a plate of rockmelon. Very nice food, but a HUGE lunch - turns out this was something we would soon get used to in Peru!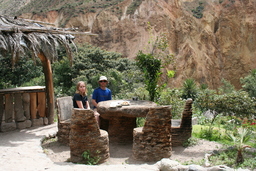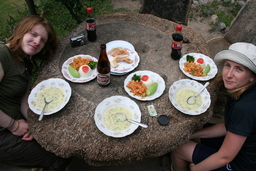 A little later in the afternoon the three of us decided to take a walk down to the Colca River which was only a few hundred metres away. The problem was finding how to get there as there was really only one section where we coud get down - all the rest was a big drop from the land to the river with no way of climbing up again.

After 20 minutes walking and one instance of Briony being snagged by a blackberry bush, we found the way down. There was a lage area of rocks where we could walk, inclding 3 or 4 massive rocks that just begged to be climbed! Jenny and I climbed a couple but Briony chose to stay on the ground - probably a wise move since one twisted foot would ruin our plans for the Inca Trail! Thankfully I climbed the rocks like Spiderman and there were no injuries!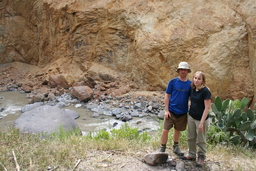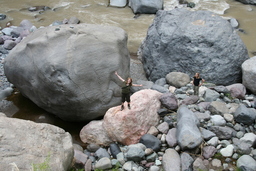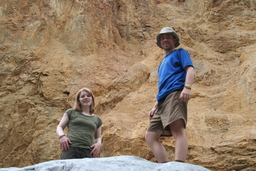 Once we got back to camp we got the laptop out and used the webcam to record a quick video featuring the three of us. the volume was set really low so I hope it turned out okay, but the classic line was Jenny talking about her coca-cola being warm with the words "hot cock" at which Briony and I burst into laughter and Jenny had no idea what was so funny. Of course we filled her in later!

Later on we met up with Elias and one of the staff for a one-hour walk. Elias guided us around the hills and we came out at the river gain but perhaps 500-1000 metres upstream. There was a footbridge to the other side so we crossed and walked for another half hour or so which took us up into the Prickly Pear plantations and afforded some nice views of natural springs and the "Starry Night" plant on the cliff face.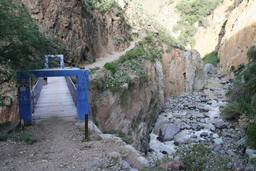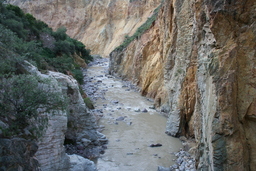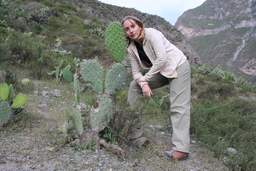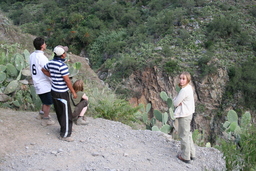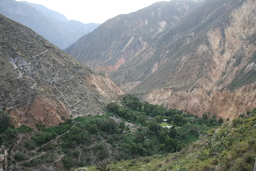 After our walk we went to the dining hut for dinner. We ate something good that I can't remember and then dessert.

Once dinner was done Elias told us that we were to get up at 03:45 the next morning, so we could start trekking back up the hill by 04:30. As soon as we heard that, we scurried off to bed! Briony was cold as normal, and wore 2 thermal shirts, a jumper and a jacket inside her sleeping bag and she still complained of being cold. I just wore my underwear and I was quite cozy!


---

Colca Trek - Day Three

We got up at 03:45 as instructed, quickly packed up our gear and headed to the dining hut for breakfast. We ate a pancake and drank coca tea. at 04:30 we started our walk back up the hill in the pitch black. Elias was in front with a torch, then Jenny with a torch, then me with no torch and then Briony behind me. It wasn't too hard to see where we were going, but around 45 minutes later we were glad to have enough light that we could put the torches away.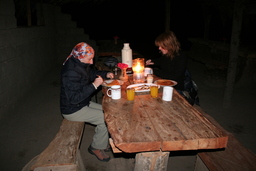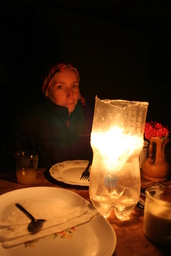 The trek up took 3 hours and we did the most part with the sun shaded behind the mountains but the last 40 minutes or so gave us some direct sunlight which made us get hot very quickly. Straight away it made sense why Elias got us moving so early!

About 2 hours in, Briony and I walked at our own pace and soon we were a few minutes ahead of Elias and Jenny. Of course it's not a race but soon it became apparrent that if we hurried then we might make it to the top before my stopwatch clicked over the 3-hour mark. We picked up the pace a bit and I reached the top in 2:54 and Briony arrived at 3 hours on the dot. 10 minutes later Elias and Jenny rocked up, and after a brief rest we walked the 20 minutes back to Cabanaconde to meet our car.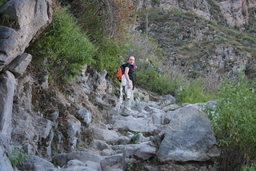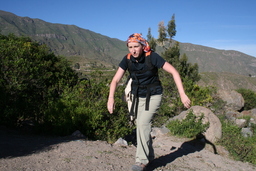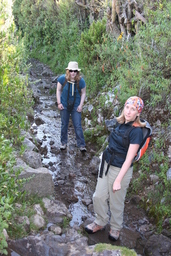 From Cabanaconde we drove about half an hour to the Cruz del Condor lookout, which this time was packed with tourists and there were lots of tourist cars and buses around the place. We took a seat on a rock overlooking the Canyon, and sure enough after a short time we saw the Condors flying on the hot air thermals. They were actually a fair bit closer than we had expected, and we were left wishing we had brought the zoom lens for our camera. We still got a few decent photos during our 45-minute visit.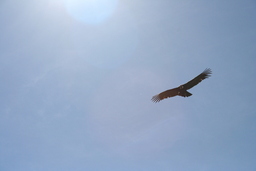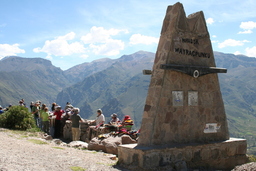 After Cruz del Condor we drove for a couple of hours until we reached *** nAME *** hot springs where we could spend up to an hour. We grabbed our bathers and walked down to the springs which looked just like a typical public pool. The pools themselves looked okay, however the changing rooms were a little dirty and the toilet was filthy. With this general feeling of un-cleanliness we decided to give the springs a miss and we headed back up to the car.

Lunch was at the same restaurant in Chivay, and again there was plenty of vegetarian food there to keep us happy, and plenty of meat to keep everyone else happy.

About 16:00 we arrived back in Arequipa and headed back to Hostal Solar. The lunch at Chivay was big and also late, plus Briony wasn't feeling well, so we gave dinner a miss. I dived across the road and bought some water and a razor as I was looking a little scruffy. The razor cost S/. 3. After a shower and shave it was time for bed as we had an early flight to Cusco the next morning.

The following morning we took a taxi to the airport, I think this was arranged by Hostal Solar but I can't quite remember. Either way we got to the airport with plenty of time to spare. Briony was thrilled as one of the convenience stores sold her favourite Gloria breakfast tubs!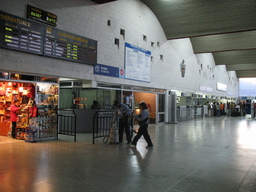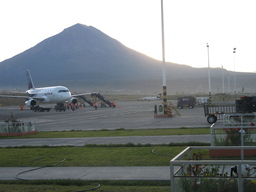 Next: Cusco, Peru
Or, you can Return to the Peru/Bolivia 2008 Index Page





---



Last modified: Wednesday, 01-Aug-2018 13:25:38 ACST
Site created by Callan Davies / CRUZN 2007-2010
Some content protected. Other content free for your use. Contact the Webmaster

Random Photo:


---
[Articles]
Talking to the Topfield TF5000PVRt using Linux and ftpd-topfield
Setting up DynDNS in Ubuntu/Linux
Restore GRUB boot manager after Windows destroyed it