Home/Blog
Current (2015)
2014
2013
2012
2011
2010
2009
2008
2007
BabyBlogs
Majandra
Aliana
Travel Blogs
Europe/Egypt '06
Peru/Bolivia '08
Central Aust '09
Fiji '11
Cycling Maps & Routes
Links


Best viewed with Firefox




Site Built with gedit on Ubuntu


[Cusco]

Cusco - Day One

After a fairly short (and early!) flight from Arequipa, we landed in Cusco some time around 09:00. There were lots of annoying people on the plane, in particular a crowd of four very rude Americans. There was a booth at the airport offering free oxygen, supposedly to guests that were having trouble breathing.

After collecting our bags from the carousel we headed towards the exit to grab a taxi. An airport official woman stopped us and wanted to check our bags against the baggage receipt we had from the flight, to make sure we weren't taking someone else's bags. Firstly, this is the first place we've ever had this done. Secondly, there was no indication they were going to do this, so all our baggage receipts and passports were in our (locked) backpack. Needless to say, ourselves plus all the other tourists in the same situation caused a bit of a traffic jam.

While we were waiting to get the baggage receipts, a man at one of the airport counters (the type that sells tours, rental cars, etc) asked if we needed a taxi to town for S/. 10. We told him yes we did, and Hotel Ninos II. He said this would be S/. 15 which was still okay. he took us outside to meet his "friend" who had a car. It wasn't any type of official taxi but the driver seemed nice and was well dressed, and he was recommended by someone within the airport so we figured it'd be safe. The driver's name was Armando, and along the way to the hotel we talked with him in Spanish and also he pointed out some of the important sights within Cusco. Since he was such a nice man, we also got his mobile number so we could get him to take us to Urubamba for the mountain bike tour.

We arrived at the hotel about 09:30, well before check-in time. While they were preparing our room, we had banana pancakes and coca tea in the small cafe. Half an hour later we went upstairs, our bags were already up there, and were quite pleased with the appearance of the room.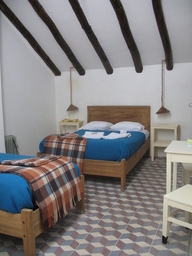 After some time to relax and unpack, we went for a walk to Plaza De Armas, as today was a day of chores!! First, we looked for an ATM to grab some cash. There are several around Plaza De Armas, most located within the front entrance of an upmarket shop. Thankfully nobody from the shop hassled us while we were using the machine.

Speaking of hassle ... this place is really bad in that regard. In Plaza De Armas and all the streets within 5 minutes or so (ie. all the tourist areas) we have been hassled from every direction to buy a postcard, a water colour painting, a shoe shine, a meal, a tour, a massage, a trip to Machu Picchu, they just don't give up. They're not as bad as in Egypt, but it's still mighty annoying.

So back to our chores. After getting cash, we went to Peru Treks to pay the balance of our Inca Trail reservation plus their city tour and Sacred Valley tour. Then we went to a few camping stores to find a sleeping bag, since the tour agency we're using in Bolivia does not have sleeping bags for hire. The first shop we went to wanted S/. 45 for a -5C sleeping bag, which at 15 Australian Dollars just seemed very cheap. I also don't recall seeing a brand on it. The second store was very modern and very western-looking, and had prices to go with it! The third store had a -5C sleeping bag for S/. 200 or so, which works out close to 100 Australian Dollars, this seems to make more sense. We'll head back there in a few days to grab two of these sleeping bags.

We then grabbed a taxi (S/. 4) to Inka Express bus tours, to pay for our reservation. The information we had in our email confirmation said that their office is closed between 13:00 and 14;00. We got there at 13:55 so just had to wait 5 minutes. Suddenly a guy popped his head out of the place next door. He was wearing the Inka Express clothes, so obviously he lives next door. I managed to convince him that we were here to pay for our reservation, and he showed us into his (closed) office. We showed him the printout we had of the email reservation from a person called Karina. He asked us if Karina was from Cusco or Lima. We told him that we just did it all via email, and had no idea who Karina was. Anyway, he got out his booking sheet and our names were not there. He wrote our names in there, took our money, and gave us the ticket. We went outside to the taxi that was waiting and headed back to town - another S/. 4 plus an extra S/. 4 as we (actually, Inka Express' lack of organisation) made him wait for so long!

Following this it was getting a little chilly so we headed back to the hotel to grab a jacket and then some dinner. On the way from the hotel back to Plaza De Armas we saw some red stuff on the road and we assumed that someone had spilled their milkshake or something. Then we looked aross the road adnd there was a dead dog on the footpath with blood all over its head, obviously hit by a car within the last 10 minutes or so. This was horrible, and Briony got quite upset about it. After a few tears, we continued onto town.

We'd chosen Moni Cafe for dinner, as Briony had heard their food is good, in fact it's a 100% vegetarian place. It's less than 10 minutes walk from Plaza De Armas, and really is very comfortable inside. The menu is good, prices are good, and the food is excellent! We both had a juice and a garlic bread to share. Briony wasn't feeling too well so she just had a soup (advertised on the menu as being good for upset stomach!) and I had a eggplant curry (advertised as being hot-but-not-too-hot, however I wouldn't even rate it as warm) which was very tasty. The bill came to s/. 47, and it was interesting to see the cashier put my S/. 50 note under a false-note detector.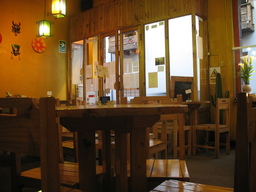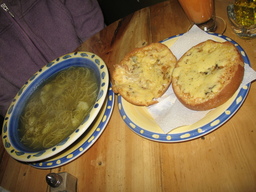 After dinner we headed back to the hotel. Briony put some drops in my eyes as they were slightly yellow and also bloodshot. Weird. Probably all the exhaust fumes around here. Early to bed, as we have mountain biking tomorrow!


---

Cusco - Day Two - Mountain Biking around Urubamba

Today we got up at 6:30am, after 20 hours sleep which was great. The beds here at Hotel Ninos II are very nice, and quite warm enough.

We had breakfast in the hotel cafeiteria, it's not included in the price of the room but there is a choice of several different breakfasts. We chose the smallest one which was S/. 8 per person. Breakfast was fruit salad (banana, rockmelon, pineapple), plus bread + rolls + jam + coca tea. Top marks for breakfast, it was great.

At 7:30 our driver Armando arrived. We headed to Urubamba which is a small town about an hour's drive from Cusco. There we tried to find the unknown church from yesterday's phone conversation with Omar from Ecomontana. We had no luck so we had to stop and and call him, and 5 minutes later we were at his place. Omar and Armando had a quick conversation (in Spanish) about our plans for the day, as Armando was to take us back to Cusco in the afternoon. It was decided that he would meet us at a restaurant at about 13:30.

We went to grab our bikes from round the back of Omar's place. I got a 19-inch Cannondale mountain bike and Briony got a 15-inch Giant mountain bike. Both bikes were quite decent, but not as good as the bikes we have at home (although, any bike other than your own always feels strange!). 10 minutes later and we were off through Urubamba town.

After about 10 minutes we arrived at the local bus station. We walked our bikes right through the office and cafe, to the local Cusco bus which was literally just leaving - we just managed to hoist the bikes onto the roof and jump onto the bus before it left.

Since Urubamba is at the bottom of a rather deep valley, the bus was used to get us to the top of the mountain as it's far too high to ride the bikes. The journey on the bus was fine, and took about 20 minutes. The bus did seem to drive insanely fast around the tight curves, I guess since the road is so steep the driver didn't want to lose any speed.

We got off the bus and onto our bikes, and had a quick visit to a local lake to get a nice photograph. Then it was off riding along dirt roads in the countryside, right alongside fields with crops, animals and local farmers. The condition of the dirt roads was okay, nothing we couldn't handle, however as we were at more than 3500m altitude, the few hills we encountered made us a little short of breath.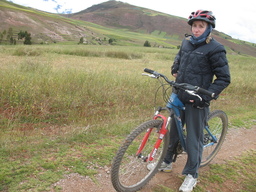 Briony also claims that her bike seat kept going down and the gears changing by themself. I have my doubts about the seat thing, but I did hear her gears clicking away for no reason which was a tad annoying.
After 60 minutes or so Briony was beginning to get tired, and was slowing down a bit. The good news is that just 13 seconds before her energy ran out, we made it to Moray which was the first proper stop for the day. Entry was S/. 10 per person.

Moray is an ancient Inca laboratory - basically crops in a valley, but inside the valley are cirular walls which form terraces. This means that each crop is perhaps 1-2 metres higher than the previous crop. The result is that each level has a different temperature and humidity, which allowed the Incas to experiment regarding which crops are best with certain conditions. The main "laboratory" (there are three such holes in the ground) has been very nicely reconstructed, and it's intersesting to see the parts that have not yet been reconstructed - it looks like a LOT of work has been put in!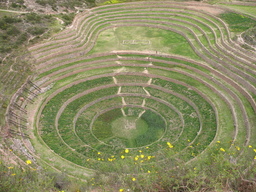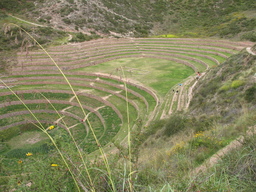 Briony also found a dog friend at Moray. There were three dogs in a group, two of them were obviously a couple and had recently had puppies (there was one running around near the ticket office), and the mother dog was hungry. Or perhaps she was just greedy. But, we fed her some biscuits and she seemed quite happy to follow us around wanting more.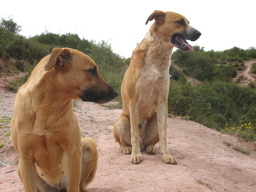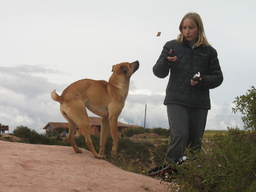 20 minutes later we were back on the bikes, and soon we reached what looked like an old quarry. The track surface was partly dirt and part solid rock, and we soon came to some rather tricky and slippery downhill sections. I rode down most of them but had to walk a few really tricky bits. Briony had to walk down most of them as they were quite hard and she hasn't really got a lot of practice at stuff like that.

It was about this time that Briony's mood turned from "okay" to "bad" and she started to whinge. Oh well, I did the best I could to help her along.

A few up and down hills later and we came to the town of Maras where we stopped for a drink. Shortly afterward we took the main road for a kilometre or so, and then took the turnoff to Maras Salineras which was 8Km down a dirt road. Thankfully there was only one up hill section along this road. We stopped just after the uphill to regain eergy and take some photos.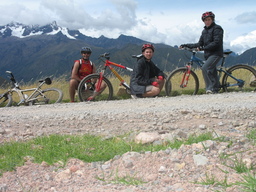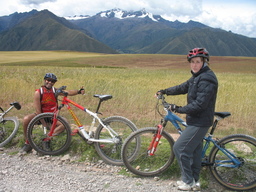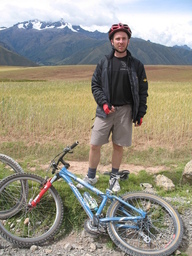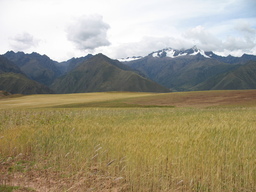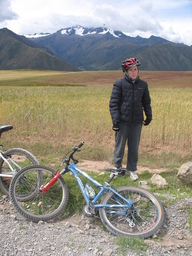 After arriving at the ticket office and paying the entry fee - S/. 5 each - we rode down into Maras Salineras. This area is a huge array of terraces, divided up ito cells perhaps 3m x 2m in size. There is salt contained within the mountain, and water is collected and passed into these cells which are quite shallow. I'm not sure where the water comes from, but I'm guessing it's probably from a spring of some sort within the mountain. Anyway the idea is that after 2-3 days all the water evaporates, leaving only salt in the cells. Workers then climb down the mountain to harvest the salt. They put 50KG salt into a bag, and carry this on their back to the top of the hill, where it't put into a shed ready for whatever happens next. Omar told us that each 50KG bag only fetches about US$2.50 depending on quality.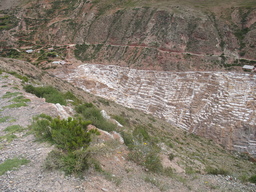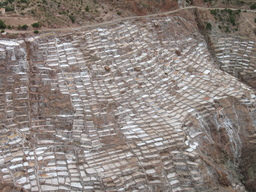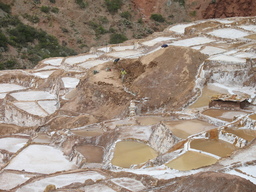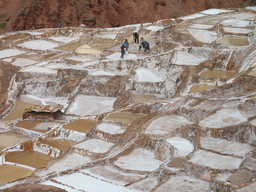 After taking some photos of Maras Salineras, we rode down the hill to the bottom of the valley. This path is quite steep and rocky, so again I rode most of it but Briony walked. Once down the bottom it was 4Km to the town of Urubamba. Briony got about 1Km and then there was a slight uphill which made her crack a tantrum. I ended up walking both bikes for a couple of hundred metres, but Omar had seen us. He turned around, came back and grabbed Briony's bike - he was actually riding his, and pushing Briony's at the same time. I convinced Biony to get on my bike which she said was much better. Omar then gave Briony's bike to me, and we rode without a problem to Urubamba where we had lunch at a restaurant recommended by Omar. We had lemonade, salad, soup, tortilla and a rice dessert, and when I asked about payment Omar said it's just S/. 7 per person, unbelievably cheap but the quality of the food was absolutely excellent. If I can remember the name of the restaurant, I'll put it here later.

Anyway at about 15:30 we met Armando outside and headed back to Cusco. After grabbing some supplies we dropped some clothes into a laundry place on the corner of Meloq and Arcopata - less than 10 minutes walk from the hotel. This is a small place which just has a bunch of washing machines, and a room full of people sorting clothes. The price is S/. 2.5 per KG of clothes.

Back to the hotel, and get ready for a night's rest :)


---

Cusco Day Three

We had a bit of a sleep-in which was lovely, and after getting up we had breakfast in the Hotel Ninos cafe. Briony actually ate all her breakfast today so we figure her stomch bug must be all sorted!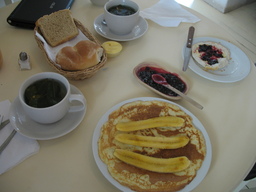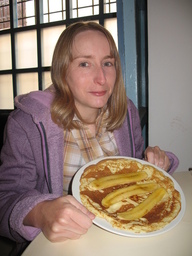 After breafast we walked to Avenue del Sol which is where all the banks are. We had S/. 500 in big notes and we wanted to change it into smaller notes and some coins since nobody seems to have change in this place. The bank was guarded by 3 security officers and we had to wait in line for only 5 minutes before it was our turn at the counter. No problems getting the change.

Just round the corner, on Plaza de Armas, is the Museum of Natural History which is within the university. It was only one room of exhibits but certainly had some interesting things such as a llama with two heads and another with six legs, plus a bunch of foetuses in jars and more. Cost to get in was S/. 2 each.

After the museum we sat in Plaza San Fransisco for a little bit and watched the garden maintenance man literally flood the grass and trees with such an insane amount of water. It's actually surprising that the whole place isn't a swamp! While we were in the square we grabbed some snacks and water from a street vendor for S/. 6.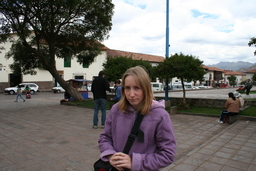 It was a little on the warm side and Briony had chosen to wear a thick shirt. So we walked the 10 minutes back to Hotel Ninos so she could change. On the way back from hotel we called into a small Internet cafe which also offered online games. This place had about 12 computers and was comfortable and clean. The connection speed was okay but not brilliant, certainly enough to check our email etc. After we'd been there for 20 minutes a massive bunch of students came in - this must be their extended lunch break, during which time they wanted to do photocopying and also use the computers. We got out of there shortly afterwards as the students needed the computers and we were pretty much done anyway.

At 13:30 we went to the Peru Treks office for our half-day city tour. It all seemed a little disorgnised at first as some of the staff were confirming who we were, then running up the street, then running back, and just general chaos. Eventually one of them asked of to follow so the two of us plus Joanna, a Dutch tourist, followed the guide and we met the rest of our group in Plaza de Armas.

During the city tour we visited the Cusco Cathedral which was really beautiful, this took about an hour while our guide explained about the things we could see and also told us how there are certain Catholic religious symbols in there that are secretly Inca symbols, as the ancient people didn't agree with the Spanish making them change their religion.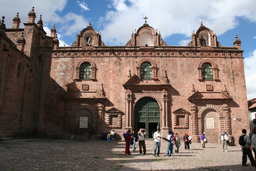 After the Cathedral we visited Koricancha, the Inca Temple of the Sun which had a convent built ontop of it. Well, I think it was a convent, I can't remmeber exactly.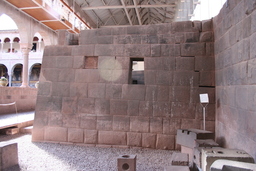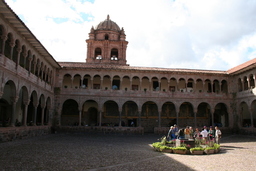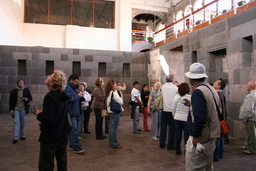 We then took the bus up the hill for a tour of Saqsayuaman. This is the site of some religious Inca ruins, and is constructed with massive rocks that came from a quarry several kilometres away.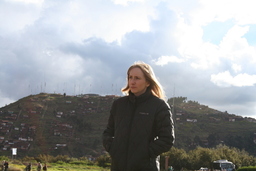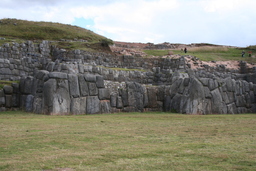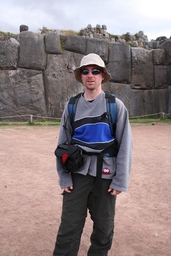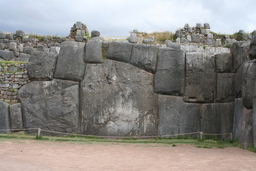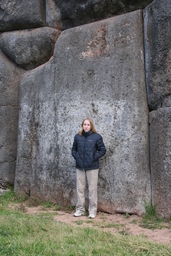 We continued our tour to Q'enka and Tambomachay, the site of the Inca Fountains. The fountains were nice to see, however we were disgusted to see the guide of another tourist group throw his lunch wrapper into the river. Yes, we know the general population do it as we saw rubbish everywhere in Nasca etc, however to see a tourist guide do it was surprising.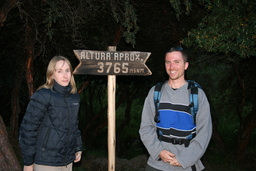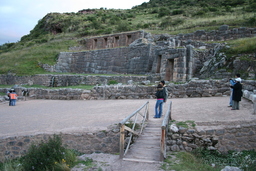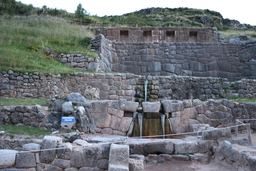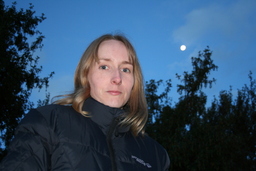 By this time it was getting dark, so we headed back to Cusco stopping at a really big workshop where they make and sell clothes made from Alpaca wool. The reason we stopped there is so our guide could demonstrate the difference between real Alpaca and the other stuff that street vendors sell, claiming that it's Alpaca but it's really Polyester. This was all started because one American from our group plus the Japanese bought anything and everything from sellers at each place we visited, including hats and ponchos, and were disappointed when the guide told them it's not really Alpaca! Of course, these same people walked out of the Alpaca workshop with more than US$200 worth of gear! All we walked out with was a few photos of a mannequin that Briony found terribly amusing :)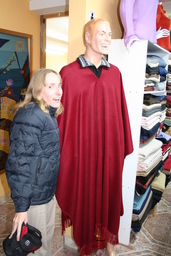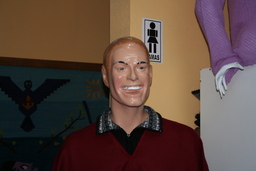 After the tour we went to Moni Cafe for dinner. Briony had Sopa Dieta, I had Lasagne with Lentile and we shared a really delicious potato entree. After dinner I went to pay the bill but was forced to sit down again as on the counter was their dessert of the day - Apple Pie. I love Apple Pie! It was quite good too, with crumbly pastry!

Once dinner was done, we went back to the Hotel and went to bed.


---

Cusco Day Four

Cusco Day Four was the Sacred Valley tour with Peru Treks. The tour was okay, however it definitely reminded us why we generally don't like doing bus tours - they all take so long an have too many slow and annoying people.

Anyway about the tour ... it started at about 9am at the Peru Treks office. We spent about 20 minutes driving around Cusco picking people up from their hotels - it seems we were the only ones (again) to meet at the office. We still say it would be easier to meet at a central place, as the hotel pickup thing took far longer than it needed to. Once that was all done we started the 90-minute bus ride towards Pisac. We stopped along the way for some photos.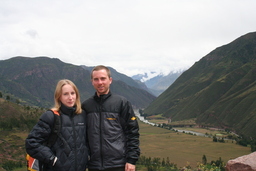 Oce at Pisac we visited the tourist market. The market is absolutely huge however for the most part it's just the same hats, gloves, clothes, water colours and souvenirs that you can find at any street vendor or tourist shop. Still, there was plenty to see and Briony did manage to find a beanie like we'd never seen before!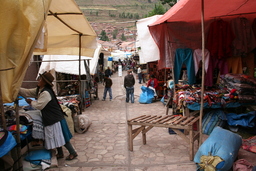 After the Pisac market we went to a very flash buffet restaurant in Urubamba for lunch. There was heaps of food out, mostly meat dishes but still plenty of vegetarian stuff plus plenty of desserts so we were full up by the time we left. Cost of lunch was S/. 50 each without any drinks, but that's about what we expected as the place was quite fancy.

After lunch was another half hour bus ride to the Inca ruins at Ollyantaytambo. These ruins are quite big and we climbed all the way to the top, with our guide giving us a really good commentary about the site's significance.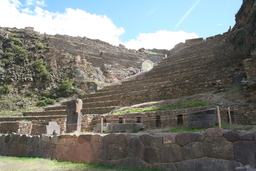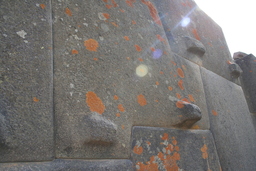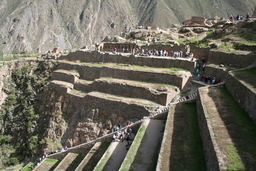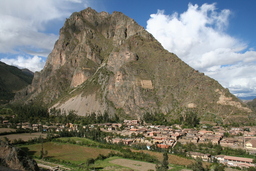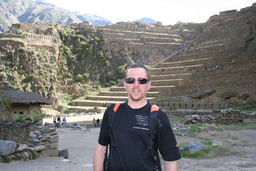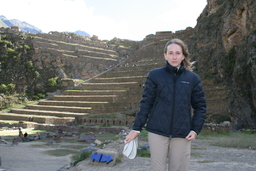 After climbing down we hopped on the bus and headed towards Cusco. On the way we stopped on the side of the road at a spot which was pointless but really did take a fantastic photograph! We also got some photos of the Eucalypt trees in this area, which several guides had confirmed had been imported from Australia, I think in the 1960s.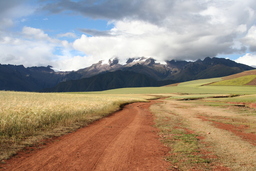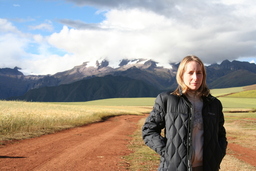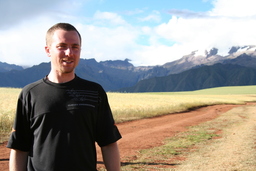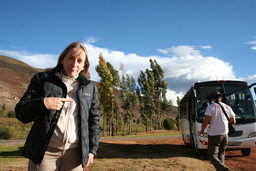 We then headed to a small town called Chinchero where we went inside a lovely old church. After the church we grabbed a Snickers and some crisps, and the seller woman indicated that I had to pull the crisps off their holder. So I pulled and the whole crisp thing broke. Basically it was just a strip of cardboard hanging from a hook, with perhaps 8 bags of crisps stuck to it. But I don't think the woman was impressed. Oh well, back on the bus and we went back to Cusco.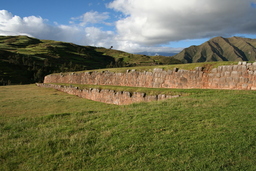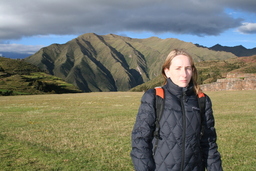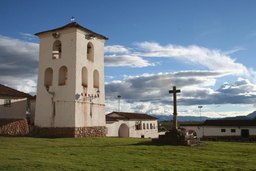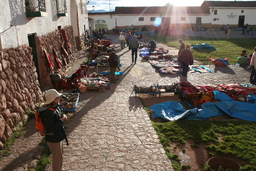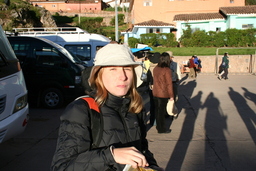 We got dropped off near Plaza de Armas so we had dinner (again) at Moni Cafe - no complaints though, as the food and service are both fantastic. After dinner we walked back to Hotel Ninos and started to pack our bags for the Inca Trail.

At 19:00 I went out to the Peru Treks office to pick up our porter bags, and also I wanted to find some sunscreen for my lips as they were sun burned. I found a small "Botica" (boutique) just 10 minutes walk away, and as a bonus I saw an area of shops and local market that we hadn't seen yet. As a second bonus I passed a confectionary shop on the way back to the hotel, amd upon closer inspection I saw some of Briony's favourtite Chicha Morada sweets plus some Eucalyptus+Menthol sweets to help my sore throat and blocked nose. I was definitely in the good books when I returned to Hotel Ninos and showed Briony her sweets!!

We headed to bed as early as possible, once we'd packed our bags ready for Inca Trail - we were to be picked up between 05:20 and 06:00, so we had to get up at 04:30!


---

Cusco Day Five

I was a little unsure as to where I should write about day five in Cusco, since dy five was actually *after* the Inca Trail. But since we spent most of the day sleepig it seemed hardly worthwhile dedicating a whole page to it. So istead, I'll just include a few photos of us, the city and the food we ate (the giant corn is the best).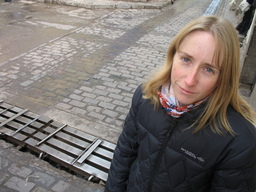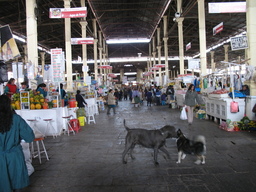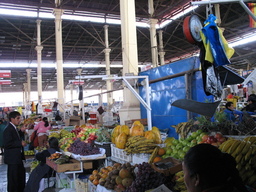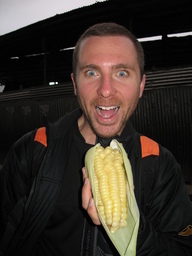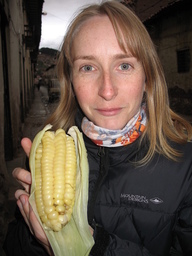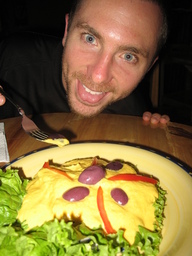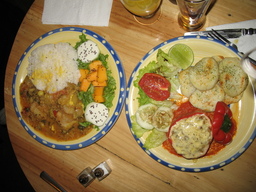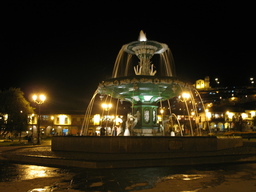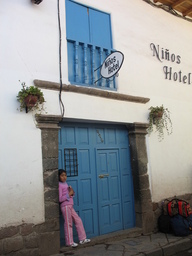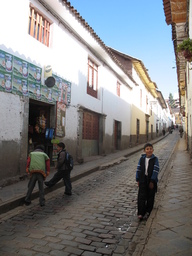 Next: Inca Trail, Peru
Or, you can Return to the Peru/Bolivia 2008 Index Page





---



Last modified: Wednesday, 01-Aug-2018 13:25:38 ACST
Site created by Callan Davies / CRUZN 2007-2010
Some content protected. Other content free for your use. Contact the Webmaster

Random Photo:


---
[Articles]
Talking to the Topfield TF5000PVRt using Linux and ftpd-topfield
Setting up DynDNS in Ubuntu/Linux
Restore GRUB boot manager after Windows destroyed it