Home/Blog
Current (2015)
2014
2013
2012
2011
2010
2009
2008
2007
BabyBlogs
Majandra
Aliana
Travel Blogs
Europe/Egypt '06
Peru/Bolivia '08
Central Aust '09
Fiji '11
Cycling Maps & Routes
Links


Best viewed with Firefox




Site Built with gedit on Ubuntu


[Inka Express Tourist Bus - Cusco to Puno]

The trip from Cusco to Puno is roughly 350Km and there are a number of ways to travel. There is the option for a regular bus, or the train, or the Inka Express tourist bus which does the Cusco-Puno and Puno-Cusco journey every day, but including a guide and brief stops to 4 or 5 historical sites along the way. Also included is a decent lunch at midday.

We got up at 05:30, showered and packed our bags. We walked from Home Sweet Home Mirador Cusco down to Plazolita San Blas which is just a small plaza with seats and some plants. The walk down the hill took about 10 minutes, far quicker than walking up the hill! The only optionis to walk as there are no roads going directly up the hill.

The taxi driver that, the day before, had taken us from Cusco Airport to Plazolita San Blas was supposed to come at 06:40 to pick us up. While we were waiting we saw a group of hippies come to the square at 06:30 and start playing a drum and singing at the top of their lungs. We also watched the local garbage collection - it was a tiny garbage truck with a guy standing on the back tray. Three women were collecting bins from around the place, removing the bin contents by hand and passing them to the guy up top. He would then put them in a little chute and they would be forced into the back of the truck. The three ladies weren't wearing any gloves, it was pretty gross. We should have taken a photo but the taxi was coming and the camera was at the bottom of our bag!

At 06:43 our taxi had not arrived, so we just grabbed a different taxi to the Inka Express office which was just over 5 minutes away. The bus departed at 07:45 and we would arrive to Puno at 17:00. The Inka Express is a typical tourist bus, big and comfortable. The guide, Marc-Anthony was well presented and spoke excellent English.

First stop for the day was a beautiful church Andahuaylillas. On the way out of this small village Briony saw a dead sheep on the side of the road, probably dropped off ready to be cut up for eating.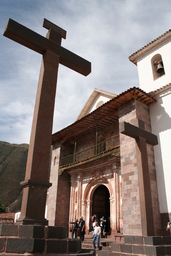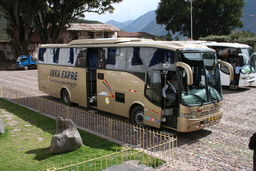 Next stop was Raqchi, a fairly large ruin with storehouses and more.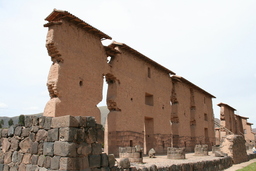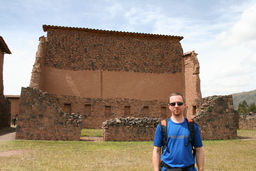 At midday we stopped for a buffet lunch at a small restaurant. We had potato, salad, rice, and a different type of potato which was shredded, and yet another type of potato that was shaped like a carrot! For dessert we had jelly and Prickly Pear which was great.

After lunch we made a quick stop at La Raya ("The Line") which is the border between Cusco and Puno. This was also the highest paprt of our trip at over 4000m altitude. We were only stopped for 5 minutes but that was enough for Briony to buy a brightly-coloured cotton table cloth for S/. 65.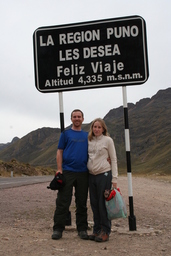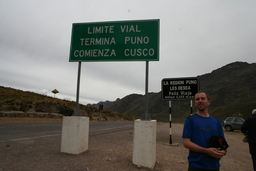 After the border crossing at La Raya the roads became quite bumpy. Our guide explained that the workers in Puno frequently strike and in order to protest they put stones on the road. The result is that trucks, buses and cars grind these stones into the road which rips the surface to bits.

90 minutes later and we stopped at the town of Pukara where we spent 25 minutes at a small museum that had some original pre-inca statues and other pieces found nearby. After the museum we waited in the Plaza De Armas for the rest of the group and there were two dogs wandering around. The small, brown one looked so sad walking around with its ears back and head hung low. I had to blow my nose and the dog heard the plastic wrapper from the tissue packet. It looked up at me with a happy face.

Right as our guide was calling us to leave, I raced over to a stall and bought some crackers for S/. 1 and opened them. The dog followed me. I gave it a biscuit and tipped out some of the crumbs from the end. The dog scoffed it down so fast and then came to me again so I gave it three more crackers. As I was getting on the bus a young local girl was looking at the crackers. I asked her "te gustan"" ("do you like them?") and she nodded. So I gave her the rest of the packet and said it was her and her friends. I told her "y dos por el perro" ("and two for the dog"). As the bus was leaving I looked out the back window and I saw her throwing two biscuits to them brown dog. I can still see the dog's face looking up at me, it just looked so, so happy when I gave it biscuits!!

After Pukara was another 3 hours or so until we reached Puno. We came to a town which quickly turned into a city which our guide told us was the industrial city of Juliaca. This place is just absolutely mental - cars and buses everywhere and just general chaos.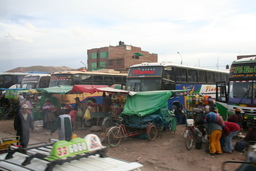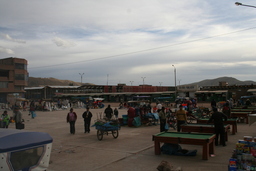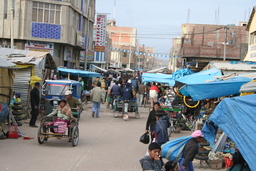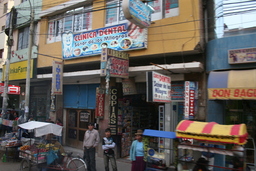 Marc-Anthony said that in this town they make literally everything, including iPod clones called the iaPod. He said that because it's reasonably close to the Bolivia border there are many businesses that buy their goods from Bolivia thus avoiding Peruvian taxes. While we were passing through Juliaca we saw a private university and we were told about some of the differences between public and private education. The strangest thing was that recently there was a dispute with the teachers at public universities and the result is thay went on strike. But, this strike lasted for seven months!

Another couple of hours and we arrived to Puno at sunset, 45 minutes late which isn't so bad. We got off the bus, grabbed our gear and went inside thhe bus terminal. We were pleasantly surprised that a representative of our hotel was waiting for us even though we were 45 minutes late. Top marks for our hotel - Tambo Real Titikaka.


Next: Puno, Peru
Or, you can Return to the Peru/Bolivia 2008 Index Page





---



Last modified: Wednesday, 01-Aug-2018 13:25:38 ACST
Site created by Callan Davies / CRUZN 2007-2010
Some content protected. Other content free for your use. Contact the Webmaster

Random Photo:


---
[Articles]
Talking to the Topfield TF5000PVRt using Linux and ftpd-topfield
Setting up DynDNS in Ubuntu/Linux
Restore GRUB boot manager after Windows destroyed it