Home/Blog
Current (2015)
2014
2013
2012
2011
2010
2009
2008
2007
BabyBlogs
Majandra
Aliana
Travel Blogs
Europe/Egypt '06
Peru/Bolivia '08
Central Aust '09
Fiji '11
Cycling Maps & Routes
Links


Best viewed with Firefox




Site Built with gedit on Ubuntu


[Changi Airport, Singapore]

Our Eurotrip began with something every traveller has to endure - and that's the journey there. Unfortunately for us, Australia is on the complete opposite side of the world to where we wanted to be, so our Singapore Airlines flight was 19 hours total.

The first leg was Adelaide to Singapore on flight SQ230. which was a 6 hour flight. We stopped at Changi Airport, where we had a 6 hour stopover until the next leg.

On first impressions, Changi Airport looked a little like a 20 year old Casino, with low ceilings, green carpet, and lots of flashing lights everywhere. Once we moved away from the gate area though, it opened up and was more like a shopping mall that went on forever. There are all names of shops there, plenty of food and plenty to see. Of course after 6 hours, you've about seen it all...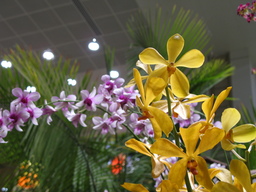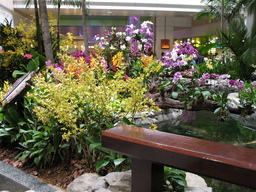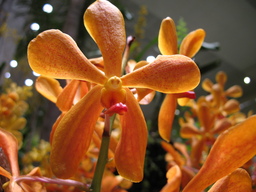 The second leg of our journey was the killer - 12 hours from Singapore to Frankfurt.

After the Adelaide to Singapore leg, the novelty of flying had worn off, and the free on-board movies were no longer a thrill. The next 12 hours just went on and on. The journey was uneventuful and was comfortable enough, but 12 hours is a long time.

We had a snooze in the middle for a couple of hours, and at one stage I was semi-conscious but still dreaming, and I was convinced that I had deep-vein thrombosis in my right leg, as I had not moved. I removed my shoes and flexed my legs. When I finally awoke, I realised that I had no such problem but my shoes were on the floor.

I'm sure Briony had a boring flight too, her comments to follow soon.

We didn't really take any pictures at the airport, as it's only an airport. We stopped at Changi Airport on the way back to Australia and we took some more photos then - you can see more on the Changi Airport 2 page.

Next : Bamberg, Germany
or, back to Euroblog Index




---



Last modified: Wednesday, 01-Aug-2018 13:25:38 ACST
Site created by Callan Davies / CRUZN 2007-2010
Some content protected. Other content free for your use. Contact the Webmaster

Random Photo:


---
[Articles]
Talking to the Topfield TF5000PVRt using Linux and ftpd-topfield
Setting up DynDNS in Ubuntu/Linux
Restore GRUB boot manager after Windows destroyed it